Cori Gauff grew up idolizing Serena and Venus Williams, the sisters who are legends in the tennis world.
On Monday, Gauff, 15, faced off against 39-year-old Venus in the first round at Wimbledon. Both the stage and her opponent could not have been any bigger at the historic All England Club.
Gauff, known as "Coco," admitted she could have been starstruck just by facing her idol during her first-ever Grand Slam match, but she looked cool and calm while winning in straight sets 6-4, 6-4, over Venus in a match that lasted 1 hour, 19 minutes. During her post-match press conference, she said it was the first time she cried while winning.
"Honestly I don't really know how to feel. This was the first time I ever cried after a match. While winning, obviously," said Gauff, who was ranked No. 313 in the world entering the tournament. "I never thought this would happen. I'm literally living my dream right now. And not many people get to say that. I'm just happy that Wimbledon gave me the opportunity to play."
Gauff's serve was on point Monday as Venus, ranked No. 44, was able to break it only once.
"She did everything well today," Williams said in the New York Times. "She put the ball in the court, which was much better than I did. She served well, moved well. It was a great match for her."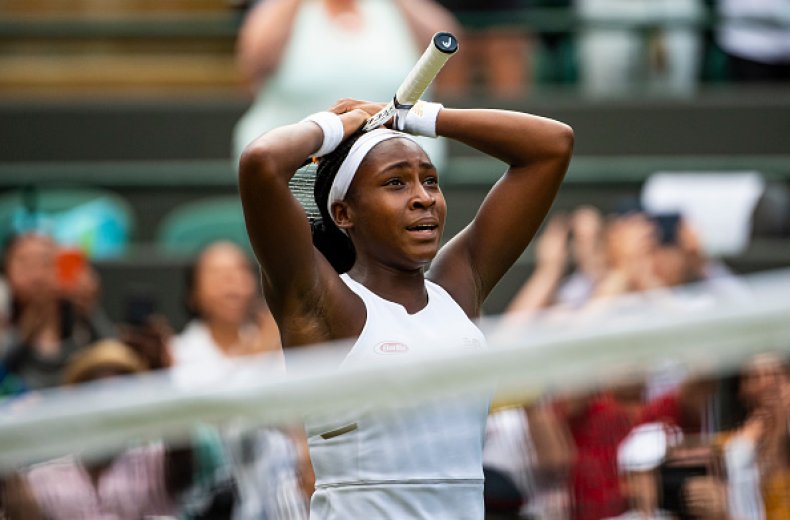 Gauff had to work her way just to get into the tournament. In qualifying rounds, she had to knock off top seed Aliona Bolsova to get the opportunity to face Venus. Gauff, who is African-American, has previously called the Williams sisters "idols," according to the USA Today.
"I definitely had to tell myself to stay calm," Gauff said. "I had never played on a court that big. But I had to remind myself that the lines on the court are the same size. Everything around it might be bigger, but the lines are the same. After every point, I was just telling myself to stay calm."
Gauff said she was not thinking about Venus being across from her, but mentally staying in her own game.
"On the court, I was not thinking about Venus," Gauff said. "I was just playing my game. No matter who I play against, I want to win. So that's what I was just thinking about the whole time. I wasn't really thinking about who I was facing on the other side of the net."
Gauff, who is the youngest woman in this year's draw, is the youngest woman to win a match at Wimbledon since 14-year-old Jennifer Capriati won there in 1991.
Venus Williams has won seven grand slam titles and finished runner-up nine other times. She has 14 doubles titles, one Olympic gold medal for singles and three more for doubles — all playing with Serena as her teammate on doubles.
Venus won four of her grand slam titles before Gauff was born.
Uncommon Knowledge
Newsweek is committed to challenging conventional wisdom and finding connections in the search for common ground.
Newsweek is committed to challenging conventional wisdom and finding connections in the search for common ground.
About the writer
Scott McDonald is a Newsweek deputy night editor based in Cape Coral, Florida. His focus is assigning and writing stories across all topics, from news to politics, business, weather, sports and international news. Scott joined Newsweek in 2018 after a lengthy career of print journalism in Texas, including The Dallas Morning News, where he was a sportswriter, and he's a voter for the Heisman Trophy. He has been a newspaper editor-in-chief and also a newspaper publisher. He is a graduate of The University of Texas at Austin. You can get in touch with Scott by emailing s.mcdonald@newsweek.com. Languages: English