Teenager Dies in Hospital Two Weeks After Brutal Rape Left Her Paralyzed
A 19-year-old woman in India has died two weeks after being gang raped by four men in a brutal attack that had left her paralyzed.
The teenager, who has not been named, died at New Delhi's Safdarjung Hospital on Tuesday following the assault by the group in Uttar Pradesh's Hathras district.
Police said the woman had been left with spinal injuries after she tried to fight off her attackers.
The woman's death has triggered a backlash in India, The Hindustan Times reports. Congress leader Priyanka Gandhi Vadra hit out at the state government over "no semblance of security" for women, while Delhi chief minister Arvind Kejriwal called the attack a matter of shame for the country.
Dalit leader and Bhim Army chief Chandrashekhar Azad led a protest at the Safdarjung Hospital demanding the death sentence for those behind the attack.
"I appeal to all members of the Dalit community to take to the streets and demand the death penalty for the guilty," he said. "The government should not test our patience. We would not rest until the culprits are hanged."
He said the state government "is equally responsible for the death of our sister".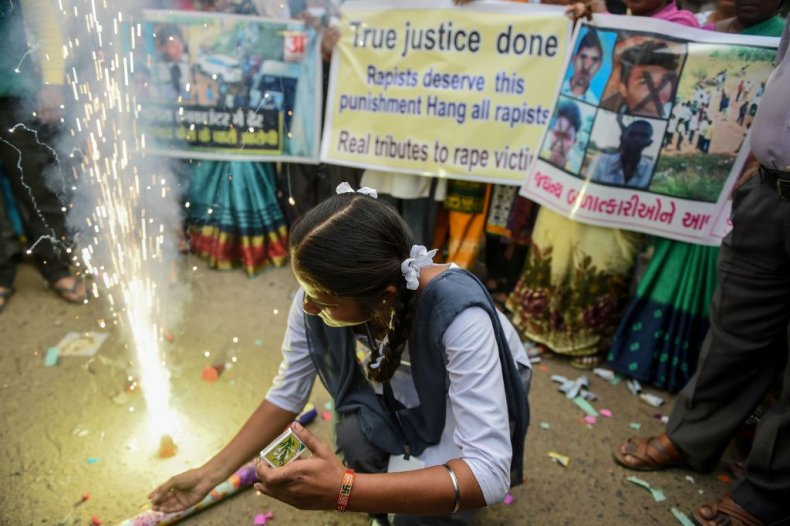 The woman was found badly injured after she went missing on September 14. Hathras police superintendent Vikrant Vir told the Hindustan Times that men tried to strangle her when she tried to resist their attempts to rape her. The woman's family informed police that she died around 3 a.m.
Vir told the newspaper that four men had been arrested and face murder charges. He said police first arrested a 20-year-old man the day the woman was raped, with three other men arrested later after the woman had named them in a statement before a magistrate on September 22.
Her death comes just weeks after Newsweek reported how a teenage girl suffering from COVID-19 in India was raped on the way to hospital by a bogus ambulance driver.
The teenager, who has not been named, was allegedly attacked by the man in the Pathanamthitta district of Kerala.
Police in the town said a man was arrested and found to be driving the ambulance without the correct credentials.
The attack on the teenager comes amid growing concerns about the wave of violent sexual offences being carried out in the country.
A 3-year-old girl was raped and strangled earlier this month in the Lakhimpur Kher of Uttar Pradesh and In August a deaf and mute 14-year-old schoolgirl in Khirundha was also raped and murdered.
Police discovered that the teenager's face had been crushed with bricks and stones.