U.S. Teenager Blocked by TikTok for Raising Plight of Uighurs in China Rejects Company's Apology
A teenager who was temporarily banned from Chinese-owned video sharing platform TikTok has rejected the company's apology after her account was reinstated.
Feroza Aziz, who is aged 17 and lives in the U.S., was removed from the service on Wednesday after posting a viral video highlighting human rights abuses of Uighur Muslims in China's Xinjiang province.
The video showed Aziz curling her eyelashes in what first appears to be one of the countless beauty-tip videos posted on the platform, before the teenager seamlessly shifts topic to discuss the Chinese treatment of Uighurs.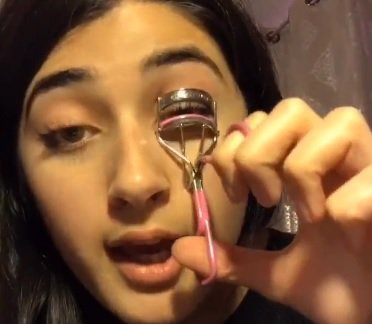 Feroza Aziz, 17, discusses Chinese treatment of Uighurs in a TikTok video which first appears to be a home-beauty guide.
Screengrab
"Hey guys, I'm going to teach you to get long lashes," Aziz said. "So the first thing you need to do is to grab your lash curler and curl your lashes, obviously.
"Then, you're going to put them down and use your phone to use your phone that you're using right now to search up China right now: how they're getting concentration camps, throwing innocent Muslims in there, separating their families from each other, kidnapping them, murdering them, raping them, forcing them to eat pork, forcing them to drink, forcing them to convert to different religions or else, if not, they're going to of course get murdered."
Her post came after leaked Communist Party documents published on Sunday showed how upwards of one million Uighurs and other minorities were held in internment camps as they were forced to undergo "re-education."
Following the posting of the video, which TikTok says has now been watched over 1.5 million times, the company admitted to blocking Aziz's account, but apologized for the move, stating that a "human moderation error" was at fault.
The company said that automated software on the service blocks second or third accounts on the same phone of previously banned accounts. Aziz was blocked from a different account earlier in the month after making a satirical video about marrying Osama Bin Laden.
In a statement, Eric Han, head of safety at TikTok U.S., said: "We would like to apologize to the user for the error on our part this morning.
"In addition, we are reaching out to the user directly to inform her that we've decided to override the device ban in this case. Our moderation approach of banning devices associated with a banned account is designed to protect against the spread of coordinated malicious behavior—and it's clear that this was not the intent here.
"This user can again access her active account from the device she was using previously."
Aziz was quick to dismiss the company's apology on receipt.
"TikTok has issued a public apology and gave me my account back," she said on Twitter.
"Do I believe they took it away because of an unrelated satirical video that was deleted on a previous deleted account of mine? Right after I finished posting a three-part video about the Uighurs? No."