Teenager Hosts Metal Concert at a Denny's, Causes Over $1,000 In Damages
Bryson De Valle, a 17-year-old Costa Mesa, California music fan, decided the best way to work with his favorite band was to tempt them into a show by booking a unique venue. Thus, when he rented a ballroom at a Denny's in Orange County for four hours and a $100 deposit, he thought he might have a hook in.
"All it took was some initiative," Del Valle told Billboard Magazine on Thursday.
It was a sentiment the band agreed with. "I hadn't met him before until this show when he messaged me and asked, 'You want to play a show at Denny's?' I was like, 'Oh, don't play with me man,'" Wacko's lead singer, Zaine Drayton, told Billboard.
A member of the band's dad introduced the band to the far-over-capacity crowd with, "I came for the senior citizens special. And they tell me the special tonight is Wacko."
A frenzied dance pit immediately opened up, and audience members crowd-surfed. One member of the audience ripped down a lighting fixture. Another threw a laptop into the crowd. The set lasted 20 minutes and an encore before the manager asked them to leave.
"She was super nice the whole time, though," Del Valle told Billboard.
While the band went on to play a second set elsewhere, Del Valle examined the damage, and was told that it should cost roughly $500 to fix. He later told the band that they should try to raise double that to cover the damages, which were covered through a Go Fund Me campaign started by Del Valle, which at press time, has raised $666—appropriate for a metal band—thanks to the video from the concert going viral.
Del Valle was later informed that the actual cost of the damages were more than double what he was initially told.
"They just texted me and told me they wanted $1,800 for damage and that I had to pay it through cashiers check or money order," he said. "I don't even know what a money order is."
As of press time, Del Valle is $400 short of paying off his debt to the Denny's.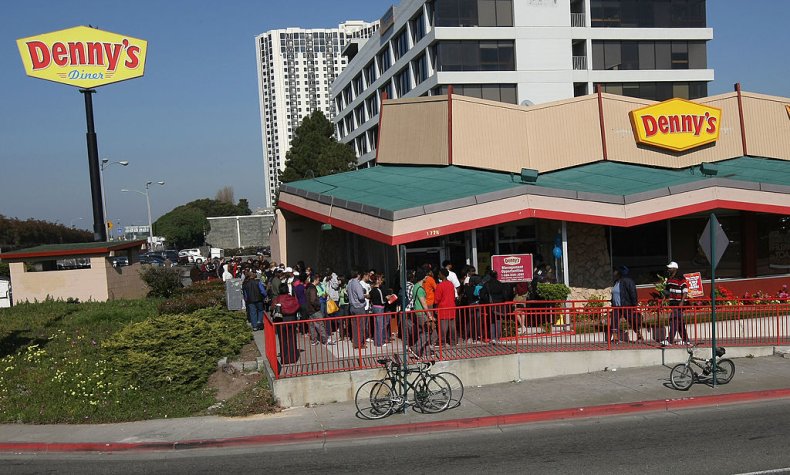 A spokesman for Dennys told Billboard that the manager who rented the back room to Del Valle had assumed he'd rented it for a meal, "which is the room's intended purpose."
"Denny's is a family-friendly restaurant and while we do have banquet space available at some restaurants, we do not allow events that can disrupt the dining experience of our guests. The manager was unaware a concert was planned, and the event organizers have been asked to pay for damages," reads a press release from the restaurant.
In 2013, a metal band played a show at a Denny's in Texas, but a spokesperson for the restaurant chain informed Billboard that that location had long been abandoned.
"My mom was so proud," Del Valle said to Billboard. "She told me, 'I'm trying not to be too proud because what you did was probably illegal, but I am proud.'"
The band's entire set at the Denny's may be viewed below: