Teenager Jailed Over Feud Sparked by Her Dress Code Protest T-shirt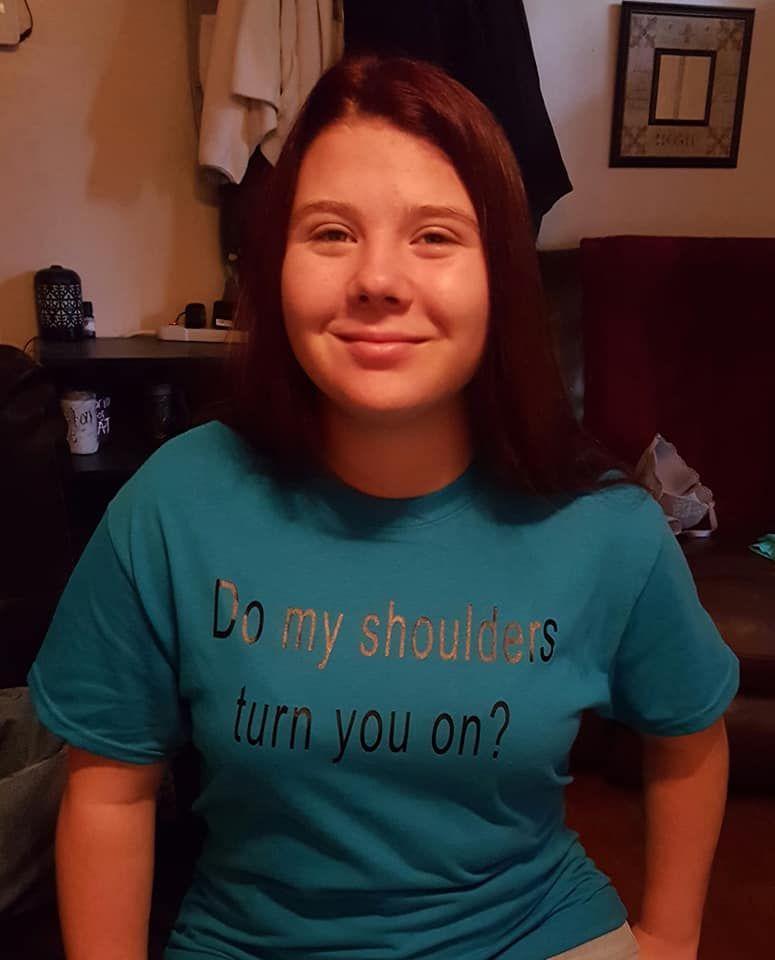 A Kentucky high school student was arrested and jailed after her dress code protest T-shirt sparked a heated altercation.
Teenager Isabella Messer, 15, wore a turquoise T-shirt to Hopkinsville High School on August 23. "Do my shoulders turn you on?" was printed across the front in black lettering, while the back read: "If so, go back to the 1920s."
Theresa Rucks, Messer's mother, told Newsweek that the school's new dress code for the 2018-2019 academic year banned "exposed shoulders" and "see-through white clothes." However, she claims parents were not made aware of this change in policy, which is why she allowed Messer to attend school in an "off-shoulder shirt" last month.
"They suspended her for two days for breaching the dress code," Rucks said.
After she returned to school, Messer wore the turquoise shirt to protest the policy. The protest shirt was oversized and covered Messer from her neck to her elbows and down to her waist.
As Messer wore the turquoise T-shirt around the school, the principal stopped her and the two engaged in a heated discussion, which was "uncooperative" and "loud," the police report said.
"She made it halfway through the day, during fourth period they pulled her out of her class because the teacher that had originally hit her with the dress code [violation] for her shoulders had seen the shirt," Rucks said.
Soon, Messer was handcuffed for resisting arrest by a school official and walked to in-school suspension. She then pulled out her phone to call her mother, but Ronald Ingram, the school's resource officer, attempted to confiscate the phone. Messer was then accused of kicking him in the shin.
"They left marks on her wrists, chest and arms," Messer's mom explained. "The assistant principal noticed that she still had her phone behind her back and the officer came at her a second time. This time she put up her foot as a form of self-defense."
The altercation resulted in Messer being charged with resisting arrest, disorderly conduct and third-degree assault of a law enforcement officer. Later that day, she was transported to McCracken Regional Juvenile Detention Center, where she stayed for five days, only to be released on house arrest.
"They took her straight to the jail. There were no bonds, no bail, no questions asked. She was in there with a young woman who had stabbed somebody," Rucks added.
Rucks, who was furious at the treatment of her daughter, told the Lexington Herald-Leader that she plans on seeking legal advice to potentially sue Hopkinsville High School over the incident.
Messer is due back at court on September 25. In the meantime, she remains at home under house arrest. "She's not allowed to go out to the yard, on the front porch and she's not allowed to have any visitors over," Rucks said. "She has never been in trouble before."
This story has been updated to include additional comment from Rucks.