Teenager Killed, Two Others Injured in Drive-By Shooting While Waiting at Bus Stop
One teenager was killed and two others were injured in a drive-by shooting in Louisville, Kentucky.
The Louisville Metro Police Department said on Twitter that the incident occurred at around 6:30 a.m. local time Wednesday morning as the three individuals were waiting at a bus stop near Dr. WJ Hodge and Chestnut Streets.
Police initially said on Twitter that "3 juveniles were shot this morning" while waiting at the stop.
While speaking to reporters, Louisville Metro Police Department Major Shannon Laude said that "a vehicle drove by and fired shots into the group of kids, striking two of the children by gunfire."
A spokesperson for the LMPD confirmed to Newsweek that the third teenager "suffered a graze wound." Laude previously said that the third teenager was injured by "unknown means," and declined medical treatment.
Laude said that both of the victims who were struck by gunfire were transported by emergency medical services to a nearby hospital.
"One of those kids was later pronounced deceased at the hospital," she said. "At this time LMPD homicide unit is investigating. We want to reach out to the public and ask if you all have any information, if anybody has any cameras in this area, if any of your kids come home from school and have information about what happened today. We need all the help we can get, we want any information the public can give us."
While speaking with reporters, Laude noted that there were other students waiting at the bus stop when the drive-by shooting occurred.
In a tweet, LMPD said that the other individual struck by gunfire was being "treated for non-life-threatening injuries."
"The biggest thing we're taking away from this right now is that we had kids that couldn't even wait at a bus stop this morning without getting shot," Laude said. "That is horrifying and devastating, and we're gonna throw all of our resources into finding out who did this."
All three of the victims were students at Jefferson County Public Schools, according to the school district's spokesperson, Renee Murphy.
"This is devastating to us to hear of the loss of one of our students in a circumstance like this. This is terrible, this is devastating," Murphy said. "All of our hearts are breaking right now."
A spokesperson for the police department told Newsweek that the male victim who succumbed to his injuries was 16. According to police, the second victim who sustained a non-life-threatening injury was 13, and the female victim who suffered the graze wound was 14.
Murphy confirmed that the bus that was coming to pick the students up was headed to Eastern High School.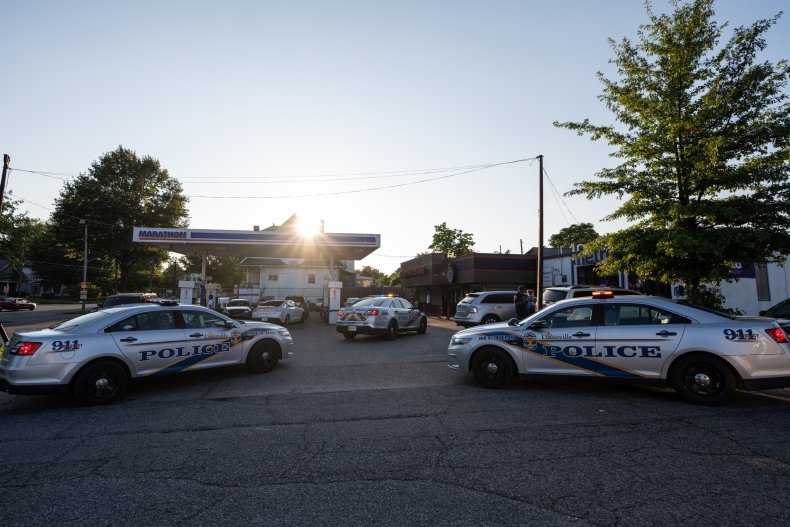 Updated 09/23/2021, 9:15 a.m. ET, to include the ages of the three victims injured during the incident.