Teenager Planned 'Historic' School Shooting But Killed Himself in Bathroom Instead
A deadly school shooting was narrowly averted ten days ago when a 13-year-old gunman decided not to carry out a planned massacre of his classmates and instead killed himself.
Police have said student Keith Simmons was planning to carry out a grisly school shooting at his Ohio school when he walked onto campus on February 20.
Related: Who is Scot Peterson, Florida deputy who should have "went in… killed the killer?'
The teenager hid a semi-automatic rifle under his clothes as he made his way to the school, BuzzFeed reported. But at the last minute he changed his mind and fatally shot himself in a bathroom.
Jackson Township Police Chief Mark Brink said Thursday that investigators would likely never know why Simmons decided not to go through with his plan.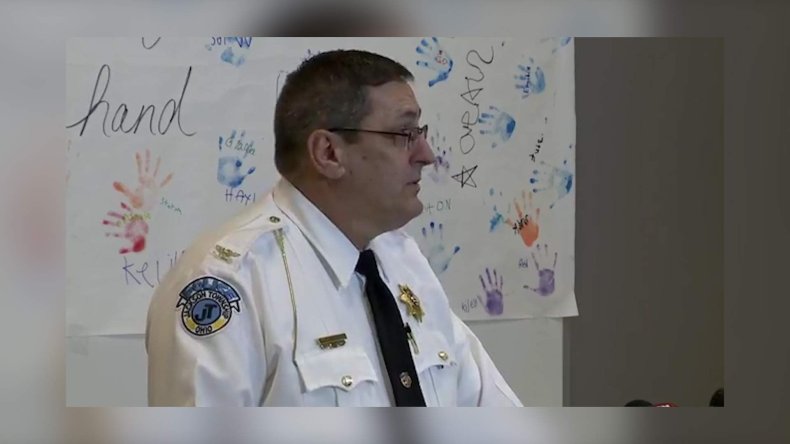 "Why he went back into the bathroom after he had come out holding the gun, and then committed suicide, we do not have an answer to it," Brink said. "I don't know that we will ever have an answer for that," he added.
The details of the young man's plan, and his chilling motivations were also laid out in writing on his phone. He reportedly had an eight-step strategy for carrying out the massacre, which he said would be "bigger than anything" the country had ever seen.
Simmons said his assault on Jackson Memorial Middle School would make him a "stain in American history." The seventh grader walked directly into a school bathroom after being dropped at school by a bus on February 20. He briefly walked out of the facility armed with his rifle but quickly retreated inside where he shot himself.
It is clear from seventh grader's phone that he had been influenced by past school shootings. He decided he would become a school shooter on February 14 after Nikolas Cruz killed 17 students at Marjory Stoneman Douglas High School in Florida.
Inside a backpack, police said Simmons had 80 rounds of ammunition and multiple magazines. He was also carrying bottle rockets, batteries and an aerosol can he may have believed he could use as bombs.
Like Cruz, Simmons also revered the 1999 Columbine High School shooters Eric Harris and Dylan Klebold. "I'll have followers because I'm so awesome I know someone will follow me just like I followed Eric Harris and Dylan Klebolt's [sic]," a February 17 document on his phone read. "I'll look in to those scared little britches [sic] eyes before I kill them," he added.
Police have said there was no prior indication Simmons could carry out such an attack.
"I think we should thank God every day," Brink said. "Whatever changed his mind, he did change his mind."