Teenager Stuck for Seven Weeks on Fishing Raft in Ocean Speaks of His Ordeal
The teenager who was trapped on a fishing raft that drifted in the Pacific Ocean for 49 days said he sang gospel songs to keep his spirits up.
Aldi Novel Adilang, 18, made headlines around the world after he was rescued from an ordeal that started when the floating fish trap known as a rompong, a small raft with a hut on top, snapped its moorings 80 miles off the Indonesian coast.
Aldi, who is from the island of Sulawesi, did not initially panic when he felt his anchor rope break on July 14. He was without a compass or GPS, but he did have a Bible from which he took solace, reading the books of Matthew, John, Isaiah, Genesis and Psalms.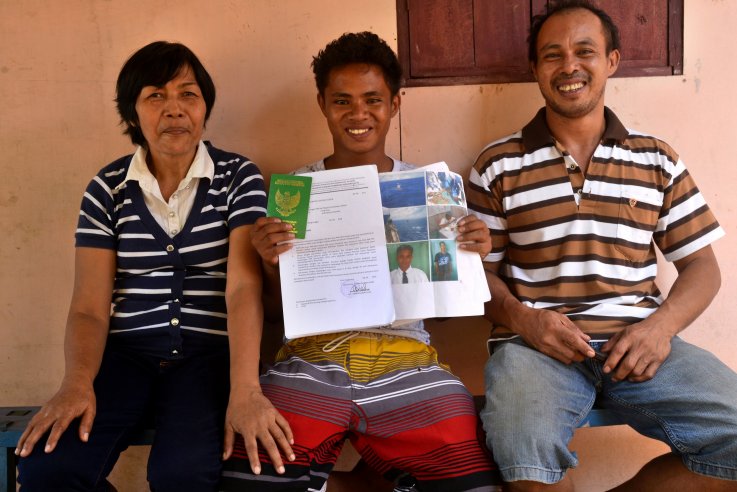 He told the Guardian: "On the first day I was OK, I wasn't stressed or panicking. I knew they would send a boat but I was worried it would have to turn back because the winds and the waves were strong.
"It was after more than a week that I started to get very scared."
Sharks circled Aldi's hut. When he ran out of water, he drank seawater strained through his shirt for four days, until it started to rain.
"The hardest thing was the thought that I would never see my parents again, that I would never see my island again, and never make it home alive," said Aldi.
When he spotted the vessel MV Arpeggio, he frantically waved his towel and shouted the only English word he knew: "Help!" The vessel turned around, and video footage shows Aldi, weak from being at sea for so long, staggering onto the deck.
He was handed over to Indonesian consulate officials in Japan and flown home to Manado, Indonesia, on September 8. It was on the train to Tokyo that he finally was able to talk to his family for the first time in two months.
"We were crying so much, the officials from the embassy cut the call short. They said you cannot be noisy like that on a train in Japan," Aldi told the Guardian.
Earlier, he told BBC Indonesia that he had survived being stranded at sea two other times, but they were much shorter.
He said that the first time, "I was afloat for a week and helped by the owner of the raft. The second time, I was afloat for two days and also received help from the owner of the raft," the BBC reported.
With his 19th birthday on Sunday, Aldi said he would stay on land for the time being, away from the job that paid him $134 a month.
Teenager Stuck for Seven Weeks on Fishing Raft in Ocean Speaks of His Ordeal | World