Teens could soon be behind the wheel of big rigs through a new driver program intended to help ease the country's supply chain woes.
The pilot program was included in the bipartisan infrastructure law passed by Congress in November 2021. The legislation requires the Federal Motor Carrier Safety Administration (FMCSA) to establish an apprenticeship program for 18-, 19- and 20-year-old drivers to operate commercial trucks in interstate commerce.
Currently, only people over 21 are allowed to drive big rigs across state lines.
Once the program is implemented, the FMCSA will post links on its website to the application forms and other information for those interested in participating.
Deaths and truck crashes have increased over the past decade, and the Biden administration was recently questioned on the safety of the program.
"The reason this was included in the bipartisan infrastructure act is because we need to address the shortage of drivers, which is impacting, of course, the transferring of goods and then the cost of goods on the shelves," press secretary Jen Psaki said Wednesday. "But we are approaching this and ensuring it's implemented in a way that sets a high bar for safety and quality."
Psaki added that all participants in the program will be trained on trucks with cameras, automatic emergency brakes and speed limiters.
"We want to make sure it's as safe as possible while also addressing the need to have more drivers so that we can move more goods and lower the cost for Americans across the country," Psaki said.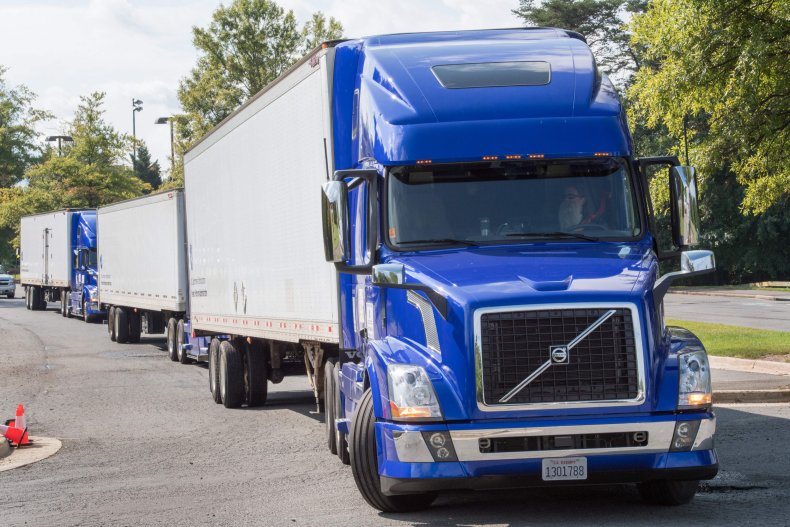 The country's supply chain problems have been exacerbated by a shortage of more than 80,000 truck drivers. More than 70 percent of goods in the nation are shipped by truck.
Last month, President Joe Biden and Vice President Kamala Harris announced a "Trucking Action Plan" to get more drivers on the road and ease workforce challenges—such as high turnover rates and an aging workforce—that have been made worse by the coronavirus pandemic.
"A stronger trucking workforce is one where trucking jobs are good, safe and stable—jobs that employers can attract a new generation of drivers into while retaining existing drivers to deliver for clients and grow their businesses," the White House said at the time.
The American Trucking Associations, the trucking industry's largest national trade association, told Newsweek it supports the apprenticeship program because "it dramatically raises safety and training standards above today's bar."
"Today, 49 states and the District of Columbia already issue [commercial driver's licenses] to drivers under the age of 21, but they're artificially restricted to driving only in their home territory," said Nick Geale, the organization's vice president of workforce policy.
"This bipartisan program will—with unprecedented training and technology requirements to improve safety for everyone—give a small number of those already licensed younger Americans the right to move goods from state to state," he added. "Far from hurting safety, this program will raise the bar for safety far above and beyond what is currently required."