Teenagers Raped Girl and Streamed Attack on Facebook Live, Say Police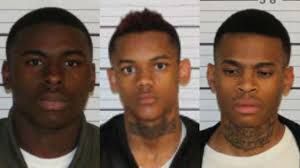 Three teenagers were arrested in Memphis, Tennessee, after allegedly raping a teenager and broadcasting the attack on Facebook Live.
Martin Milan, 19, Antun Hester, 18, and Rayford Smith, 19, were all charged with aggravated rape and especially aggravated exploitation of a minor after the 17-year-old girl reported the attack Wednesday, reported WREG.
The girl had invited Milan to her house to have sex but when he asked if he could bring his "brother" she said she was not interested, reported the Memphis Commercial Appeal newspaper, citing the arrest affidavit.
Police have reportedly recovered text messages between the girl and Milan.
Milan later arrived at her home with Smith and Hester in tow, but she said that she was only interested in Milan and asked the others to wait in a different room while they had sex.
Several minutes later, Smith and Hester allegedly entered the teenager's room and raped her, according to police.
Smith is accused of recording the attack on video and posting it on Facebook Live. Officers recovered the footage from his cellphone.
After the attack, the teenager allegedly hid in her grandmother's bathroom and telephoned police.
The suspects were due to appear in court Friday, with Milan's bond set at $100,000 and Hester and Smith's at $50,000 each.