How Much Time Should Teenagers Spend Online?
As technology evolves and our lives become increasingly digital, deciding how much teenagers should spend online is a difficult problem for any concerned parent.
While much has been said about the potential detrimental effects of spending too much time on the internet, a new study has found that teens who spend time online are better at coping with stress.
The Study
The research, published in Clinical Psychological Science, studied 200 adolescents aged 13-17 living in low socioeconomic settings.
The participants were given iPhones to use as they would their own phones. They were asked to report the hours they used their devices, as well as any stressors, and their emotions at least five times a day for a week.
From this, the researchers at Griffith University's Menzies Health Institute and School of Applied Psychology separated the participants into those who used the phones excessively, moderately or did not use them at all.
The teens who reported moderate phone use in the hours after a stressful situation recovered from this more readily and experienced smaller surges in negative emotions, like sadness and worry, compared to those who didn't use technology or who routinely used technology as a coping mechanism.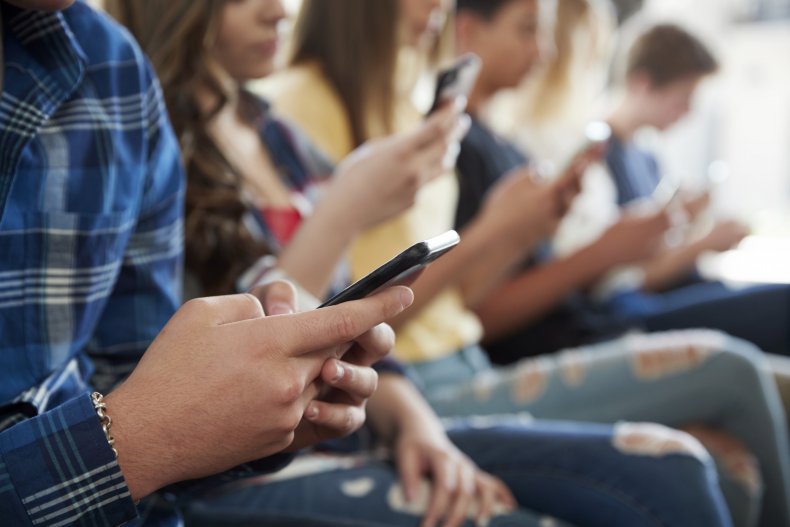 "Adolescents are smart, and they make use of technology to their own advantage. Because adolescents in disadvantaged settings tend to have fewer local supports, the study sought to find out whether online engagement helped reduce their stress,'' lead author Kathryn Modecki said.
"There has been a tendency to assume that technology use by teens is negative and harmful, but such a broad assumption isn't borne out by what we know about the developmental stage of adolescence.
"In the face of daily stressors, when adolescents engaged in emotional support seeking, self-distraction or information seeking online in a moderate capacity, they experienced better short-term stress relief.
"We found a just-right 'Goldilocks' effect in which moderate amounts of online coping helped mitigate surges in negative emotions and dips in happiness. In the face of daily stressors, when adolescents engaged in emotional support seeking, they experienced better short-term stress relief."
Teenagers and Social Media
Parenting writer and author of Five Minute Parenting Fixes Liat Hughes Joshi hopes the study will spark a new conversation for parents around social media. She told Newsweek: "We're far too ready to demonise it. Like many things, it's about getting the balance right - used an appropriate amount and in appropriate ways, it can be hugely beneficial to teens lives.
"The pandemic has really highlighted the way social media allows teenagers to stay connected with their friends - and even in 'normal times' it can reduce isolation and be a source of support.
"Peer relationships are hugely important at this age and digital communications can deepen and strengthen existing friendships, and allow them a wider pool to find like minded friends from."
Dr. James Jackson, Reader in Psychology at Leeds Trinity University also highlighted the benefit of finding peers online who can relate to their situation.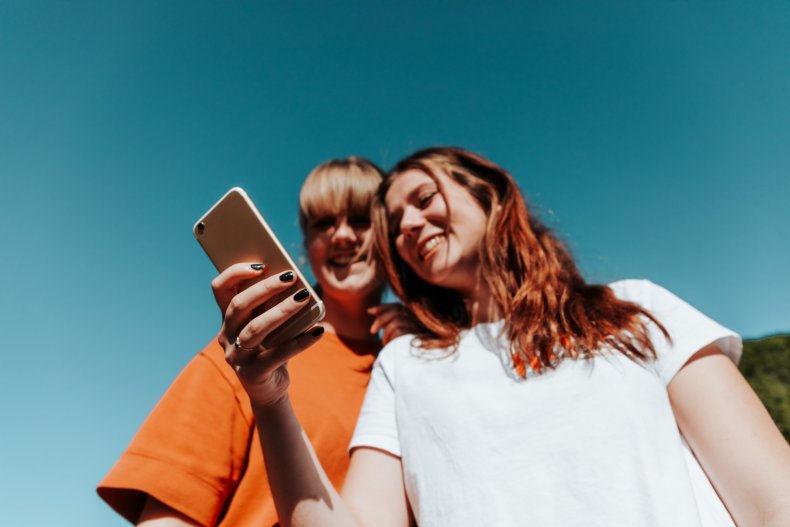 He told Newsweek: "We must remember that in every circumstance, people will gain more benefit from people who understand them rather than those who love them like friends and family," he explained.
"The latter are essential, but they don't always appreciate the challenges that others are going through."
He emphasized that for teenagers navigating challenging times, it may be worth steering them to forums run by suitable charities to ensure they're receiving appropriate information.
As this was a study into teenagers from a lower socioeconomic background, Jackson posited that the internet may provide access to information and resources they wouldn't otherwise have, or make it easier to be themselves.
As for overconsumption, Hughes Joshi told Newsweek that it's worth paying attention to what content your teenager is engaging with as well as how much time they spend online.
"It's very difficult - and too simplistic - to define how much is too much when it comes to social media use, for two reasons," she began.
"Firstly, the amount that tips over into problematic for one teen can be quite different to that for another - its impact varies by the individual. And secondly because the negative impacts are just as much about 'what' they are doing on social media as 'how much'."
Signs Parents Can Look Out For
She recommended looking for signs their internet usage is impacting their behaviour rather than logging the hours spent.
"Is their social media use getting in the way of their sleep, eating, and their offline relationships? Is it stopping them exercising? Are they showing these signs of addiction or able to choose when to stop scrolling and swiping and start doing something else?"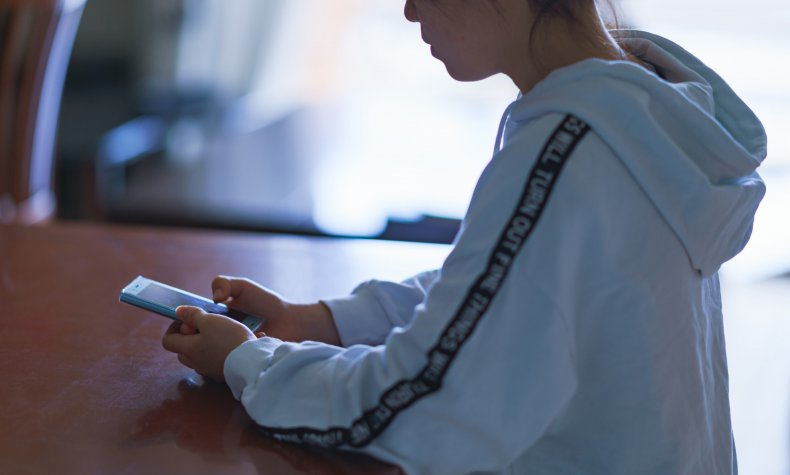 If you're worried about your teen's relationship with the internet, open and honest communication is key rather than taking an authoritative approach and banning social media.
"Remember that kid at school when you were a child who didn't have a TV at home and couldn't join in the conversations about the latest soap opera plot or that scary film last night? It's like that and some to not have any access to social media," Hughes Joshi explained.
By cutting teenagers off from social media, they may be isolated from their peers, she said, adding that instead the best parents can do is have an open dialogue as much as possible and find out what your teenagers are consuming online.
Encourage Time Offline
Jackson suggested encouraging your teenagers to engage more with the offline world, rather than discouraging them from inhabiting digital landscapes.
"As a parent, it would be better to encourage your teenager to spend more physical time with their friends, to engage in more real-life activities, and to be more physically active."
He also recommended parents set a good example by adopting a similar approach to time spent online, spending time online with your teenagers to establish an open dialogue, and setting clear boundaries around technology and bedtimes so it doesn't disrupt their sleep.