Teens Allegedly Killed 14 Kangaroos, Leaving One Joey Survivor Named 'Hope'
Police in New South Wales were called to investigate several reports involving the death of multiple kangaroos over the weekend. Two teenage boys have since been charged after allegedly killing 14 kangaroos on the South Coast.
Officers from the police force's South Coast Police District, as well as officials from the Wildlife Information, Rescue and Education Service Inc. (WIRES), found five adult kangaroos and one joey dead in a road, according to information provided to Newsweek by New South Wales Police Force Media Liasion Officer Erin Bouda.
Not long after discovering the kangaroos, officers were then alerted to another seven kangaroos and one joey that were dead in the same vicinity.
Police interviewed witnesses and examined video surveillance footage. Upon the conclusion of an investigation, two 17-year-old boys were arrested Monday and charged with recklessly beating and killing an animal. The two will appear before a children's court at the end of November.
New South Wales Police told BBC that the kangaroo packs were hit by a car, but officers did not provide any information about the motive.
If found guilty, individuals charged with animal cruelty in New South Wales may face up to five years in jail and a fine of AUD $22,000 BBC reported.
Whether the teens will face different consequences because they are not yet adults is a decision left to the courts, a representative from the New South Wales Police Force told Newsweek.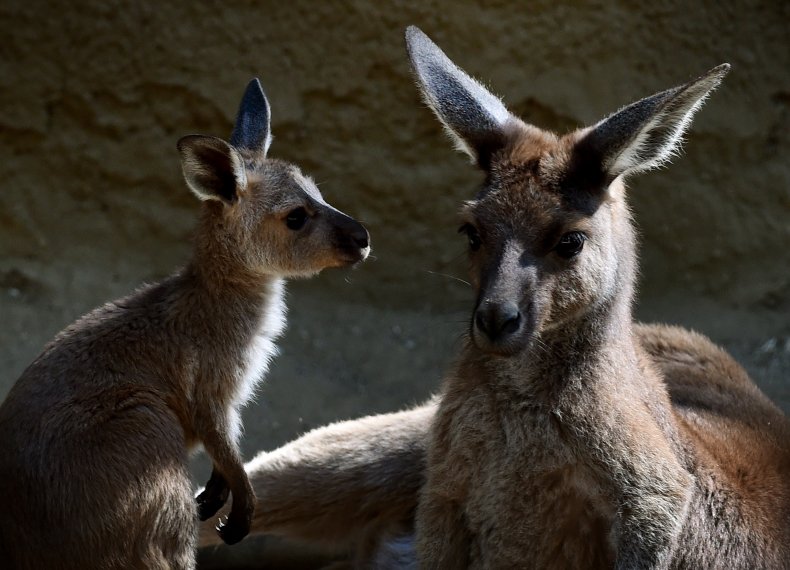 One joey was found injured, but alive by a resident.
"It is a tragic and senseless act that has left an indelible mark on our dedicated Mid South Coast branch volunteers who attended the scene, as well as the local residents," a post published to the WIRES Facebook page read. "A single surviving joey was located on Saturday morning by a member of the public. She has been aptly nicknamed 'Hope' and is now in care with local WIRES member Shelley."
There have been several reports of people killing wildlife and facing legal issues as a result.
Newsweek reported in September that wildlife officials in Colorado were looking for information about a person who shot and killed a mother bear, leaving her cubs orphaned.
"Someone made a decision to kill this animal, orphaning her two cubs," said an area wildlife manager for the Colorado Parks and Wildlife. "We need to find this person.
The cubs were taken for care to the Wet Mountain Wildlife Rehabilitation facility where they were being taught the survival skills they need and "to restore their natural fear of humans."
When they are old enough, the cubs will be released back into the wild.
Newsweek has reached out to WIRES for further comment but did not hear from a representative at press time.