Teens Charged for Assault, Death of Passerby Who Jumped on Train Tracks to Help Victim
Following the death of Roland Hueston, the man who was killed while helping a victim of assault off of subway train tracks in the Bronx, two teens allegedly involved in the incident turned themselves in at two different Bronx precincts and were arrested.
At about 2:40 a.m. on January 1, a group of individuals approached a 38-year-old man, identified by police as "Victim #1" in the Fordham Road subway station. According to officials with the New York Police Department, they displayed a knife after approaching him and began physically assaulting him.
"During the assault, the victim fell to the roadbed while an oncoming train approached," NYPD officials said.
Hueston, 36, tried to get the victim off of the tracks, but he was hit by the oncoming train and killed. "Victim #1" was not hit by the train and was taken to a nearby hospital. He was treated for a fractured arm and released.
On January 12, a 17-year-old male and a 16-year-old male, turned themselves in to police and were arrested. The 17-year-old's charges include murder, attempted murder, manslaughter, attempted manslaughter, robbery, gang assault and assault. The 16-year-old was charged with murder, manslaughter, robbery, gang assault and assault.
The investigation is ongoing, and police encourage people with information about the incident to come forward. They can call NYPD's Crime Stoppers Hotline at 1-800-577-8477. For a hotline in Spanish, individuals can call 1-888-577-4782.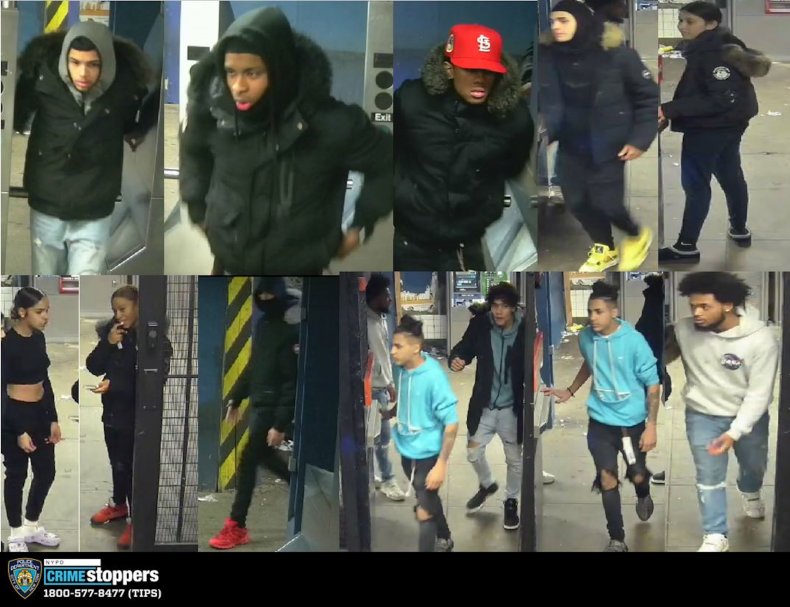 Newsweek previously reported a man who allegedly killed his 78-year-old mother with a machete was arrested and charged.
Osvaldo Diaz, 46, was arrested and arraigned on murder charges and other crimes connected to the death of his mother after spending about a week running from officials.
According to Queens District Attorney Melinda Katz, Diaz was apprehended in New Jersey and was taken back to Queens.
He lived with his mother in an apartment. One of Diaz's sisters visited their mother, planning to do some errands, but she said their mother did not answer her calls. Diaz answered the phone and told his sister to go to the store. He was later seen leaving the apartment.
When his sister returned, the property owner let her into the apartment and she found her mother who was pronounced dead at the scene.
Officials found bloody footprints and a machete at the scene.
Diaz was charged with murder in the second degree and two counts of criminal possession of a weapon in the fourth degree. Newsweek reported his attorney asked for a psychiatric evaluation to determine whether Diaz will be able to stand the criminal proceedings.