Teens Fatally Electrocuted Leaving Vehicle After Crash
Two teens were fatally electrocuted after touching live wires as they were exiting a car that crashed in upstate New York on Wednesday night, according to authorities.
A preliminary investigation by the Oswego County Sheriff's Office found that four people were in a truck that crashed into a fallen tree in a ditch in the Town of Redfield, Fox 8 reported.
The driver, Madysen Young, and passenger Matthew Bice, both of whom were both 17 years old, were fatally electrocuted after touching the live wires that were tangled in the fallen tree, but the two other passengers, who were both 16 years old, survived the incident, according to the sheriff's office. The incident is still being investigated.
Sandy Creek School District and Pulaski Academy and Central Schools sent out letters to the community about the incident.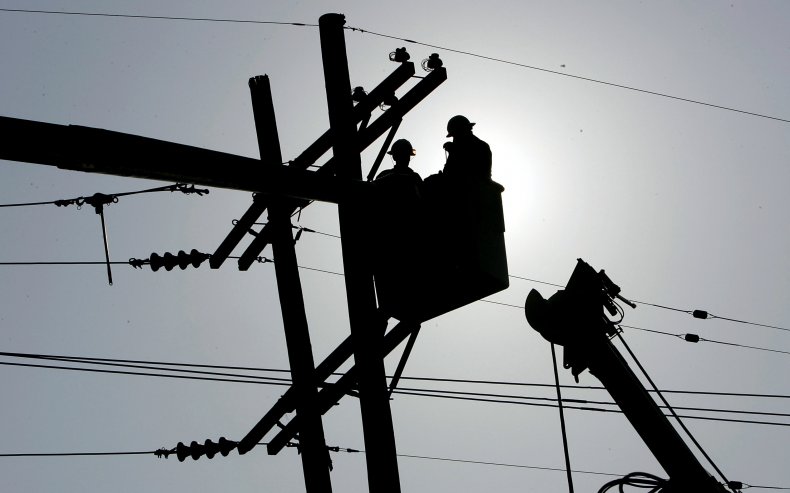 "It is with deep regret that we inform you about a recent loss to our school community. On August 31st, three of our Sandy Creek high school students, along with a recent graduate of Pulaski High School, were involved in an unfortunate tragedy," said Sandy Creek School District in the letter.
The letter continued: "Sadly, a senior at Sandy Creek, Madysen Young, and the recent graduate of Pulaski, passed away as a result of this tragedy. The other two students were not physically injured. This loss is sure to raise many emotions, concerns, and questions for our entire school, especially our students."
Meanwhile, Pulaski Academy and Central Schools Superintendent Tom Jennings wrote in a letter to parents: "I am writing to inform you of a terrible loss in the Pulaski and Sandy Creek school communities. PACS Class of 2022 graduate Matt Bice and Madysen Young, a member of the Sandy Creek Class of 2023, died tragically yesterday. Our thoughts and prayers are with their family members during this difficult time. We also offer condolences to all Pulaski and Sandy Creek students and staff as we try to process this unthinkable loss."
Newsweek reached out to the Oswego County Sheriff's Office for additional information and comment.
Last month, an electrocution incident killed a longtime AT&T employee after the bucket of his work truck hit some live power lines. Captain Ralph Fench of the Henry County Fire Marshal's Office said that several AT&T employees were installing fiber optic cables near a trailer park in Henry County. The worker was fatally electrocuted after the bucket, which the crew tried to stow back into the truck, collided with the live power lines.
Meanwhile, a teen girl was fatally electrocuted last year after she crashed the car she was driving in a fallen power line in Florida. The car caught fire after colliding with the fallen power line, prompting the teen to escape from the passenger side of the car. However, she stepped on a fallen live power wire as she exited the car, according to Florida Highway Patrol troopers.
'I Crashed Into A Power Pole; Now What?'
Drivers are advised to take certain safety measures in case their vehicles touch downed power lines because the ground might also be energized.
Pacific Gas & Electric (PG&E) suggests the following steps:
If it's safe to do so, stay inside the car and call for help.
Sound the horn, roll down your window and call for help.
Warn others to stay away. Anyone who touches the equipment or ground around your car can be injured.
If you have to exit the vehicle (for example, if a fire starts), take these precautions:
Remove loose items of clothing.
Keep your hands at your sides and jump clear of the vehicle, so you are not touching the car when your feet hit the ground.
Keep both feet close together and shuffle away from the vehicle without picking up your feet.
If you come across a downed powerline and you're outside of you're car:
"Avoid touching the downed line with your hand or an object, such as a stick, broom or pole.
Avoid touching anything, such as a car, object or equipment, or anyone who is in contact with a fallen power line.
Keep children and pets away from fallen electric lines.
Avoid driving over a fallen power line."
Update 9/2/22, 3:20 p.m. ET: the story has been updated to include additional information.