Getting a tattoo is a big decision, but one man's choice has gained viral attention online this week after his bad tattoo was shared online.
In a post on Saturday on Reddit's r/funny subreddit, user u/traatraa shared the bad tattoo picture with the caption: "So my nephew got a tattoo..."
With more than 51,000 upvotes and thousands of comments, the unfortunate ink has prompted internet users to share their thoughts and stories of tattoos gone wrong.
Thought to resemble a wolf, one commenter reacted to the ink and wrote: "It's so bad that it's kind of cool," while another Redditor said: "Hard lessons learned hard I guess."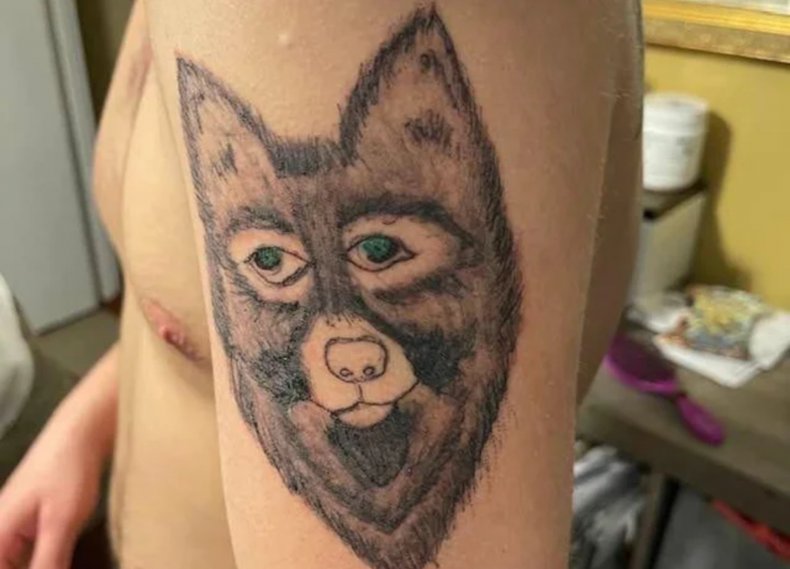 "This can't be real," wrote another commenter. An additional user said: "You know it's bad when even the tattoo looks disappointed."
"Looks like someone just drew that. Too awful to be real," wrote another Reddit user.
In a later comment, the poster shared that their 18-year-old nephew would not tell them where he got it done—suspecting that he let a friend do the tattoo. Luckily, the poster shared that the teenager could see the funny side of the unfortunate tattoo and plans on getting it covered up. "He said he walked out and didn't pay... I don't blame him," wrote the poster.
U/traatraa told Newsweek: "He does have plans to get it covered up but is not sure with what just yet. He is very fond of wolves and that was his intention with this tattoo but unfortunately it did not turn out exactly how he planned obviously."
According to recent surveys published by the Statista Research Department, tattoos in the United States are most common among millennials with 41 percent reporting having one or more tattoos. This is in comparison to just 13 percent of baby boomers who are inked up.
When it comes to deciding on the right tattoo artist, there are a number of important steps you can take: from getting a positive recommendation from a friend to checking reviews and ensuring you choose a clean, well-lit, and legitimate tattoo parlor.
"Not going to lie, I'd rock it just to make people laugh," said one commenter on the viral post. Another Redditor wrote: "Don't let him cover it! In ten years' time when he has a full sleeve, he'll look back on this as a special gem. A reminder of that youthful spontaneity."
The poster shared that their nephew was definitely looking to get the tattoo covered—once it has healed enough.
"I hope he can get it covered up," said one commenter who claimed to be a tattoo artist: "That is an awful lot of dark over an awful lot of his arm. I would have a hard time with that." But another commenter who also said they were an artist offered some reassurance: "I'm a tattooist and could fix that, any competent artist could."
The teen's aunt has leapt to his assistance and even step up a GoFundMe to help him get the artwork covered. "He is hoping a GoFundMe will allow him to cover up the tattoo sooner than later," she explained.
UPDATE 05/10/2022, 02:45 a.m. ET: This article was updated with an image and comment from the Reddit poster.