Chrissy Teigen recently apologized to Courtney Stodden for harassment that occurred when the latter was only a teenager, yet that hasn't stopped critics of the lifestyle entrepreneur and model from comparing her to one of her most high-profile enemies: Donald Trump.
For years, Teigen accused the former president of online bullying—among other things—and Trump even responded to her taunts and critiques. But some social media users are calling Teigen the bully after Stodden told The Daily Beast in an interview published May 10 that when she was 16, Teigen "wouldn't just publicly tweet about wanting me to take 'a dirt nap' but would privately DM me and tell me to kill myself."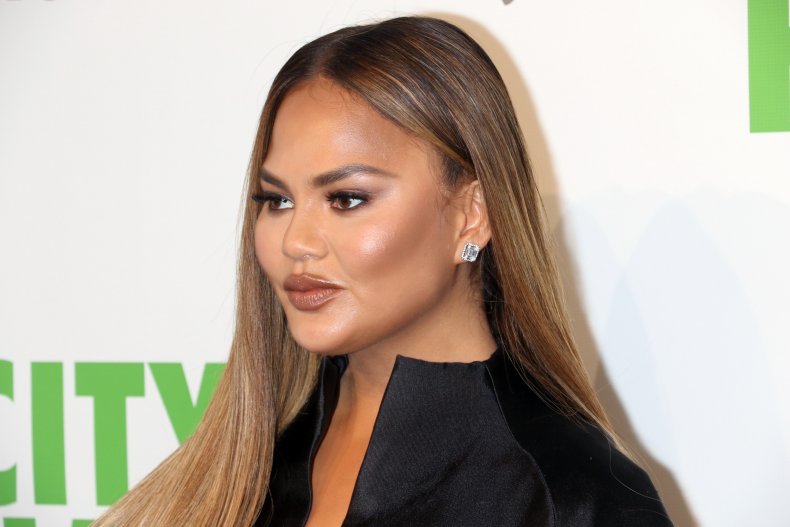 Conservative commentator Samantha Marika was among those who insinuated that Teigen was guilty of hypocrisy. The day after Stodden's interview appeared online, Marika wrote on Twitter: "Let me get this straight...Chrissy Teigen told a 16-year-old to go kill herself, yet she was triggered by Trump's 'mean tweets'?"
Stodden talked with The Daily Beast about the widespread harassment she received after marrying The Green Mile actor Doug Hutchinson in 2011 when he was 50 and she was 16. Stodden said public taunts from Joy Behar, Courtney Love, and Anderson Cooper hurt her, but Teigen was particularly singled out. Some of Teigen's tweets directed toward Stodden included messages like "what drugs makes you do something like that to your mouth?" and simply "I hate you."
Conservative author Brigitte Gabriel also tweeted about Stodden's recent comments. She wrote: "Chrissy Teigen told a 16 year old child to go kill herself. But she wants to claim that President Trump was the one with the 'mean tweets.' Talk about bald-faced hypocrisy."
Political commentator Candace Owens didn't reference Teigen's online feud with Trump specifically but said Trump was unfairly targeted for his comments while Teigen has thus far not received the same treatment.
She wrote: "Donald Trump was censored off the internet for writing nothing even remotely violent. Chrissy Teigen told a then-16-year-old to commit suicide, and that she couldn't wait for her to die— and is allowed to keep all of her accounts. Disgusting."
Trump once infamously called Teigen a "filthy mouthed wife" on Twitter while also criticizing her husband, musician John Legend. The ex-president eventually blocked her from his Twitter account.
After a lengthy series of apologies from Teigen, Stodden wrote on Instagram: "I accept her apology and forgive her. But the truth remains the same, I have never heard from her or her camp in private."
Stodden finalized her divorce from Hutchinson last year.
Newsweek contacted Chrissy Teigen for comment but did not hear back in time for publication.