Why Is Tekashi 6ix9ine in Jail? Arrest Timeline, History of 'Dummy Boy' Rapper's Criminal History
Tekashi 6ix9ine is currently being held at a federal prison in Queens, New York after being arrested just days before Thanksgiving. The rapper, whose debut album Dummy Boy officially released on streaming services on Tuesday, is facing a minimum of 32 years, maxium life, on racketeering charges among others.
6ix9ine, whose birth name is Daniel Hernandez, entered a not guilty plea in court on Monday. He isn't expected to go on trial until September 2019, along with four other members of the Nine Trey Gangsta Bloods—a gang 6ix9ine often exalted in his songs.
While 22-year-old 6ix9ine has experienced lock-up and has been hit with criminal charges before, the latest instance marks the most severe charges he's ever faced before. Read on for a look at all the times 6ix9ine has been arrested before.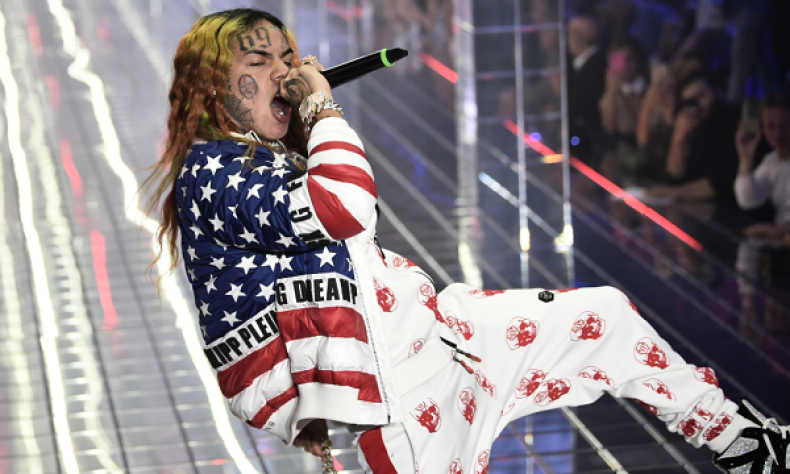 Unidentified Date
6ix9ine first arrest was when he was a minor, although it's unclear when specifically it occurred. The rapper appeared on the podcast No Jumper in 2017 and admitted to having a few priors on his record well before his music career took off. "I have a couple priors. I went to jail. I have a couple priors," 6ix9ine explained. "I got caught selling heroin at a store, and then I beat up the owner of the store so they hit me with sale of illegal substance. And then I had an assault—like a second-degree assault."
March 2015
6ix9ine was arrested on March 5, 2015, for his involvement in a child sex act. He later pleaded guilty of "the use of a child in a sexual performance" in October 2015, according to a New York Times report. 6ix9ine appeared in a video that included a minor performing a sexual act on his friend. He was given probation under the pretense he would get his GED, however, 6ix9ine failed the test in January 2018, resulting in a judge ordering him to serve four years of probation and 1,000 hours of community service in New York in October.
May 2018
6ix9ine was arrested for driving with a suspended license in New York. Upon his apprehension, 6ix9ine allegedly injured an officer, which resulted in additional charges of obstructing governmental administration and assault, according to New York Times.
July 2018
The rapper was arrested following an outstanding warrant that was issued against him in Houston for allegedly choking a 16-year-old at a mall in January. New York Times reported 6ix9ine was charged with a misdemeanor assault for the incident.
November 18
6ix9ine's most recent arrest came following a federal indictment on six counts of racketeering conspiracy in effort to promote Nine Trey's status and territory in various areas of New York. In addition to a firearms offense and violent crime in aid of racketeering charges connected to an armed robbery in April and a shooting in Brooklyn in July, the indictment claimed 6ix9ine participated in a number of other illicit crimes for the gang's gain including murder, narcotics trafficking and other instances of robbery.