Tekashi 6ix9ine Jail Update: Rapper's Child Sex Case Closed Due to Federal Indictment on Racketeering Charges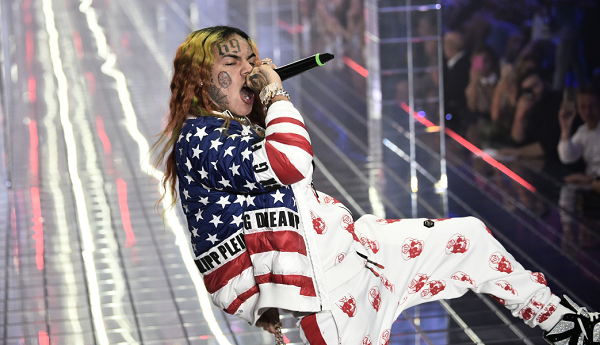 There's at least one case Tekashi 6ix9ine will no longer have to worry about while the rapper is awaiting trial for his federal indictment. The child sex crime case Tekashi 6ix9nine—real name Daniel Hernandez—was on probation for was closed, according to a TMZ report on Wednesday.
Tekashi 6ix9ine was issued four years of probation and 1,000 hours of community service for his role in a video of a 13-year-old girl performing sexual acts on a friend. The rapper pleaded guilty for the crime in 2015, although he wasn't delivered a probationary sentence until October of this year.
However, a judge recently revoked Tekashi 6ix9ine's probation and gave him credit for time served, a mandate that came in light of Tekashi 6ix9ine's federal indictment on charges of racketeering conspiracy, firearms offenses and a number of other crimes, which he is currently behind bars for now. He maintains his innocence on those charges.
Tekashi 6ix9ine's lawyer, Lance Lazzro, told TMZ with Tekashi 6ix9ine already incarcerated for a federal case, the state is no longer able to "enforce the terms of probation nor can they enforce community service."
Tekashi 6ix9ine is currently facing a 32-year minimum, a maximum life sentence if convicted on multiple counts of racketeering conspiracy; firearm possession; violence including robbery and murder in aid of racketeering. The rapper was arrested on the charges, along with six other affiliates of the Nine Trey Gangsta Bloods—a gang the "FEFE" rapper often proclaimed in his songs—in November. The men were accused of operating as an enterprise and engaging in various criminal activities to strengthen the gang's territorial hold throughout New York.
In total, the indictment includes 17 counts stemming from crimes as far back as 2013. The indictment also includes an armed robbery in April—of which the firearm used in the crime was discovered in Tekashi 6ix9ine's Brooklyn apartment—and a shooting in July.
Tekashi 6ix9ine plead not guilty to six counts. His trial is set for September 2019.