Tekashi 6ix9ine Sentence Update: In Video About Chief Keef Shooting, Rapper Might Have Incriminated Himself
Tekashi 6ix9ine's legal drama may be getting a lot more complicated after authorities obtained video footage of the rapper reportedly ordering a hit on Chicago rapper Chief Keef's cousin Tadoe, according to TMZ.
In the video, released by TMZ on Saturday, 6ix9ine is on a FaceTime call with Tadoe in late May and repeatedly asked for his location. At the end of the conversation, the Brooklyn rapper aggressively announced, "I got a 30 pack on him right now, Blood."
"Thirty pack. Swear to God I got a 30 pack. Thirty-thou cash, right now," 6ix9ine Tekashi continued.
The "30 pack" Tekashi 6ix9ine speaks of in the video is reportedly a slang term referring to a $30,000 bounty on someone. Investigators are linking the phone call to the attempted shooting of Keef in June, according to TMZ. Keef was standing outside of a W Hotel in New York City with Tadoe when two unidentified males opened fire, spraying multiple rounds of bullets in their direction.
Authorities have yet to reveal suspects affiliated with the crime, however, police told TMZ they had two persons of interest, one of whom is a "known associate" of Tekashi 6ix9ine.
The shooting just so happened to take place just days after Tekashi 6ix9ine posted an Instagram video hurling insults at Keef and his crew.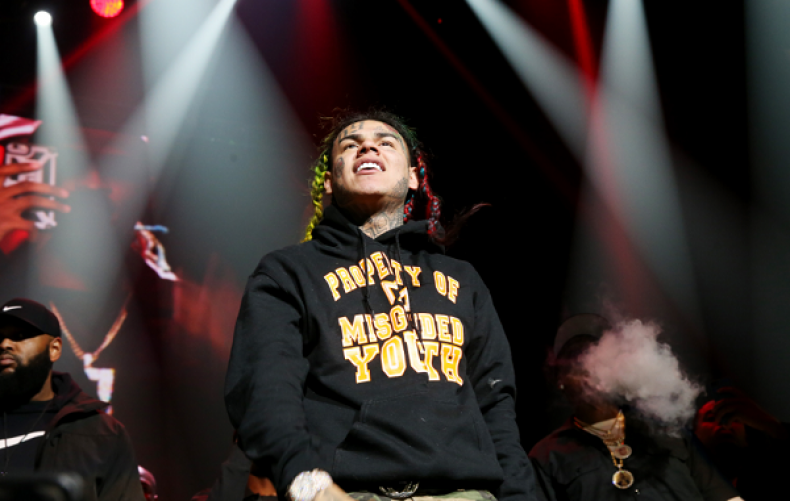 Although the June incident wasn't included in the federal indictment pinned on Tekashi 6ix9ine in November—of which the rapper is facing six counts on racketeering charges among others—prosecutors have said the Dummy Boy rapper's social media will be used as evidence against him.
Only potentially making matters worse for Tekashi 6ix9ine, he may also be resentenced on his 2015 child sex crime case. Tekashi 6ix9ine was ordered to 1,000 hours of community service and four years of probation for his involvement in a video of a 13-year-old girl performing a sexual act on his friend. Tekashi 6ix9ine's current position behind bars on a federal indictment, which he is facing 32 years to life for, is technically a violation of his probation. It also means he will not be able to complete the mandated community service, which could likely lead to him serving time for the offense.
Tekashi 6ix9ine's federal trial isn't expected to start until September 2019.