What Will Happen to Tekashi 6ix9ine in 2019? Trial Date and Everything Else Surrounding Rapper's Indictment
The New Year marks a big one for Tekashi 6ix9ine. The rapper, who is currently behind bars at a federal prison in Queens, will finally start trial on racketeering conspiracy charges among others in 2019.
Although the trail isn't scheduled to start until September 4, the "FEFE" rapper's attorney Lance Lazarro will participate in a pre-trial conference on January 22.
Tekashi 6ix9ine is expected to remain behind bars throughout the trial. However, it is likely Lazarro will apply for bail directly to the trial judge in January. Initial bail requests at the preliminary hearing in November were denied.
Fans have thrown support behind Tekashi 6ix9ine in hopes of swaying a judge to grant the rapper bail. A change.org petition, launched by "GUMMO" fans on Saturday, already received more than 40,000 signatures from hip-hop hopefuls anticipating Tekashi 6ix9ine's release.
Tekashi 6ix9ine, whose real name is Daniel Hernandez, was arrested for his involvement in Nine Trey Gangsta Bloods, a Brooklyn gang he regularly proclaimed in his music and on social media, just ahead of the Thanksgiving holiday in November.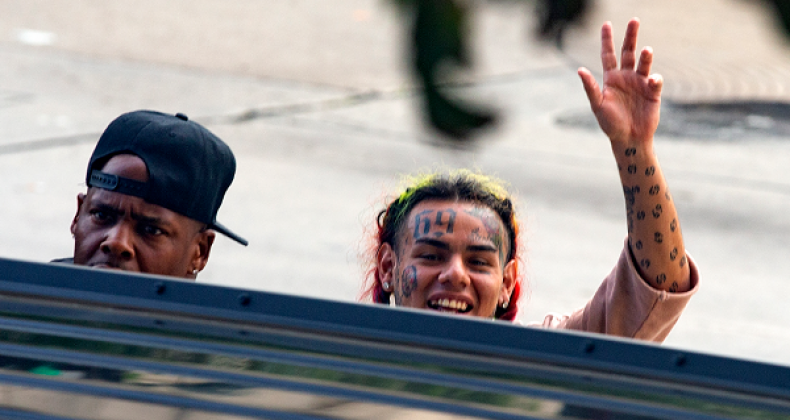 The 17-count federal indictment was based on charges of racketeering, firearms offense and violent crime in aid of racketeering, which included instances of armed robbery, murder and drug trafficking in aid of Nine Trey. The gang was cited for operating as a criminal enterprise.
Four others in addition to 6ix9ine were charged in November, including his former manager Kifano "Shotti" Jordan, Jamel "Mel Murda" Jones, Jensel "Ish" Butler, Fuguan "Fu Banga" Lovick and Faheem "Crippy" Walters. Since then two more men—Roland "Ro Murda" Martin and Aaron "Bat" Young—have been added to the indictment.
Tekashi 6ix9ine, who was charged with six counts, pled not guilty during a hearing in November. If convicted, the Dummy Boy rapper will face a 32-year minimum sentence and a maximum of life in prison.