Tekashi 6ix9ine Update: Rapper Loses Lawyer Lance Lazzaro After Day in Court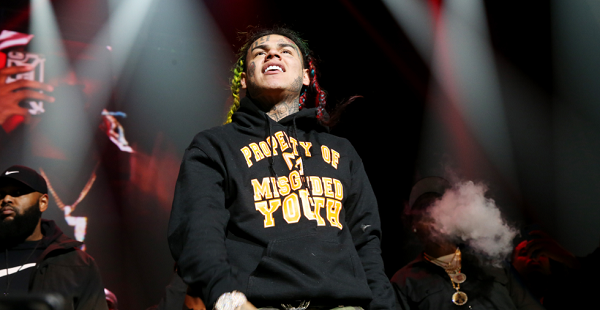 Tekashi 6ix9ine's attorney, Lance Lazzaro, was removed from his racketeering case due to a potential conflict of interest on Tuesday, according to a Complex report.
Lazzaro had served as the rapper's main representative in his case on charges of racketeering conspiracy, firearms offenses and other crimes. However, Judge Paul A. Engelmayer learned Lazzaro served as a previous attorney for co-defendant Kifano "Shotti" Jordan—6ix9ine's former manager and one of the seven other men charged in connection to the Nine Trey Gangsta Bloods—and he ordered him off the case.
Although all minor charges, Lazzaro worked as Jordan's attorney in four separate cases between 2004 to 2015. Jordan only received a misdemeanor in one of the cases while the other three were dismissed.
More recently, Lazzaro represented another co-defendant, Faheem Walter, on his assault charge case stemming from a dinner 6ix9ine attended at a New York City restaurant that ended in gunfire. The rapper was dining at Phillipe with label executive Elliot Grainge in October 2018 when various members of 6ix9ine's entourage reportedly interrupted the meeting and fired off rounds of shots. Walter was hit with a bullet fired by Grainge's security guard, Complex reported.
Englemayer cited potential conflicts of interest in regards to Lazzaro's current representation of 6ix9ine, whose birth name is Daniel Hernandez. Lazzaro is not representing the other men on this particular federal indictment. Nonetheless, he was thrown off the case.
The rapper still has attorney Dawn Florio, who signed on to his legal team shortly after his arrest in November.
He has denied involvement in Nine Trey, a New York-based gang, which was cited for murder, drug trafficking and armed robbery in the federal indictment.
Although Lazzaro had been vying for a bail to be set for 6ix9ine, the issue was not raised during the hearing for the Dummy Boy rapper or any of the others indicted. The Brooklyn rapper is expected to remain behind bars at a federal prison in Queens throughout his trial, which won't begin until September.