Tekashi 6ix9ine Prison Update: Why He's in Jail, Rapper's Racketeering Charges and Everything We Know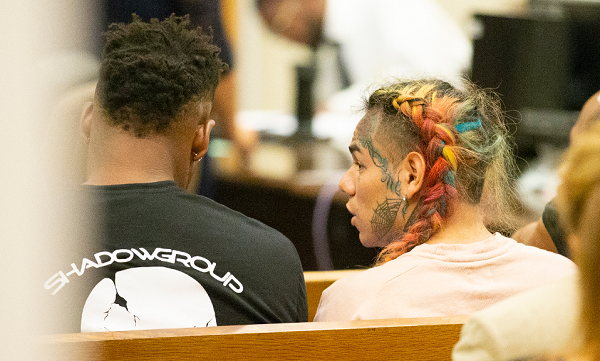 Tekashi 6ix9ine is currently awaiting trial behind bars at a federal prison in Queens, New York. The 22-year-old rapper is facing a 32-year minimum, maximum life sentence on charges of racketeering conspiracy and firearms offenses among others.
6ix9ine, whose birth name is Daniel Hernandez, was arrested on a federal indictment just ahead of the Thanksgiving holiday on November 18. He was charged along with five other men affiliated with the Nine Trey Gangsta Bloods—a Brooklyn-based gang the rapper often repped in his music—including his former manager Kifano "Shotti" Jordan, Jamel "Mel Murda" Jones, Jensel "Ish" Butler, Fuguan "Fu Banga" Lovick and Faheem "Crippy" Walters.
A seventh man, Roland "Ro Murda" Martin, was arrested by U.S. Marshals in New York and added to the indictment on November 22.
The indictment said the gang acted as a criminal enterprise, engaging in acts of robbery, murder and narcotics trafficking to advance their power and territory across New York. The indictment includes 17 counts altogether, six of which 6ix9ix is facing.
The indictment cited an April armed robbery—of which the handgun used was discovered in 6ix9ine's Brooklyn apartment during a raid—and a July shooting as examples of crimes Nine Trey committed to strengthen the gang's hold.
6ix9ine's lawyer, Lance Lazzaro, denied the rapper's involvement with the gang and said his client was "completely innocent of all charges."
"An entertainer who portrays a 'gangster image' to promote his music does not make him a member of an enterprise," Lazzaro said on November 26.
He continued: "Mr. Hernandez became a victim of this enterprise and later took steps by firing employees and publicly denounced this enterprise through a morning show. Threats were then made against his life which resulted in this case being brought immediately."
6ix9ine has since added attorney Dawn Florio to his legal team.
The Dummy Boy rapper entered a not guilty plea when he appeared before a judge on November 26. He was denied bail and could potentially remain in prison until a jury reaches a conclusion. His trial isn't expected to start until September 4, 2019.
Although 6ix9ine was on probation stemming from his 2015 child sex crime case, a judge credited his remaining four years of probation and 1,000 hours of community service in light of his federal indictment.