Tekashi 6ix9ine Trial Update: Rapper Won't Take Plea Deal, Lawyer Lance Lazzaro Says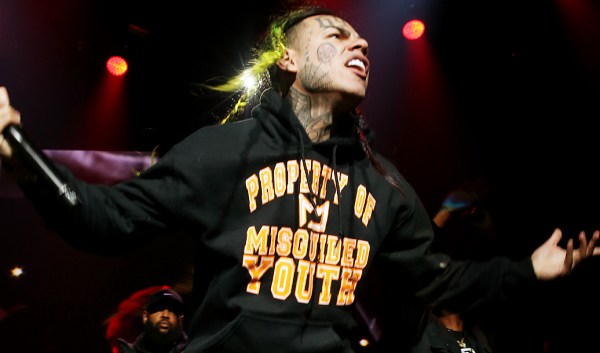 Tekashi 6ix9ine won't take a plea deal, even if prosecutors attempt to offer him one. The rapper, whose birth name is Daniel Hernandez, is currently behind bars at a federal prison in Queens awaiting his federal trial on racketeering charges.
Despite mounting evidence against 6ix9ine and his Nine Trey Gangsta Blood associates, the rapper's lawyer Lance Lazzaro insisted 6ix9ine will see the case go to trial before a jury, TMZ reported.
"A plea deal is simply off the table, even if the feds offer one," Lazzaro told TMZ on Sunday, adding 6ix9ine's legal team was prepared to prove his innocence.
6ix9ine has reportedly not been offered a deal as of yet.
Lazzaro's comment comes after prosecutors filed documents suggesting 6ix9ine should continue to remain behind bars until his trial starts in September 2019. Included in the documents, obtained and released by TMZ on Saturday, are photographs connecting and members of the Nine Trey gang, including the rapper's former manager Kifano "Shotti" Jordan, to various arms robberies and shootings.
Some of the images, which federal prosecutors secured from phones belonging to 6ix9ine and others, matched surveillance videos of an armed robbery in Brooklyn in April, including a robbery cited in the federal indictment against them.
Authorities believe 6ix9ine recorded the robbery, pulled off by Jordan, and later passed the video along to a third party to be uploaded on the internet. Images pulled from the phone video match pictures of a backpack stolen in the robbery, which was later found in 6ix9ine's Brooklyn home during a raid in September. Officers also discovered an AR-15 rifle in the home that was reportedly used in the robbery.
Images obtained also matched surveillance pictures of two Brooklyn shootings, which also occurred in April. See the images HERE.
The evidence was enough to convince a judge to keep 6ix9ine in lockup.
6ix9ine was arrested on charges of racketeering with six other men involved in the Nine Trey gang—a group he often referenced in his music. In total, 17 counts were issued in the federal indictment, which accused 6ix9ine and the others as operating as a criminal enterprise and committing a number of crimes in effort to advance the gang.
6ix9ine is facing six counts which come with a minimum of 32 years behind bars and maximum life sentence.