What Happened to Tekashi 6ix9ine: Why the Rapper is in Jail and What Charges He's Facing
Tekashi 6ix9ine is facing a minimum of 32 years and a maximum of life in prison for violating the federal RICO act—laws pertaining to Racketeer Influenced and Corrupt Organizations—and other crimes committed by the Nine Trey Gangsta Bloods, which Tekashi 6ix9ine often repped on social media and in his music. He has pleaded not guilty to the charges.
The 22-year-old rapper, who skyrocketed to fame with the release of his debut mixtape Day69 in February, is currently being held in a Queens prison separate from four other members of the Brooklyn gang including his former manager Kifano "Shotti" Jordan, Jamel "Mel Murda" Jones, Jensel "Ish" Butler, Fuguan "Fu Banga" Lovick and Faheem "Crippy" Walters. 6ix9ine was removed from the Brooklyn-based Metropolitan Detention Center where he was being held in general population at the time of his arrest on November 18.
According to a federal indictment against Tekashi 6ix9ine , whose legal name is Daniel Hernandez, and the four others, the men operated as a criminal enterprise under the Nine Trey gang and engaged in a number of illicit activities including murder, robbery and narcotics trafficking for the benefit of "protecting the power, territory and profits" of the organization throughout areas of Manhattan, the Bronx and Brooklyn.
The indictment listed Tekashi 6ix9ine in direct connection to two incidents including an armed robbery in April and the shooting of a bystander in Brooklyn in July. The firearm used in the April robbery was found in a backpack in Tekashi 6ix9ine 's Brooklyn home along with another automatic pistol.
While the indictment includes 17 counts altogether dating back to 2013, Tekashi 6ix9ine is only being charged for six, two of which hold a maximum life sentence.
Read on for a quick rundown on the charges below: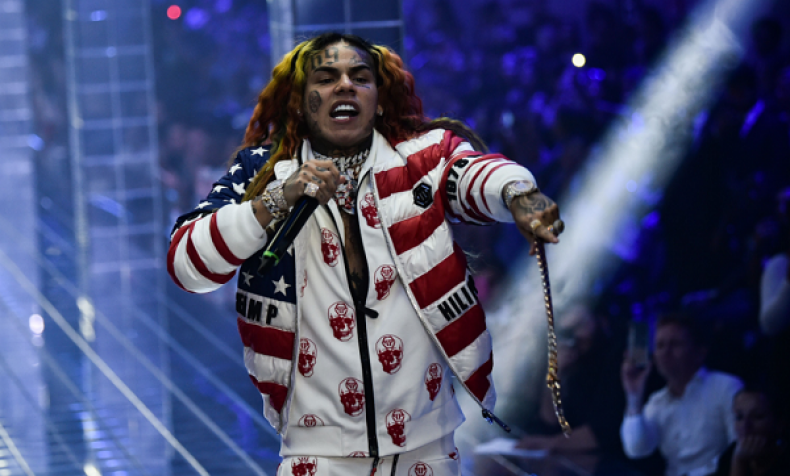 Racketeering conspiracy
Along with the other defendants, Tekashi 6ix9ine was charged with one count of racketeering conspiracy that cited the gang for operating as an unlawful enterprise that engaged in a number of activities to secure its position and power throughout New York, including the sale and trafficking of heroin, fentanyl, furanyl fentanyl, MDMA, dibutylone and marijuana. In effort of expanding the gang's narcotics operation, 6ix9ine and other members of the gang allegedly committed various acts of violence that included murder, robbery, extortion and assault. The indictment listed instances of harassment and violence towards rival gangs and Nine Trey members seemingly behaving disloyal to the overall group.
Firearms offense— Racketeering conspiracy
Tekashi 6ix9ine was given one count possessing and carrying firearms in aid of racketeering conspiracy, including some instances in which firearms were brandished and discharged in effort to protect the enterprise and its properties.
Violent crime in aid of racketeering
The "FEFE" rapper was given three counts, including two stemming from the robbery on April 3 and one from the July 16 shooting. In relation to the April incident, Tekashi 6ix9ine was charged with using a dangerous weapon to hold a gunpoint robbery and conspiring an assault on a Nine Trey rival with the intention of maintaining and increasing the status of the Nine Trey gang. Charges pertaining to the July altercation cite Tekashi 6ix9ine for conspiring to commit murder and assault with a dangerous weapon and agreeing to shoot a person who "had shown disrespect to members of Nine Trey."
Firearms offense
Tekashi 6ix9ine​ was giving one count for carrying and possessing firearms related to crimes committed on April 3.