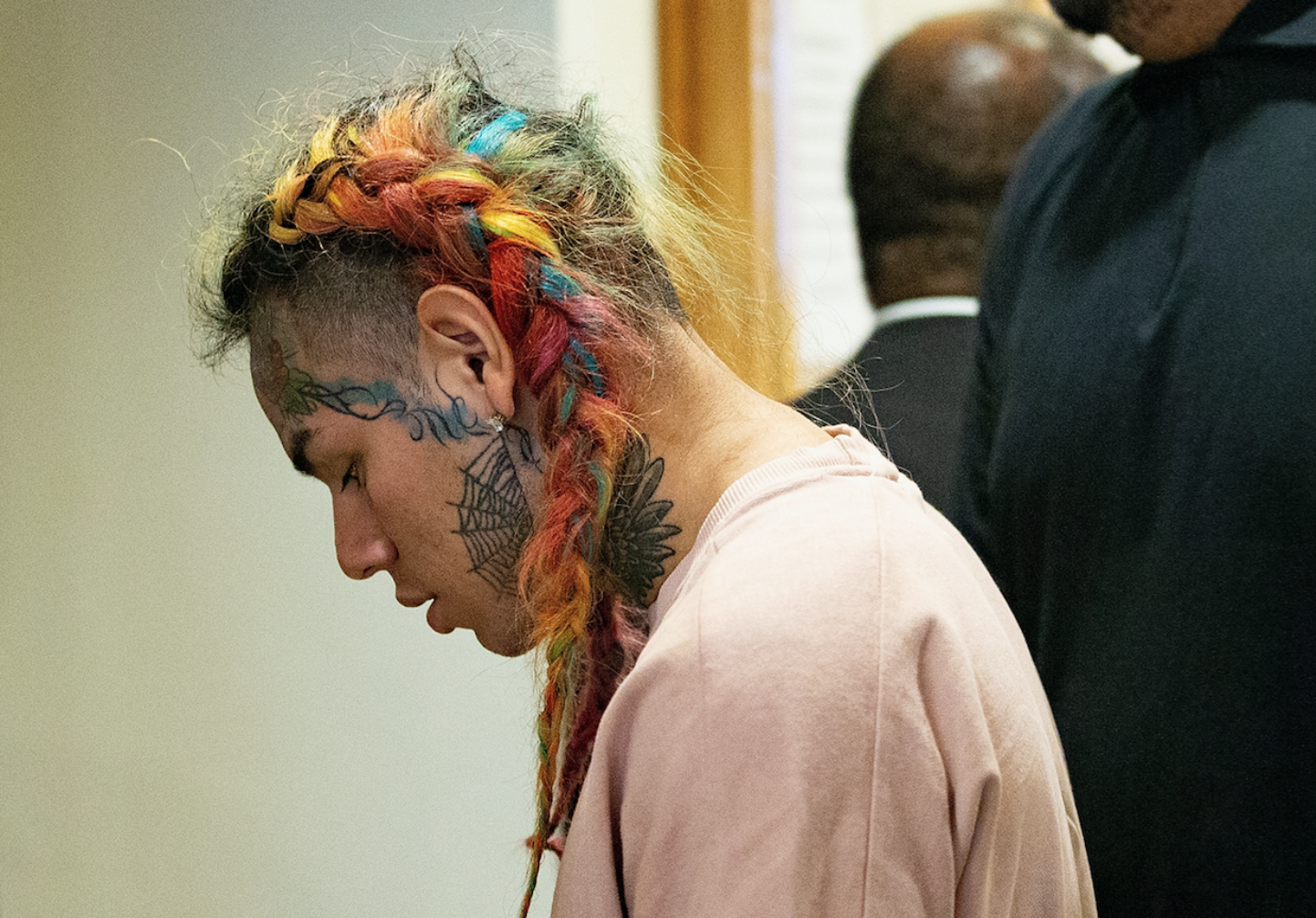 Newly released information on rapper Tekashi 6ix9ine's legal ongoings have emerged, courtesy of a transcript detailing a wiretapped conversation between his former manager Kifano "Shottie" Jordan and Jamel "Mel Murda" Jones, where they suggested he wasn't in a gang.
Tekashi 6ix9ine, born Daniel Hernandez, was arrested on November 18 on racketeering and firearm charges. He's been accused of running the Nine Trey Gangsta Bloods—a street gang established in New York that operates on the east coast. However, Jordan and Jones claimed the "Fefe" artist has had no involvement in any gang-related activity.
In legal documents obtained by The Blast, Jordan and Jones were wiretapped when they discussed comments Tekashi 6ix9ine made on The Breakfast Club radio show about firing his team. Jones explained how he believed the rapper embarrassed Jordan before suggesting he's going to "feed him," which officials suspected the term meant to shoot Tekashi 6ix9ine. However, Jones then indicated Tekashi 6ix9ine's an adversary to Nine Trey Gangsta Bloods.
"Just tell that n**** that he not a gang member no more," Jones said, according to The Blast. "He kicked out the whip."
Before The Blast's update, TMZ published a viewable version of Jones and Jordan's wiretapped conversation where they discussed how they're going to "feed" him for "trying to dry snitch." Jones, however, said he didn't "want to even talk on the phone right now" about the matter at hand. He purposed the pair "meet up and talk" instead.
Tekashi 6ix9ine was arrested alongside alleged gang members Jordan, Jones, Fuguan "Fu Banga" Lovick, Jensel "Ish" Butler and his former bodyguard Faheem "Crippy" Walter. He's since pleaded not guilty on all accounts, which could result in a 32-year prison stint or life behind bars if proven otherwise.
Tekashi 6ix9ine's attorney, Lance Lazzaro, claimed the 22-year-old "Bebe" rapper was innocent on all charges. Lazzaro suspects the charges against the artist will be dismissed.
"Daniel Hernandez is completely innocent of all charges being brought against him," Lazzaro wrote in a statement, according to Rolling Stone. "An entertainer who portrays a 'gangster image' to promote his music does not make him a member of an enterprise."
Lazzaro continued, "Mr. Hernandez became a victim of this enterprise and later took steps by firing employees and publicly denounced this enterprise through a morning show. Threats were then made against his life which resulted in this case being brought immediately."
Tekashi 6ix9ine currently remains in custody. His next court appearance is scheduled for September 2019. However, he was removed from the Metropolitan Detention Center in Brooklyn, New York, due to security reasons. His current holding whereabouts aren't known.