What Is Racketeering? Tekashi 6ix9ine Faces Life in Prison After Charge
"Fefe" rapper Tekashi 6ix9ine is facing life in prison after he was charged with a slew of charges, one of them being racketeering. For those who may not know, racketeering is corrupt and deceitful business dealings, but there's a little more to it than that. Racketeering is a term that has been associated with organized crime and the Mafia specifically since the 1920s.
The rapper, whose legal name is Daniel Hernandez, was arrested under The Racketeer Influenced and Corrupt Organizations Act, also known as "RICO." It's a federal law that was passed in 1970 to halt organized crime. There must be a "pattern of racketeering" displayed for someone to be arrested under RICO, has been being watched by authorities for some time. Someone can be charged with RICO over the course of 10 years if they committed at least two RICO offenses.
Tekashi and members of his gang carried out illegal activities "for the purpose of gaining entrance to and maintaining and increasing position in (gang) Nine," court documents read. Tekashi's former associates, Shotti, Jensel (Ish) Butler, Jamel (Mel Murda) Jones and Faheem (Crippy) Walter were also indicted.
"[Hernandez] is a member of a violent sect of the Bloods," assistant U.S. attorney Michael Longyear said. "This defendant participated in multiple acts of violence.
Tekashi 6ix9ine was detained in the general population of Brooklyn's Metropolitan Detention Center, his lawyer, Lance Lazzaro, told TMZ Tuesday. The prison is considered as particularly dangerous, with the U.S. justice department noting the inmates are prone to "extremely dangerous, violent, or escape-prone" activities.
Tekashi 6ix9ine is apparently in extra danger because his associates have reportedly turned on him and want to "super violate him," which is a gang term that generally means a revenge and possibly murder.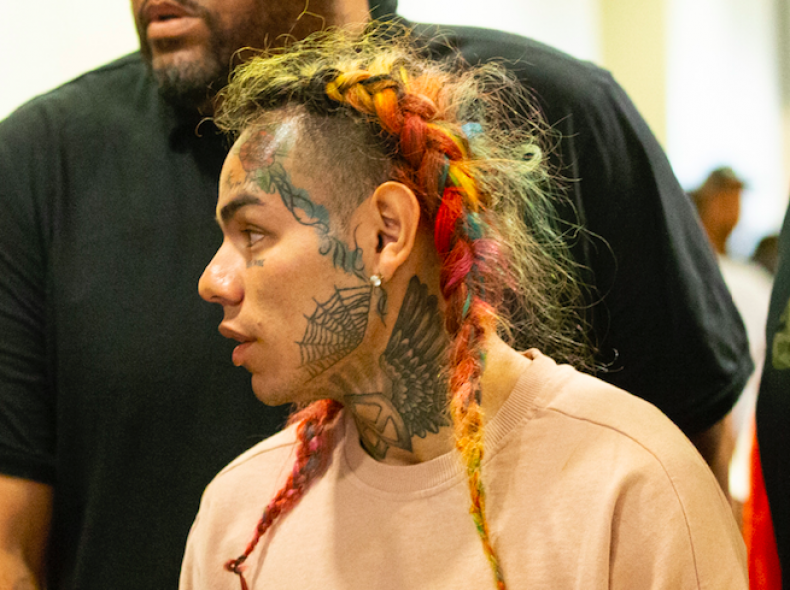 Even though the rapper is in general population at a dangerous prison with recently fired employees who might have a vendetta against him, Tekashi 6ix9ine is more worried about his family. Lazzaro told TMZ, "Daniel's mood is fine because he knows he is innocent. He's extremely concerned about his family." The rapper doesn't know if there's a threat to his family for sure.
Before he was arrested Sunday, he was trying to spend quality time with his 3-year-old daughter, Saraiyah. He was pictured celebrating his ex's birthday last month.
Since the rapper's bail was denied by a federal judge on Monday, his lawyer wants to postpone Wednesday's scheduled bail hearing and make his plea to the Courts of Appeal. Lazarro said the rapper hasn't asked for asked for protective custody while being imprisoned at Brooklyn's Metropolitan Detention Center.
In October 2015, the rapper pled guilty to using a child in sexual performance. Tekashi 6ix9ine and his friend made a video a naked 13-year-old girl. She was seen performing sexual acts with the friend. Tekashi 6ix9ine simulated thrusting behind her while he hit her backside. He was arrested last month for violating probation.
The rapper was thankful at the time he was given probation and not sentenced to prison time. "I have millions of youth that look at me as a role model and the last place I want to be is incarcerated, they don't deserve it. Thank you," he told the court.