Is Tekashi 6ix9ine Out of Jail? Rapper Transferred After Reportedly Receiving Death Threats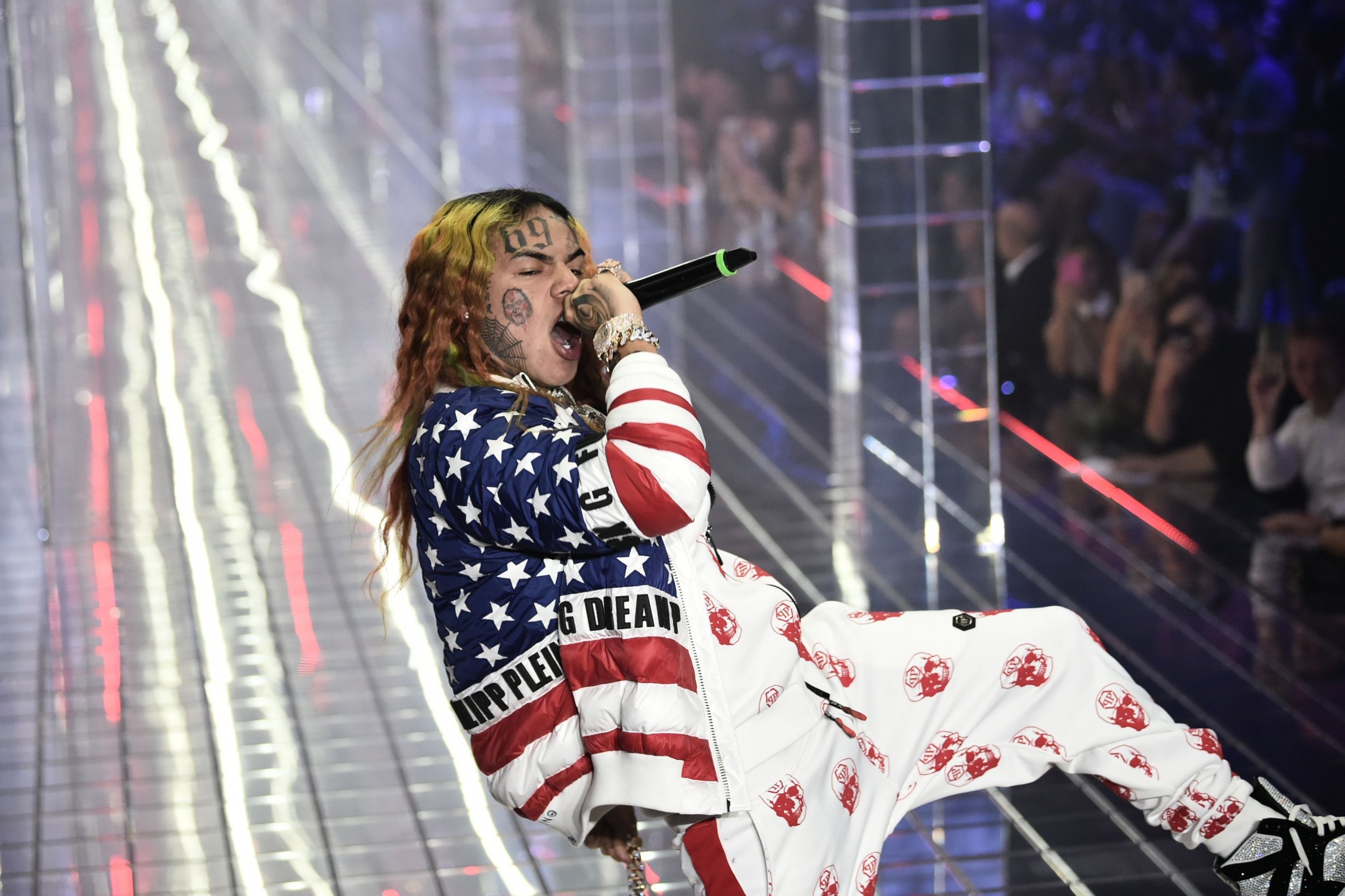 Rapper Tekashi 6ix9ine was transferred to a new detention facility after he reportedly received death threats.
Tekashi 6ix9ine, whose real name is Daniel Hernandez, was placed in the general population at Metropolitan Detention Center in Brooklyn, New York, after being arrested on Sunday night. However, his lawyer, Lance Lazzaro, told WABC that he was transferred to an undisclosed facility as a safety precaution. Tekashi 6ix9ine was reportedly getting death threats, which prompted the transfer.
Tekashi 6ix9ine was arrested on Sunday on racketeering and firearm charges for allegedly planning multiple armed robberies, shootings and drug deals. Prosecutors claimed the rapper committed armed robbery on April 3 and was selling heroin, fentanyl and other drugs in New York.
"[Hernandez] is a member of a violent sect of the Bloods," assistant U.S. attorney Michael Longyear said. "This defendant participated in multiple acts of violence.
Federal prosecutors released several images of Tekashi 6ix9ine that showed him at several locations when violent incidents occurred. Surveillance footage of the Barclays Center on April 21 showed Tekashi 6ix9ine at the scene when a gun was fired and he also allegedly filmed and directed the robbery of a man at gunpoint in April, according to WLS.
In July, he also allegedly conspired to shoot someone in Brooklyn but the group accidentally struck a bystander in the foot, instead. An AR-15 style rifle was also found in the rapper's apartment, according to WLS.
His arrest was a violation of his four-year probation, which was instituted after he pled guilty to using a child in sexual performance in October 2015. A video of the incident showed Tekashi 6ix9ine in the background making thrusting motions as a naked 13-year-old girl performed sexual acts with a friend.
"I have millions of youth that look at me as a role model and the last place I want to be is incarcerated, they don't deserve it. Thank you," he told the court at the time.
The Metropolitan Detention Center is categorized by the Department of Justice as a prison for inmates who are prone to "extremely dangerous, violent or escape-prone" activities. After being incarcerated, Tekashi 6ix9ine expressed that his associates turned on him and were seeking revenge, prompting concerns for his safety. Despite the alleged threats, Lazzaro said his client was more worried about others than himself.
"Daniel's mood is fine because he knows he is innocent," Lazzaro said. "He's extremely concerned about his family."
A judge denied the rapper bail and if he is convicted, Tekashi 6ix9ine faces life in prison.