Tekashi 6ix9ine Jail Update: Rapper Placed in Dangerous Brooklyn Prison, How Long Will He Be Locked Up?
Rapper Tekashi 6ix9ine has been detained in the general population of Brooklyn's Metropolitan Detention Center, his lawyer, Lance Lazzaro, told TMZ Tuesday. The U.S. justice department classifies the detention center as particularly dangerous and noted the inmates are prone to "extremely dangerous, violent, or escape-prone" activities.
Prosecutors also declared Tekashi 6ix9ine was in extra danger following an appearance on radio show The Breakfast Club, which was uploaded Friday. In the video, Tekashi 6ix9ine claimed his "inner circle" had turned on him. Prosecutors told the judge this video had made enemies of his once close team, who now want to "super violate him."
Many celebrity inmates receive special treatment in separated holding cells in order to keep them out of harm from general inmates. The reason Tekashi 6ix9ine has been chosen as a general population inmate is unknown. The rapper is scheduled to have a bail hearing on Wednesday.
Tekashi 6ix9ine was arrested Sunday evening on racketeering and firearm charges, along with his former manager, who the rapper fired last week, and two other former associates. The federal indictment states Tekashi 6ix9ine and his former team had planned a slew of armed robberies, shootings and drug deals. They said the rapper committed an armed robbery on April 3, and cited he was selling heroin and fentanyl among other drugs in New York.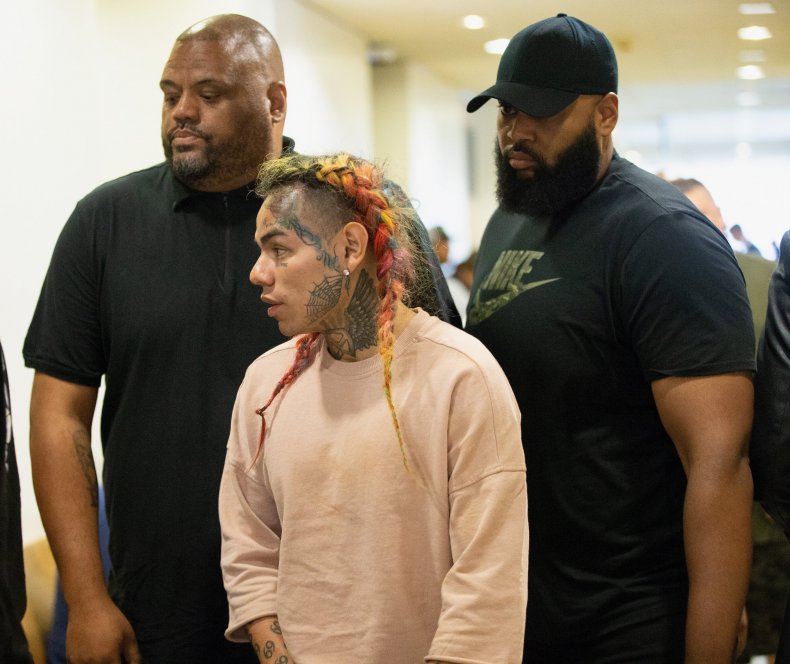 Earlier in November, the rapper was scheduled to shoot a music video with Kanye West and Nicki Minaj when the $80 million building they'd rented was shot at. The video shoot, which had not yet begun, was canceled.
Tekashi 6ix9ine's recent arrest comes as a violation of his probation, instated in October, for a child sex case. The rapper pled guilty to using a child in sexual performance back in October 2015, before he was famous. The rapper and friend were seen on video with a 13-year-old girl who was naked and performing sexual acts with the friend. Tekashi 6ix9ine stood behind her and pretended to thrust while slapping her behind, according to court documents obtained by TMZ in October.
The rapper was given four years of probation for the act, and one year of credit, meaning he would need to serve three years of unviolated probation. After the announcement of probation, the courtroom was filled with cheers in Tekashi 6ix9ine's favor, according to TMZ. He made a statement on his behalf. "I have millions of youth that look at me as a role model and the last place I want to be is incarcerated, they don't deserve it. Thank you," he told the court.