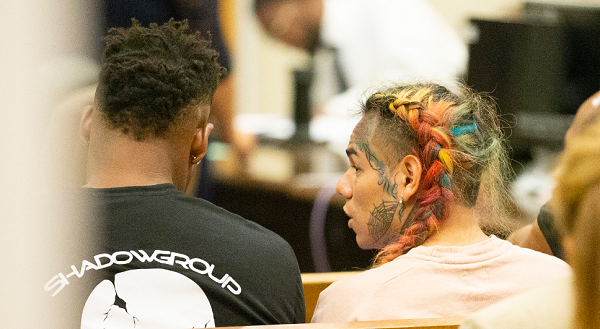 Another man was arrested in connection to Tekashi 6ix9ine's federal indictment. New York authorities announced the arrest of a man named Roland "Ro Murda" Martin, a seventh suspected member of the Nine Trey Gangsta Bloods, on November 22, according to a Complex report released Saturday.
Martin's apprehension comes two weeks after Tekashi 6ix9ine—birth name Daniel Hernandez—was arrested on racketeering conspiracy charges among others with five members of Nine Trey including his former manager Kifano "Shotti" Jordan, Fuguan "Fu Banga" Lovick, Jamel "Mel Murda" Jones, Jensel "Ish" Butler, and Faheem "Crippy" Walters.
The U.S. Marshals Service task force were credited for arresting Martin. "APPREHENDED "Ro Murda" Roland Martin (ATF NYFD Fugitive) was captured by the USMS Task Force early this morning. A big thank you goes out to the USMS that are working hard every day. Happy Thanksgiving!" read the service's Twitter post, along with a photograph of Martin, on November 22.
In addition to the racketeering charges included in Tekashi 6ix9ine's indictment, Martin is also accused of carrying out violent crimes for the benefit of the Nine Trey gang, a sect of the Brooklyn-based Bloods gang that Tekashi 6ix9ine notably shouted out in his music and on social media. The indictment includes 17 counts in total, although Tekashi 6ix9ine is facing six.
The new document, obtained by Complex, also noted two more counts added to Jones's indictment including narcotics trafficking as well as distribution and possession with intent to distribute a controlled substance. Investigators alleged Jones is a high-ranking member of the gang, known as a "GF" or "God Father," who allegedly oversaw the trafficking of drugs like heroin, fentanyl and MDMA. He is facing 10 counts in total.
The men are currently being held in Brooklyn Metropolitan Detention Center, with the exception of 6ix9ine, who was relocated to a federal prison in Queens following death threats.
The trial isn't expected to start until September 2019. Tekashi 6ix9ine maintains his innocence.