Tekashi 6ix9ine Seemingly Tweets From Jail to Release 'Dummy Boy'
"FEFE" rapper Tekashi 6ix9ine seemingly tweeted from prison when a new post from his account appeared Tuesday. He officially dropped his debut album, Dummy Boy, which leaked while he was behind bars. 6ix9ine was arrested last week on a slew of charges, including racketeering. He pleaded not guilty at his court date Monday.
"DUMMY BOY IS OUT NOW ON ALL STREAMING PLATFORMS," Tekashi 6ix9ine's account said. "ENJOY AND SHARE WIT ALL YA DIRTY ASS FRIENDS… THIS SHIT ALL HITS I PROMISE." Dummy Boy is currently streaming on Spotify, Apple Music, YouTube Music, Amazon Music, iTunes Store, SoundCloud and Deezer.
According to Complex, Tekashi 6ix9ine signed a new deal Create Music Group so the album would drop. "Create Music Group is already Tekashi's music publisher and they have a music distribution division, so it makes sense for them to take on this album," a rep told the site.
Tekashi 6ix9ine is accused of running a racketeering ring, Nine Trey Gangsta Bloods, with his manager Kifano "Shotti" Jordan. Jordan was also indicted on racketeering charges, which are related to a division of the Brooklyn-based Bloods gang. Also indicted are Tekashi 6ix9ine's former associates Jamel "Mel Murda" Jones, Jensel "Ish" Butler, Fuguan "Fu Banga" Lovick and Faheem "Crippy" Walters. There are a total of 17 counts in the indictment; some that date back to 2013.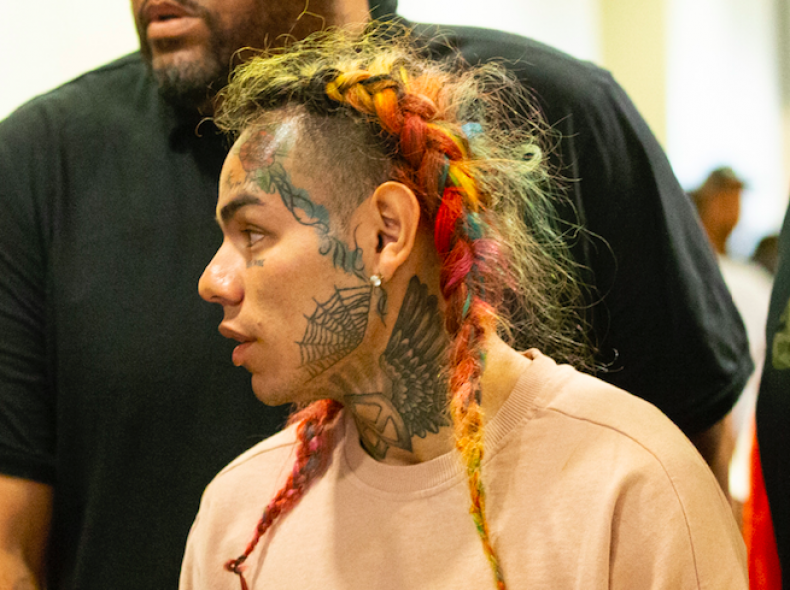 Tekashi 6ix9ine, whose legal name is Daniel Hernandez, brought on attorney Dawn Florio to his defense team, joining Lance Lazarro. If he's found guilty, Tekashi 6ix9ine would face a minimum of 32 years to a maximum of life in prison. The trial may not start until September, with defense lawyers saying they needed more time to prepare.
Though Lazarro requested Tekashi 6ix9ine be released on bail, a federal judge denied the request. That means Tekashi 6ix9ine could spend months behind bars while lawyers prepare for the trial. The original court date was set for January 22.
This isn't Tekashi 6ix9ine's first legal problem. In October 2015, he pled guilty to using a child in sexual performance after 6ix9ine and his friend made a video a nude 13-year-old girl. The video showed her engaging in sexual acts with the friend as 6ix9ine imitated thrusting behind her and hitting her behind. Last month, he was arrested violating probation from that incident.
At the time he was sentenced, he was thankful he was given probation and not jail time. "I have millions of youth that look at me as a role model and the last place I want to be is incarcerated, they don't deserve it. Thank you," he told the court.