Tekashi 6ix9nine Prison Update: Timeline of Rapper's Legal Troubles
Brooklyn rapper Tekashi 6ix9ine was delivered his fate in a courtroom in New York on Wednesday.
The 23-year-old, who was arrested on a federal indictment back in November 2018, was issued a two-year prison sentence on racketeering charges related to his role in the New York gang, Nine Trey Gangsta Bloods.
The last 13 months 6ix9ine, whose real name is Daniel Hernandez, spent behind bars will count as time served, meaning he will be eligible for release sometime in 2020. Following the completion of his prison sentence, the "FEFE" rapper will spend five years on supervised release and must complete 300 hours of community service in addition to paying a $35,000 fine.
6ix9ine expressed remorse for his part in the several violent crimes listed against him, ranging from his role in a shoot out in Times Square in March 2018 followed by another at Barclay's Center in April 2018, which injured two people, and a third near the W Hotel in June 2018. In a letter to U.S. District Judge Paul Engelmayer, 6ix9ine apologized for "misrepresenting myself" by joining a gang and participating in crimes, according to CNN.
"I now know that I am remorseful for what happened because I was blessed with the gift of an opportunity that most people dream of, but I squandered it by getting involved with the wrong people and misrepresenting myself when I should have been true to myself and my fans," he wrote.
Nine Trey often received shout outs in 6ix9ine's music, and the rapper acknowledged in court his attachment to the gang was only means to boost his street cred in his music. However, he seemed to distance himself from the organization during the trial by agreeing to testify against members of the gang in hopes of a sentence more lenient than the 47 years he was initially facing.
"I'm sorry to the victims who were affected by my actions, to my fans who look up to me and were misled, to my family who depends on me and to this courtroom for this mess that I contributed to," he wrote in a letter to the court.
See a timeline of 6ix9ine's legal history below.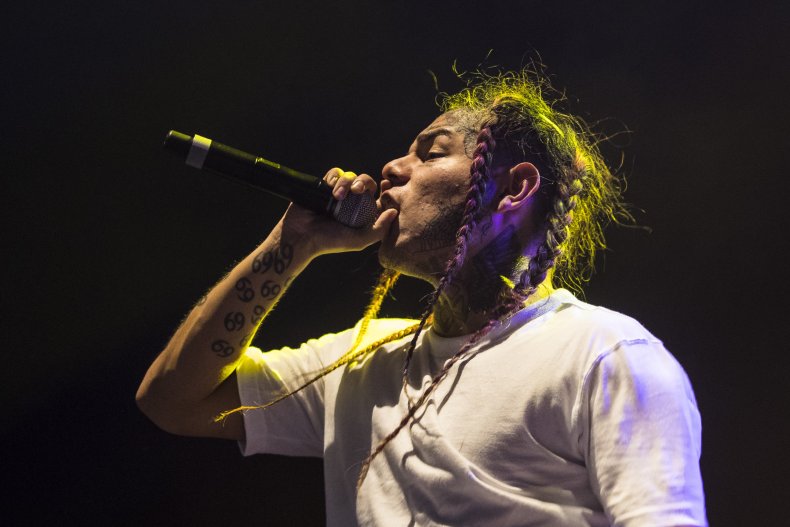 February 2015
6ix9ine's first arrest occurred after a video surfaced of him—then 18—appearing to engage in sexual activities with a girl who was 13 years old at the time. The videos, which depicted 6ix9ine making "thrusting motions" behind the girl and hitting her buttocks while she engaged in oral sex with another man, were initially shared on Instagram and then later reposted by Hernandez on his account. The girl's mother filed a criminal complaint against 6ix9ine and his counterpart, Taquan Anderson.
October 2015
6ix9ine enters a guilty plea to one felony count of "the use of a child in a sexual performance." The details of his plea deal were released in a 2017 Jezebel report, which revealed the rapper was ordered to complete 300 hours of community service in addition to undergoing mental health treatment. He was also prohibited from posting or resharing sexual or violent images and videos that included women or children on social media. He was also forced to obtain his GED and send a letter of apology to the victim's family.
January 2018
6ix9ine is involved in a physical confrontation with a fan at the Galleria Mall in Houston, Texas. The young man, who was 16 at the time, filed a police report against 6ix9ine claiming the rapper grabbed him by the neck.
February 2018
6ix9ine is involved in another physical altercation—this time outside of Los Angeles International Airport—along with several members of his entourage. He later shares the video of the fight on his Instagram.
April 2018
J. Prince, CEO of Rap-A-Lot Records, and several members of the label are robbed at gunpoint by members of Nine Trey outside of an office building near Times Square. Months later during his trial, 6ix9ine claimed the robbery was organized by members of the gang, including his then-manager, Kifano "Shotti" Jordan—who was sentenced to 15 years on the same racketeering charge. 6ix9ine admitted to being present during the robbery and said he even recorded the ordeal from outside the building.
Another incident included in 6ix9ine's racketeering trial also occurred in April 2018 when gunshots erupted at the Barclays Center in Brooklyn during a boxing match. Hernandez shared an Instagram video of himself laughing about the altercation shortly after.
May 2018
Misdemeanor assault charges are filed pertaining to 6ix9ine's fight with a fan at the Houston mall. That same month, he is arrested for driving without a license but receives four additional misdemeanor charges for allegedly grabbing a police officer.
June 2018
Chicago rapper Chief Keef is shot at outside of the W Hotel in Times Square. Rumors surface online that 6ix9ine orchestrated the shooting and later during his trial, 6ix9ine admits to ordering a $20,000 hit on Keef.
July 2018
6ix9ine is arrested on his misdemeanor assault charge relating to his altercation with a fan at the mall in Houston.
October 2018
6ix9ine is sentenced for his 2015 child sex case after the Manhattan's District Attorney's Office issues a letter claiming the rapper violated terms of his parole based on his new misdemeanor assault charges. A judge orders 6ix9ine to four years of probation and 1000 hours of community service.
November 2018
6ix9ine enters a guilty plea to disorderly conduct for the misdemeanor charge stemming from his incident with a police officer in May. Just days later, he is hit with a federal racketeering and firearms indictment that cites several crimes and connects him to the Nine Trey Gangsta Bloods. He is arrested along with five other men listed in the indictment and held without bail. 6ix9ine initially pleads not guilty.
January 2019
Still behind bars, 6ix9ine pleads guilty to nine counts of racketeering, firearms charges and drug trafficking.
September 2019
Trial begins and 6ix9ine officially confesses to being a member of the gang and providing it financial support. He also names several other rappers allegedly affiliated with the organization.
December 2019
The judge delivers 6ix9ine a 24-month prison sentence.