Has Tekashi 6ix9ine's Spotify Page Been Hacked?
The official Spotify page of Tekashi 6ix9ine, the American rapper, has reportedly been hacked.
NME reported the artist's page, which has over 9.1 million monthly listeners, featured various changes, including to his biography, which referenced Trippie Redd and Lil Durk, two artists with whom Tekashi 6ix9ine has had spats in the past.
Screenshots of the edited page were shared by users on social media, including Twitter user @Mr2KGod, whose post had over 2,800 retweets and 22,000 likes at the time of reporting.
The altered page also reportedly featured images of penises. The rapper's face was also edited onto a graphic from the Animorphs children's book series, which depicted a rat evolving into a human.
According to AllHipHop, which reported the hack took place on Sunday morning, the edited Spotify page also showed Tekashi 6ix9ine as a woman having sex with a rat.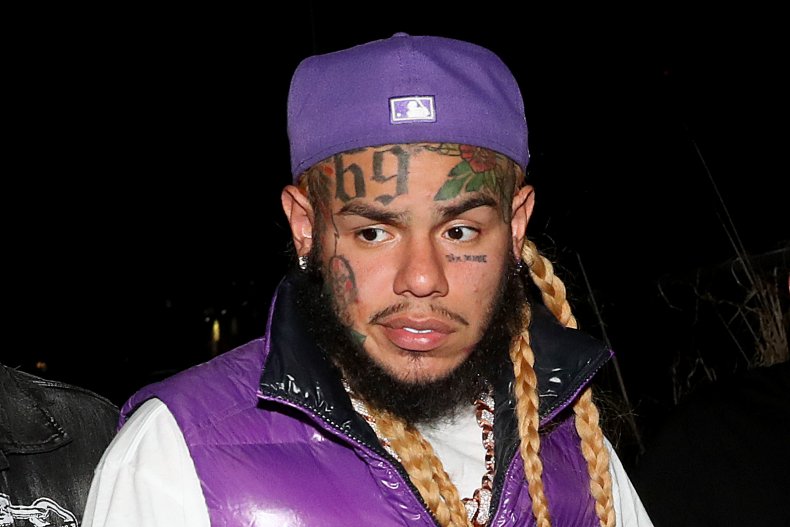 The artist's altered biography on the page reportedly read: "I grew up always wanting to be like Trippie Redd and lil durk I'd let them hit my girl and my mom.
"My mom p**** stank I came from the sewer. Wack 100 my boyfriend and he secretly crip," the biography said.
Tekashi 6ix9ine's profile image was swapped for a picture of Redd, while his artist pick featured the latter's Trip At Knight album.
The rapper's Spotify page has since been reverted back to its original form and the identity of the hacker behind the latest incident is unknown.
Newsweek has contacted Spotify and Tekashi 6ix9ine's record label for comment.
What to Do If Your Spotify Page Has Been Hacked
Spotify explains its platform and user records are secure, but "sometimes breaches on other services" means another person could log into your account.
The music streaming service says "your financial and security details are never compromised."
The following signs may indicate their account has been hacked, as outlined by Spotify:
Your password is no longer working
Your email address changed
Playlists added or lost
Your "Recently Played" listing looks wrong
Music playing without your control
Your subscription changing
Another Facebook connecting to your account
Emails about logins you don't recognize
Those Who Can't Access Their Account
Users whose page has been hacked and who can no longer access their account should contact Spotify via the platform's contact form here. Users will need to select "Logging in" and then the "Someone's taken over my account" option.
Spotify can also help secure and restore anything lost on your account via the same contact form.
The platform advises: "Prepare a screenshot of your Spotify receipt or bank statement - we may need it for security."
Users should be sure the screenshot doesn't show the full credit card number, expiration date or three-digit code, Spotify says.
Those Who Still Have Access to Their Account
Users whose page has been hacked but who still have access to their account, are advised to take the following steps, as outlined by Spotify.
Reset your password: Open your reset link in a private/incognito window, and choose a strong password you haven't used before.
Users should also be sure to also change the password for any service associated with your account, such as your email address, Facebook or Apple. They should also check the security of their Facebook account.
Sign out everywhere: Log in to your account page and select the "Sign Out Everywhere" option. This can take up to an hour to take effect everywhere, Spotify says.
Check third-party connections: On your account page, go to the "Apps" option to see what's connected to your account. Spotify says it's best to select "Remove Access" on all of them to ensure your account's security.
The music platform also advises users to check the Spotify desktop app's settings to review any connected Facebook accounts under the "Social" option. If there is a connected account, click "Disconnect from Facebook" to remove it. If it's your own Facebook account, change your Facebook password before reconnecting, Spotify says.
Log back in: After taking the aforementioned steps, you can now log back in to all of your devices and reconnect any apps and services.
Spotify says: "Your account's security is most at risk by breaches on other services, so to prevent this from happening again it's best to use a strong password that you don't use on other services."
For more information about how to protect your account, see the Spotify website.