Tekashi 6ix9ine Jail Update: New Defense Lawyer and Everything We Know About The Rapper's Racketeering Case
Tekashi 6ix9ine is beefing up his legal team in preparation for his trial, which isn't set to start until next year. The rapper, who was arrested on racketeering charges among others, added attorney Dawn Florio to his defense team, which already includes Lance Lazarro.
Florio will reportedly work with Lazarro and 6ix9ine on the rapper's charges pertaining to racketeering and firearms, according to The Blast. The New York City lawyer has worked with 6ix9ine in the past and represented him in court for a probation violation related to 6ix9ine's sexual misconduct case in October.
6ix9ine, whose birth name is Daniel Hernandez, appeared in court before Judge Paul A. Engelmayer for the first time since his arrest on November 18. Find out everything to know about his indictment and upcoming trial below.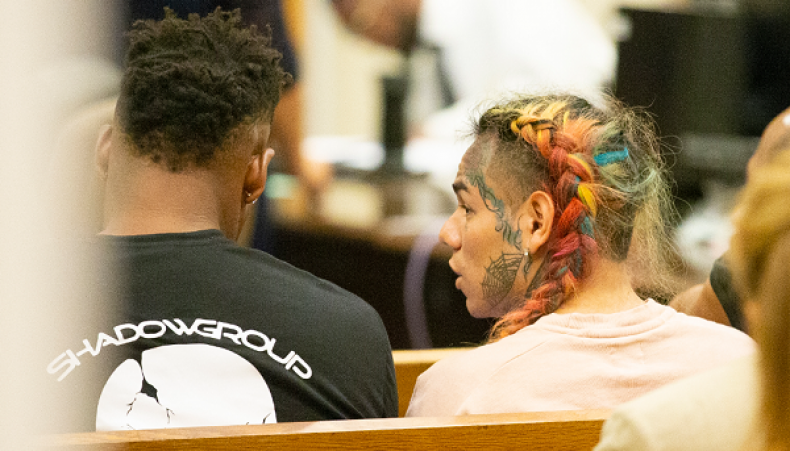 Who's being charged
An indictment was issued against 6ix9ine and four other members associated with the Nine Trey Gangsta Bloods, a division of the Brooklyn-based Bloods gang. Along with 6ix9ine's former manager Kifano "Shotti" Jordan, the rapper's former friends Jamel "Mel Murda" Jones, Jensel "Ish" Butler, Fuguan "Fu Banga" Lovick and Faheem "Crippy" Walters were charged with multiple counts of firearms offense, violent crime in aid of racketeering and operating under a criminal enterprise that engaged of acts involving murder, robbery and narcotics trafficking for the advancement of the gang. The indictment includes 17 counts in total extending as far back as 2013, although 6ix9ine is only facing six counts—two of which come with maximum life sentences. If convicted, 6ix9ine is facing a minimum of 32 years behind bars.
Not guilty
6ix9ine entered a not guilty plea in court on Monday. During the hearing, the "FEFE" rapper was seated away from his former associates and appeared to avoid making eye contact with them, although the defense counsel for all of the men charged did sit together. 6ix9ine's separation from the group may be due to bad blood among the former gang members as the FBI reportedly has tapes of Jones previously threatening 6ix9ine. There is also cause to believe 6ix9ine's life may be in danger after he was transported from the Brooklyn Metropolitan Detention Center to an unspecified federal prison shortly after his arrest due to death threats.
The investigation is continuing
The U.S. Attorney's Office noted during the hearing more charges against 6ix9ine and other Nine Trey members would likely come as the investigation into the enterprise continues. Prosecutors said they intend to add more counts against Jones specifically over the next few weeks. As for 6ix9ine, investigators will be using his social media, particularly the rapper's Instagram account as evidence against him. Prosecutors said they had search warrants for the rapper's iCloud and email accounts as well.
The trial doesn't start until September
Although 6ix9ine's next court hearing is scheduled for January 22, his trial isn't expected to start until after Labor Day on September 4, 2019. The U.S. Attorney's Office suggested a trial start date in the spring, however, a number of defense lawyers for the men charged explained they needed more time to thoroughly prepare. 6ix9ine is expected to remain behind bars while awaiting trial after the judge denied his attorney's bail request.