Tel Aviv Attack: Survivor and Medical Worker Recount Their 'Terrible' Ordeals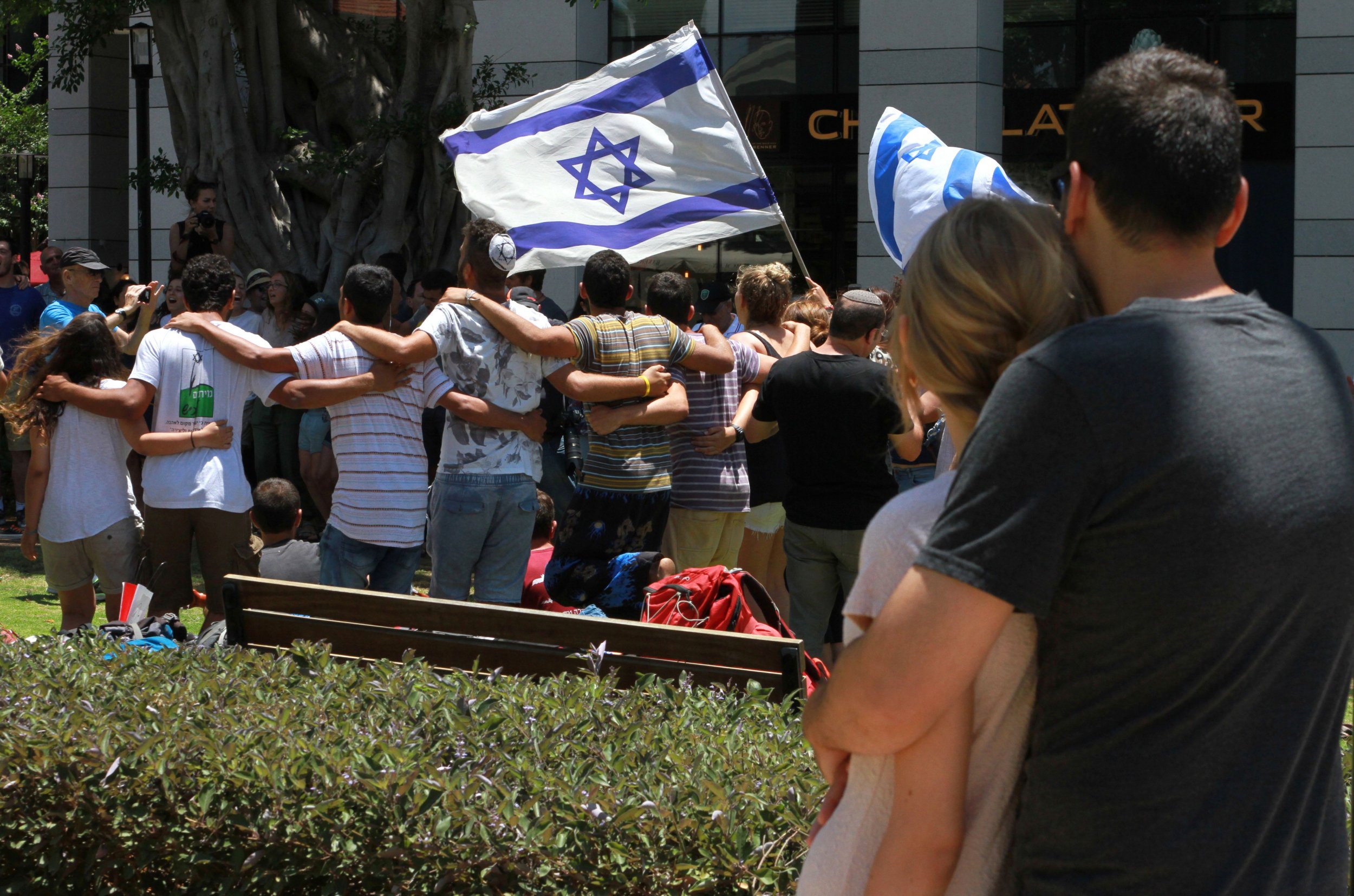 Avraham Liber had only traveled from Jerusalem to Tel Aviv to meet his friends for an ice cream at the heart of the Israeli city's modern, upscale Sarona market area on Wednesday. In the same restaurant, the Max Brenner chocolate shop, two suited Palestinian cousins from the West Bank village of Yatta sat down after ordering dessert, concealing two "Carlo" sub-machine guns that they would use to kill four Israelis.
As the men rose from their seats, firing ammunition at diners in the tables around them, Liber sat frozen 10 meters behind them. "There's a certain slow motion that happened in my mind at that second," he says. "You're suddenly taken out of this frivolous activity that you're busy with, and you realize okay there is a man there, I see him, he's 10 feet in front of me, he has a rifle in his hand and he is shooting people."
The 30-year-old mental health worker from Jerusalem says that he did not freeze "in the sense of total shock" but that he had a moment of realization. "It almost made sense to me. It was almost like, okay this is really where I live, this is really the reality of our world. There are really people that are that upset that we are enjoying our ice creams that they thought the best thing to do would be just to kill a couple of us," he adds.
"We are so busy securing ourselves, with nice coffee shops and security guards, and feeling that life is okay. Part of the reason I didn't run was because at that moment you realize, what's the difference? I could run there and maybe there is some other guy shooting there. It's just all a battlefield really."
Survival instinct eventually kicked in and Liber ran to safety, finding refuge with fellow Israelis at an apartment block, who provided water, phones and shelter. Israeli security forces captured the two shooters following the attack and now the residents of Tel Aviv must continue to lead their lives with the prospect of further attacks in the Muslim holy month of Ramadan. Wednesday's attack has made them more defiant to carry on, rather than shying away from their normal daily lives.
Shani Mizrachi, 30, a medic for Israel's emergency service Magen David Adom, was one of the first responders at the scene of the attack. She treated one of the Israelis shot who would eventually lose their lives, Ido Ben Ari, a 42-year-old father-of-two who worked in a senior management position at Coca-Cola's Israeli branch. She took Ben Ari to the hospital upon seeing his severe gunshot wound to the chest. After he reached the intensive care unit, Mizrachi rushed back to the scene to treat survivors of the attack and victims of trauma.
"There was one young girl, doing what I do in my free time, sitting in a restaurant with her friends, then she saw the terrorist shooting people next to her and she got under the table," she says. "She was sitting in my ambulance and crying, saying that it could have been her. It was terrible."
The incident left Mizrachi filled with adrenaline but exhausted from the current wave of violence. The only solace she could contemplate at the end of her shift was at the bottom of a bottle.
"To be honest, I just met my friends, a few guys that work together, so we are like psychologists for one another, and we just drank ourselves until we lost consciousness," she says, citing the local beer at a bar under her apartment. "I was holding the glass with two hands and drinking it like I was starved. I was drinking to chill and relax. The adrenaline is crazy after these kinds of events. You can run four kilometers and you won't get tired."
Paradoxically, she says that continuing with work is the only way that she can forget about Wednesday's bloody scenes, the very incidents that bring her face-to-face with the violence of the conflict. "I am pleased that I need to work a double shift of 17 hours because new patients will assist me to leave these events behind," she adds. "If I leave myself at home I would probably be eating my brain with a spoon."
For Liber, it is the same. "Obviously, to some degree, in the next couple of days, I am going to feel wary and very conscious of public places and things like that," she says. "At the same time, the crazy part about it is that we get used to this. The mind has a way of adapting and that is the scary thing. Life continues on. There is no time for sleep in this war."
Tel Aviv Attack: Survivor and Medical Worker Recount Their 'Terrible' Ordeals | World