Tel Aviv Diary: Can Bibi Get Trump to Change His Mind?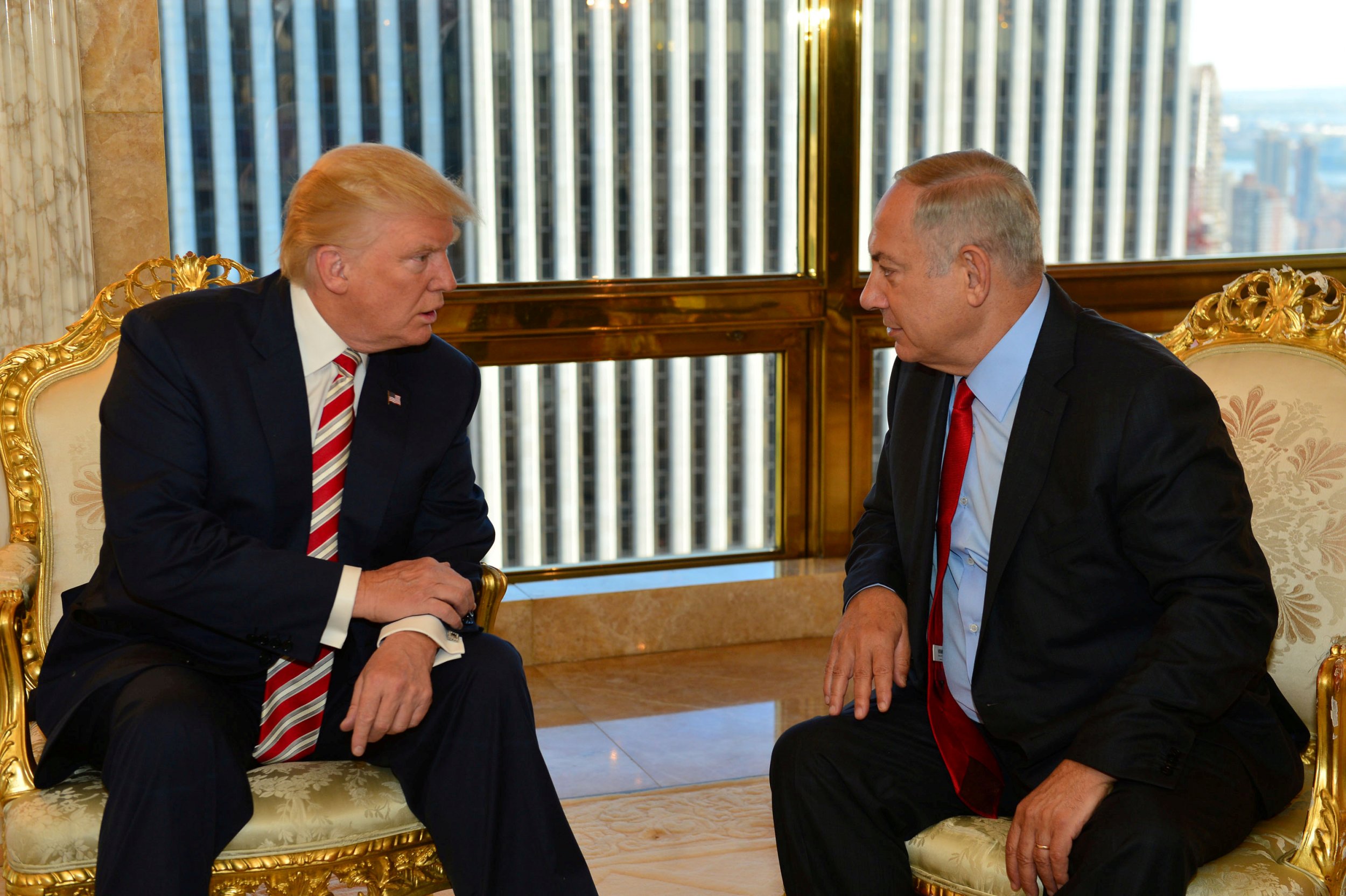 Israeli Prime Minister Benjamin Netanyahu is now in Washington, DC, in advance of his scheduled meeting on Wednesday with President Donald Trump.
His chief advisors have been in the Capitol since the end of last week, meeting with former National Security Advisor General Flynn. Many Israeli security officials, (including the Head of the Israeli Mossad,) are said to have had a number of meetings with Flynn, both before and after Trump's inauguration.
How Flynn's recent firing will impact Netanyahu's upcoming meetings is an unanswerable question, but clearly the Netanyahu visit is not the most important thing happening at the White House at the moment.
In contrast, in Israel, Netanyahu's visit was directly or indirectly in the center of every news broadcast here for the past week. Israelis, like much of the world, are obsessed with President Trump, and events in Washington dominate most discussions in Tel Aviv.
Netanyahu's upcoming visit created a political mini-drama that ended Friday, following Trump's interview with Israel's Israel Hayom newspaper. For most of last week, the right-wing ignored initial signs that Trump might not be as sympathetic to the views of Israeli settlers as they believed. There were continued calls from the Bayit Hayehudi party, as well as from some members of the Likud, to make use of the "historic opportunity," created by Trump, to bury the idea of the "two-state solution."
Right-wing leaders called on Netanyahu to publicly repudiate the idea of a two-state solution, expecting to receive a green light from the US administration for building even more in the West Bank.
On Friday, cold water was poured over the dreams of the Israeli right-wing, when Israel Hayom — the free newspaper owned by Sheldon Adelson, with the largest circulation of any newspaper in Israel and whose content is largely aligned with the goals of Netanyahu and his coalition — published an interview conducted the day before with President Trump.
In that interview, Trump was crystal clear in his opposition to additional settlement building, when he stated that there is only a limited amount land available and any building on that land will make it harder to reach any future agreement.
Furthermore, when asked about moving the American Embassy to Jerusalem, Trump refused to answer — other than to say he was thinking about it and added that Israel needed to act responsibly. Suddenly, talk about the great opportunity presented by Trump's election came to a stop.
On Sunday, the day before Netanyahu's departure for Washington, the Prime Minister held a four-hour cabinet meeting to prepare for his trip. During that meeting Netanyahu disclosed details of his telephone conversation with Trump.
In that discussion, Trump spoke about reaching a peace deal with the Palestinians. Netanyahu is said to have answered he was interested, but the Palestinians refused to make any concessions.
Trump is reported to have answered, "Don't worry, I will get them to make concessions." This phone call made it crystal clear to Netanyahu that President Trump was indeed deeply concerned about Israel expanding settlements.
Netanyahu warned his colleagues in the cabinet that the one thing Israel cannot afford to do is to anger Trump. The prime minister concluded that he alone would be the one to navigate the relationship with Washington and the administration. What is remarkable about all these discussions about settlements, and even any peace deal, is that neither settlement construction, nor reaching a deal with the Palestinians, are very high on Netanyahu's agenda.
At the moment, Israel's biggest concern is the shifting strategic balance in the region, with the ascendancy of Iran. Iran's successful intervention in the Syrian War (together with Russian) has both strengthened Hezbollah and has even opened the possibility of bringing Iranian troops right up to Israel's borders. With Iran seemingly Israel's most intractable foe, this could be a strategic setback for Israel.
The challenge for Netanyahu is how to separate the Russians and the Iranians. Considering the fact that the relationship between the Russian government and the White House is unclear at best, this seems a rather tall order. Furthermore, the Israeli government does not want the US to walk away from its nuclear agreement with Iran, rather it wants to strengthen it. How one does that with risking the agreement itself, seems an even more difficult task.
Two last things should be noted. There remains the concern among many Israelis that with Netanyahu at the helm, Israel could become too identified with Trump.
With most of the Jewish community opposing Trump and large cross sections of the American public already saying he should be impeached, Israel risks becoming even more of a partisan issue in American politics — something it has been trying to avoid.
Finally, it's important to note that the police investigations into Netanyahu remain ongoing. Many believe there is no doubt Netanyahu will try to make his "irreplaceable" relationship with Trump one of the reasons to slow any impending indictment.
Tel Aviv Diary: Can Bibi Get Trump to Change His Mind? | Opinion