Tel Aviv Diary: Can You Be Pro-Gay and Pro-Israel?
For the past 22 years, the city of Tel Aviv has helped sponsor the city's Pride Week.
In a city of under 500,000 residents, over 200,000 people jammed the streets and the beach to participate in this longstanding tradition. This year's parade theme was "Bisexuality."
Each year the number of participants goes up. The first Pride Parade, 22 years ago, coincided with the beginning of Tel Aviv's transformation from a sleepy Mediterranean town to the world-class tech center it has become in the last ten years.
Back when the parade began there was little disagreement. While the Pride Parade in Jerusalem has alway been controversial — and not without violence – this parade was embraced by Tel Avivians, as well as the city of Tel Aviv, from the beginning. It was understood for what it was — a display of camaraderie and acceptance that represents the values of Tel Aviv.
In recent years, as Tel Aviv's reputation has grown and Pride Week has gained international recognition, controversy has started to embroil the event. The more successful the event became, the more frequently and vehemently Israel and its supporters were accused of a new offense — i.e., "pink washing". In other words, as of late, Tel Aviv has been accused of embracing of the LGBTQ community "to wash away the sins of its occupation of the Palestinians."
This year, after a concerted effort by BDS ( Boycott, Divestment, Sanctions) activists, five of the ten filmmakers who were going to premiere their films at the LGBTQ film festival pulled out at the last moment.
Here in Newsweek, Haneen Maikey wrote an article calling for a boycott of Gay Pride in Tel Aviv because "Gay Pride in Tel Aviv is heavily sponsored by the Israeli government and is cynically deployed to divert attention from the occupation of Palestinian lands and the daily violation of Palestinian rights."
In an eloquent piece titled: " Targeting LGBT and Tel Aviv Gay Pride Isn't the key to Israel–Palestine Peace ", H. Alan Scott made the case why a boycott of Tel Aviv's Pride Parade is misplaced and not fair to hundreds of thousand of LGBTQ participants.
I want to make different argument. Attempts to boycott Pride Week, as well as other BDS efforts, are not only counterproductive, they totally miss one of the most important battles in Israel: Is Israel going to be a modern liberal democracy, as many of the early Zionists envisioned, or will it turn into some sort of illiberal theocratic democracy, as some have been advocating?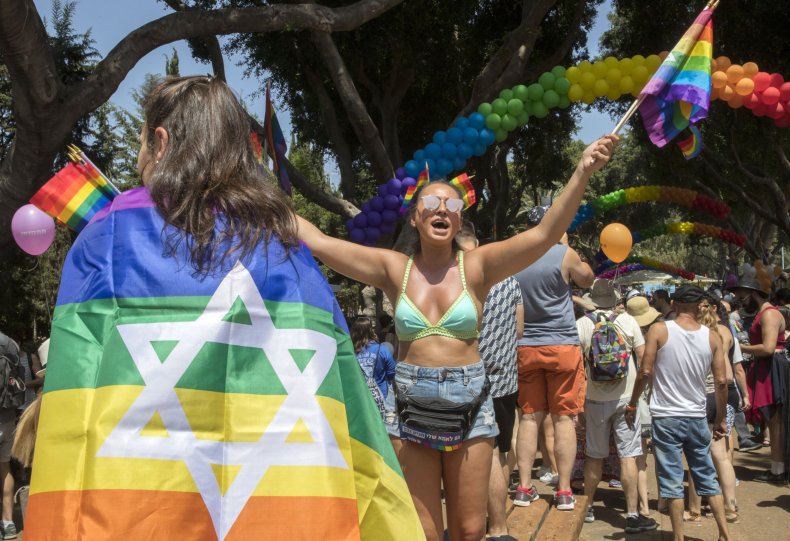 In the past few years the cry among many Palestinian intellectuals has been for "no normalization." What that translates into is a situation where it is almost impossible to have an event or public conversation where both Israelis (even very leftist Israelis) and Palestinians participate. This results in even fewer encounters between Israelis and Palestinians, leading to even less understanding.
What BDS supporters and many Palestinians supporters miss completely is that Israel is no longer some weak country dependent on the interactions they try to stop. Israel, home to R&D centers of almost every major tech firm in the world, is not going to be hurt economically by their efforts. Those being hurt are the very people they should be supporting and encouraging.
Sarah Tuttle-Singer, one of Israel's most prominent bloggers responded to Maieky's article by first noting that those who are marching in the Parade are often the same people marching against the Occupation. She went on to say, "Boycotting Pride won't help end the Occupation. Instead of boycotting the parade, show up with literature and with signs and talk to people. You might change some hearts and minds that are in serious need of changing."
However, it is more than that. As Eytan Schwartz, CEO of Tel Aviv Global stated when I interviewed him last week: "Pride Week is tied to the DNA of Tel Aviv. It represents the pluralism and freedom that is part of the essence of Tel Aviv."
According to Schwartz, until 2 or 3 years ago Tel Aviv was not affected by the BDS efforts. Schwartz says something strange is happening when BDS targets an event like Pride Week. "When you call for boycotting Pride Week you are weakening this very element of society that you should support," he said. "When other Israelis see people not even willing to work with activists for gay rights – the very people who fight for civil rights – it is additional proof to them that the whole world is anti-semitic and that universalist ideas are not for us."
Schwartz is completely correct when he says that the very people who should be strengthening the Israeli civil rights community are in fact weakening it. For Israelis on the left, these are difficult times. The government has been busy proposing a series of laws and regulations that would do everything from stifling academic freedom to limiting the use of the Supreme Court to guard against civil rights abuses.
Those fighting back need to know they are part of a larger global community.
When asked what Tel Aviv was doing to aid those who believe Israel should be a liberal democracy, Schwartz said that Tel Aviv was busy trying to be the best city in the world. The city serves as a unique beacon in the country, as an example of liberalism and freedom. That is why I am proud resident of the city and that is why I am honored to author a column called Tel Aviv Diary.