Tel Aviv Diary: How Bibi Ditched the Secret Peace Deal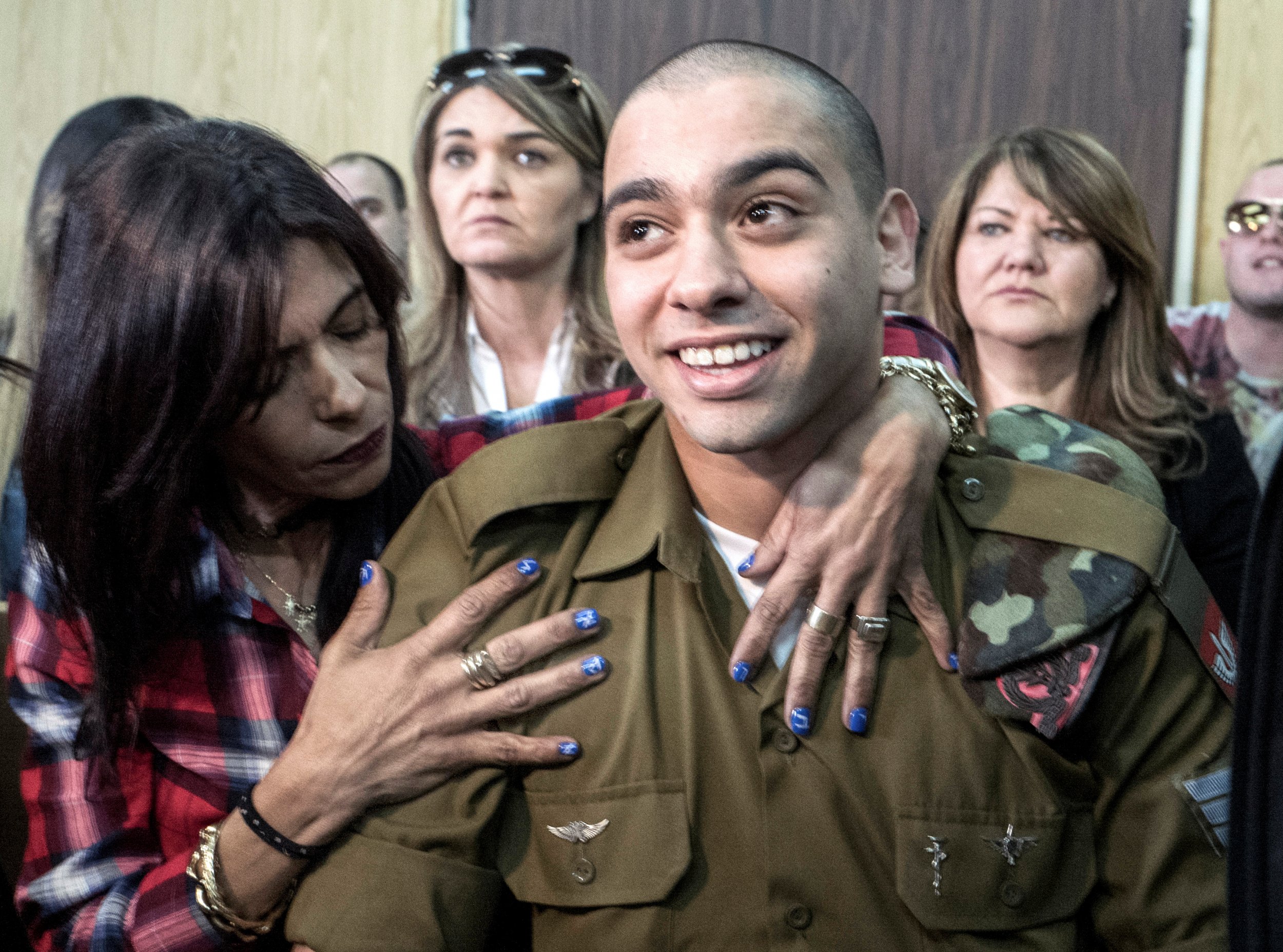 An Israeli military court has sentenced Sgt. Elor Azaria to a year and a half in prison, for killing a wounded terrorist in cold blood, in the town of Hebron.
The Azaria case has divided Israeli society, with the right wing either justifying the killing or insisting he should not be charged, after the upper echelons of the Israeli military had indicated the killing violated IDF norms and that Azaria should be held responsible for his actions.
The immediate reactions to the sentencing clearly demonstrated the societal divide. Israeli ministers from the coalition, such as Naftali Bennett and Aryeh Deri, called for Azaria to receive an immediate pardon; while opposition leaders such as Yitzhak "Bougie" Herzog and Zahava Galon praised the sentence, and said it had the right balance between compassion and the need to punish actions that are not in keeping with the moral norms of the IDF.
The sentencing caps more than a week of political whiplash in Israel that started in the days leading up to the summit between Prime Minister Benjamin Netanyahu and President Donald J. Trump.
During those "distant days," the Israeli right wing happily celebrated what they believed to be the "end of the two-state solution"—believing Trump would give the green light to build throughout the West Bank and would dismiss the idea of a two-state solution. There was even a leak from the White House stating as much.
Education Minister Naftali Bennett warned Netanyahu not to "dare" bring up the two-state solution in his talks in Washington. In fact, during the joint Netanyahu-Trump White House press conference, Trump indeed stated he does not care if there is a one-state or two-state solution—as long as there is a solution agreed upon by both sides (a goal he stated was very important to him).
It took a little longer for it to sink in to those same right-wing Israeli politicians that Trump was equally adamant in his request that Israel not build any more in the settlements, plainly stating he believed additional construction would decrease the chance of reaching an agreement based on dividing the land.
Moreover, much to surprise of that same right wing, Nikki Haley, America's new ambassador to the United Nations (and the darling of many Israelis for her forthright support of Israel), stated unequivocally that the United States stands behind a two-state solution.
In addition, at his confirmation hearings, that were covered widely in Israel, U.S. Ambassador designate David Friedman, who had until recently been a critic of any Middle East peace agreement, walked back those views and declared he would be delighted with a two-state solution.
During the joint Trump-Netanyahu news conference, both men made reference to the possibility of a much larger peace agreement—not only between the Israelis and Palestinians, but with the whole Arab world.
It would seem those references induced members of the Obama administration to leak details to Ha'aretz correspondent Barak Ravid of a heretofore secret peace conference, held in February 2016 between Netanyahu, King Hussein of Jordan, President Sisi of Egypt and Secretary of State John Kerry.
At that conference, a peace plan was discussed that included recognition of Israel as a Jewish state, a solution to the refugees problem, 1967 borders with land swaps and peace with the entire Arab world. Prime Minister Netanyahu showed interest in pursuing the plan and that became the basis of the talks between Netanyahu and opposition leader Herzog on joining the coalition.
Herzog, who had always been vague about what had made him willing to enter into talks with Netanyahu, disclosed in a televized interview that he was asked directly by Arab leaders to show that Netanyahu was serious about negotiations to join the coalition. The Arab leaders understood that without the Zionist Camp in the coalition no peace agreement would pass the current government.
However, in May, when Netanyahu was close to reaching an agreement with Herzog, the prime minister decided that entering into an agreement that would need to include a freeze on building in all but certain areas, and a potential peace agreement that would require dismantling settlements, would tear apart his coalition and the Likud itself.
Instead, Netanyahu chose to called off discussions with Herzog, preferring to invite right-wing Avigdor Lieberman into his coalition, and ultimately giving Lieberman the coveted defense ministry portfolio.
The stunning story that an agreement might have been close has depressed and angered both right-wing and left-wing observers in Israel—in that, the right wing were sure a two-state solution was somehow buried; while the left wing wonders what could have been, if only Netanyahu had the political courage to act rather than continuously insisting that Israel does not have a partner for peace.
So, where does that leave things now? It is very clear that President Trump wants to make a Middle East deal. After announcing plans for massive building in the West Bank, Netanyahu warned his cabinet that no agreement had been reached with the American government to sanction additional building, and that Israel had better not cross President Trump at this time.
Speaking at the Munich Security Conference, Defense Minister Lieberman both reaffirmed support for a two-state solution and cautioned the Israel government not to cross the new Trump administration.
Yair Lapid, head of the Yesh Atid party (who is leading in all recent polls), stated on Monday: "We need to go to a regional conference and start the long process of separating from the Palestinians. Israel is divided between a minority who want to live with the Palestinians in the same country and a majority who want to separate from them."
In the past, the Palestinians have not been willing to make the concessions necessary to reach a peace agreement. A former Palestinian minister told me last week that he believed they would be willing to negotiate a deal now, fearing that time is not on their side.
The Israeli public has always believed that a two-state solution was the mutually preferred outcome, with the majority still believing so. Both these facts notwithstanding, and despite the desire of President Trump to facilitate what he considers the "ultimate deal," the ability of either side to overcome those who are unwilling to accept a division of the land into two separate states—one Jewish and one Arab—seems as insurmountable as ever.
Marc Schulman is the editor of Historycentral.com.