Tel Aviv Diary: Trump Widens the Partisan Divide Over Israel
Israel's Minister of Internal Security, MK Gilad Erdan began his talk at the Annual Institute for National Security Studies (INSS) Conference in Tel Aviv by boasting that since this is the "Age of Trump," we no longer have to be politically correct when we talk about matters of our security.
There is no question that Trump's decision to recognize Jerusalem has been warmly embraced by Israelis, including Israel's security professionals. When US Ambassador-at-Large for Counterterrorism, Nathan A. Sales spoke at the conference and referred to the meetings he held in "Jerusalem, Israel's capital," his words were met with appreciative applause.
Trump's warm embrace of Israel is truly appreciated, and there is a sense the affection is real. However, among some Israelis, their gratitude is coupled with a sense of concern.
Opinion polls show that Israelis see Trump favorably, despite the fact that Israeli news outlets (with the exception of the newspaper owned by Sheldon Adelson) have reported how roundly unpopular Trump's administration is in many parts of the world.
What concerns many Israelis is a new report by th e Pew Research Center that reveals a growing partisan divide in America between Democrats and Republicans over support for Israel.
In 1979, 45 percent of Democrats and 49 percent of Republicans said they supported Israel. By the beginning of 2018, Democratic support had fallen to 27 percent, while Republican support had risen to 79 percent.
It should be noted that during the same period, support for Palestinians has remained largely unchanged from 14 percent in 1978 to 16 percent today.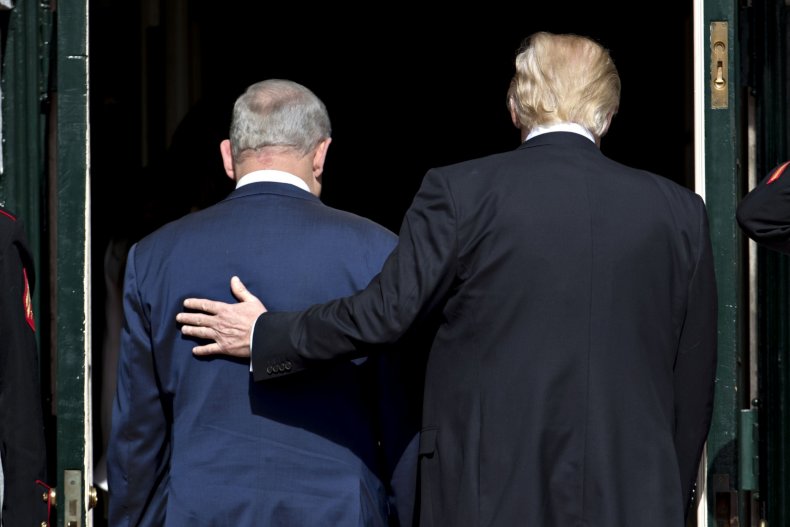 There is a similar view when it comes to Benjamin Netanyahu, with 52 percent of Republicans having a favorable view of Israel's prime minister and only 18 percent of Democrats sharing that positive view. Some, like former US Ambassador to Israel Daniel Shapiro have claimed the actual situation( How Not To Measure American Support for Israel ) is not nearly as negative for Israel as the poll suggests, though there is no questioning the overall trend lines.
While the partisan divide for support of Israel has been growing for a number of years, the latest report has set off alarm bells in some quarters. The government of Israel has always strived to keep Israel a bipartisan issue in the United States.
When I asked Yesh Atid's leader MK Yair Lapid about the report, he replied:
The Pew research highlights a worrying trend. As a country we share more than mutual interests with the United States, we share fundamental values of democracy and human rights. Israel and the United States share a deep bond and a strategic alliance.

I'm pleased to see Republican support for Israel remains high and now we must all work harder to also take our case to the Democratic Party to repair the damage that's been done over the past few years. We cannot allow Israel to become a partisan issue — that's harmful for Israel, harmful for the United States and harmful for the special relationship that exists between our two countries.
When I asked MK Avraham "Avi" Gabbay, the new head of the Labor Party what he though, he answered:
We must maintain and strengthen close ties with the United States administration, Congress, and as important, the American people. When I serve as Prime Minister, I will maintain a policy of closeness to both parties. It is important to maintain good relations with all.
Repairing the damage done to Israel's image and reputation among disillusioned Americans will not be simple. Since 1977, with the exception of a few years, the country has been ruled by right-of-center governments — who naturally have more in common with the right-of-center Republican party.
This partisan divide has been increasingly exacerbated since Netanyahu's rise to power. He has always had close ties to the Republican Party and was fairly transparent in his support for Mitt Romney over President Obama (with whom he did not have a close relationship).
While Netanyahu did his best not to show any preference leading up to the last elections, many of his supporters were not subtle in their preference for President Trump.
There is fear that Israel's continued fondness for Trump is only intensifying the problem, and there is good reason to believe that fear is founded. As Dan Perry, a 30 year old Democrat in Albany New York said after seeing the Pew Poll:
In America, the sympathies waned when Netanyahu played ball with the Republicans during the Obama presidency. A constituency that once wasn't paying much attention to policy on Israel now is. And the "buddy, buddy thing" with Trump doesn't help, because the Republicans are about to get demolished, and a bunch of people who weren't paying attention now are.
The problem is not only with the American people and Democrats-at-large, but within the American Jewish community, which votes overwhelmingly Democratic. At the INSS Conference, Shapiro said:
Right up to the top of the Israeli government, there exists an attitude that writes off two-thirds of the American Jewish community, because they are Reform or Conservative. This is a serious strategic mistake.
In a recent speech, Alan Hoffman, CEO of the Jewish Agency, warned that young American Jews are distancing themselves from Israel. These young Jews are overwhelmingly Democrats and Hoffman went on to say:
In the year since Trump was elected, the situation has only been exacerbated. Jewish student college students in the United States, not including those who are Orthodox, see Israel, justifiably or not, as something opposed to their basic liberal and progressive values.
Those liberal, progressive values may be further challenged by the current plans of the Israeli government to expel thousands of African refugees/workers (the description is part of the debate in Israel) who have already been in Israel for the last 5-10 years.
American Jewish groups, as well as Israeli rabbis, doctors and authors, have urged the government not to go ahead with the expulsions. Furthermore, Israel's Ambassador to the United States, Ron Dermer, has warned that the expulsions may seriously harm Israel's image in America.
To all of the above, some Israelis say, "Who cares? We can take care of ourselves." But nevertheless, ask any defense expert what factors keep Israel safe, and he or she will list Israel's strategic partnership with the United States as one of the key ingredients.
While there is no question that Israel currently benefits from its close ties with Trump and the Republican party, many fear that in search of the short-term benefits Trump brings Israel, continuing to be so clearly identified with the current American administration might undermine Israel's long-term relationship with the United States, in general, and with American Jewry, specifically.