Tel Aviv Diary: What Would Trump's Impeachment Mean for Israel? | Opinion
America has dominated Israeli news this past week. Last week it was Trump. Over the weekend the news of the death of Senator John McCain led the newscasts.
Last week one of Israel's main channels opened the evening broadcast with "Trump Gate: Donald Trump's hardest fight of his life." Until last week, most Israelis paid little attention to the investigations into President Donald J. Trump—assuming that much like the probes into Prime Minister Benjamin Netanyahu, those inquiries would go on forever. However, the guilty verdict against Paul Manafort, along with the guilty plea by Michael Cohen changed all that. Now, with Trump talking about impeachment, the scrutiny has suddenly reached the Israeli consciousness.
I am constantly asked—what does it mean? What are the chances Trump will be removed from office? The American impeachment and conviction process—which is not understood well by many Americans—is foreign to Israelis, though Israeli media has been trying to enlighten them.
Last week's news unnerved many Israelis who believe Trump's support of Israel is critical. Israel remains one of the bastions of support for Trump, but those sentiments are not universal. One American-born Israeli who trained as a lawyer told me of the disagreement she had that morning with her husband. She was happy to see Mueller's successes and hoped they portended a future without Trump as president; her husband, on the other hand, was distraught, asserting Israel needed Trump.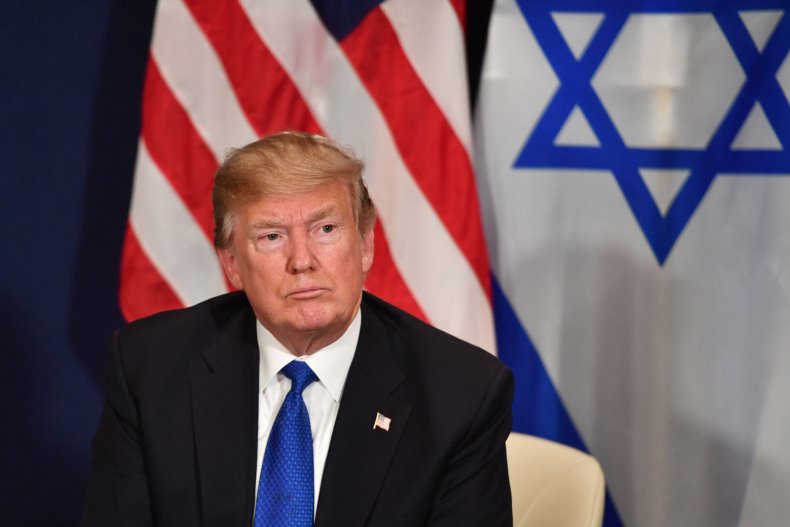 Trump's dominance in the news was not just the result of his legal troubles. His speech Wednesday night in West Virginia made headlines here when he stated: "I had taken Jerusalem off the table, and you know what, in the negotiation, Israel will have to pay a higher price because they won a very big thing, but I took it off the table." Trump continued: "The Palestinians will 'get something very good' in return for the embassy move because it's 'their turn' next." Trump's remarks set off alarm bells on the Israeli right-wing, who believe Trump's support came without any strings attached.
U.S. National Security Adviser John Bolton, who spent part of last week in Israel, immediately tried to assure Israelis that nothing had changed and that there were no immediate plans for any American action. Bolton then went on to say that making sure Iran never received nuclear weapons remained the highest U.S. priority—something that was undoubtedly music to Israeli ears. How the United States would accomplish that mission, i.e., beyond applying sanctions, was less clear.
Then at the end of last week, the Trump administration announced it was cutting the $200 million spent by the U.S. government through USAID on projects for the Palestinians. In Israel the reaction to the announcement was decidedly mixed. While the Israeli right-wing reflexively cheered, many who have been directly involved in relations with the Palestinians were both surprised and dismayed by the act. Former Army spokesman Lt. Colonel Peter Lerner wrote that this hardline approach to the Palestinians would blow up in Israel's face:
"I would suggest the Trump White House pause to consider a much more strategic attitude toward the conflict, a roadmap that uses aid not as blackmail, not as a rushed dictation of terms, but to build an infrastructure for a Palestinian civilian life worth living, and a peace process worth engaging in."
The overall fear of many is that the Trump administration's approach of using economic pressure will not succeed but instead hurt the average Palestinian—especially those on the West Bank who have been much more concerned with living their daily lives than being involved in terror or other forms of violence.
Finally, the death of Senator McCain over the weekend seemed to be a body blow to those who had been involved in the U.S.-Israel relationship over the past decades. No one even tried to count the number of times that the senator visited Israel, or met with Israeli leaders both in Israel and in Washington. He was no doubt a genuine friend of Israel; it was a friendship based on shared values of a future based on freedom and democracy. His bond will be sorely missed.
Marc Schulman is a multimedia historian.
The views expressed in this article are the author's own.​​