Tel Aviv Diary: Why Can't Netanyahu Condemn Trump's Support for Anti-Semites?
The Israeli government seems to have a problem. Its well-trained, hyper-sensitive antennae, always able to detect anti-semitism, appears to be failing.
In July, prime minister Benjamin Netanyahu traveled to Hungary, a former member of the German axis, whose current government has clear anti-semitic elements. Yet, this did not stop him from making a state visit and embracing Janos Hadar, the current Hungarian President.
However, the controversy created as a result of Netanyahu's visit to Hungary pales in comparison to the disputes triggered by Netanyahu's deafening silence after the recent attack and homicide in Charlottesville, VA.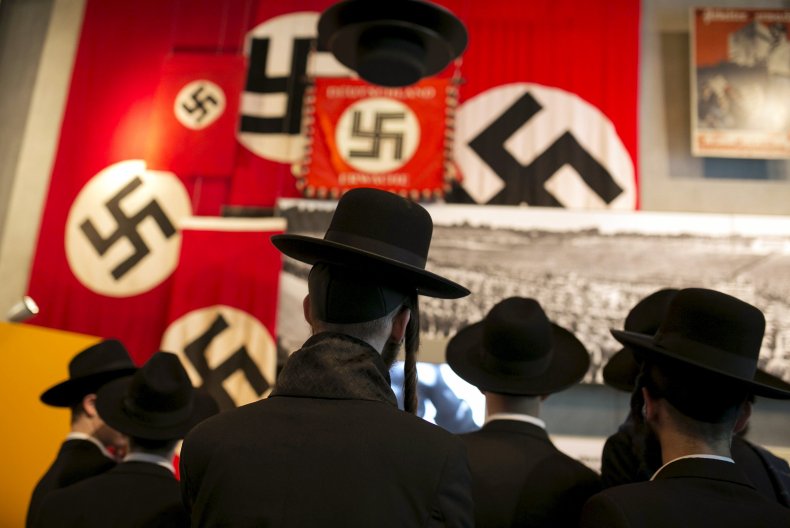 Netanyahu remained silent despite the flying of Nazis flags and shouting of blatant anti-semitic chants from the alt-right protesters. It was not until after President Donald Trump's second press statement on the subject, in which he belatedly condemned the neo-Nazis, that Netanyahu tweeted the following from the Prime Minister's official account (and not on his personal account):
Outraged by expressions of anti-semitism, neo-Nazism and racism. Everyone should oppose this hatred.
After Trump backtracked and once again blamed both sides for the violence in his impromptu press conference the next day, PM Netanyahu remained completely silent.
Members of Netanyahu's Likud party also failed to criticize President Trump's statements (with the exception of Science, Technology and Space Minister Ofir Akunis, who posted a negative comment about neo-Nazis).
In fact, the public statement was the polar opposite. Minister of Communication Ayoub Kara, considered a Netanyahu confidant, stated: "Due to the terrific relations with the US, we need to put the declarations about the Nazis in the proper proportion."
Kara continued:
We need to condemn anti-semitism and any trace of Nazism, and I will do what I can as a minister to stop its spread.

But Trump is the best US leader Israel has ever had. His relations with the Prime Minister of Israel are wonderful, and after enduring the terrible years of Obama,

Trump is the unquestioned leader of the free world, and we must not accept anyone harming him.
Netanyahu's 26-year-old son Yair wrote on his personal Facebook page:
To put things in perspective. I'm a Jew, I'm an Israeli, the neo-Nazi scums in Virginia hate me and my country. But they belong to the past. Their breed is dying out.

However, the thugs of Antifa and BLM who hate my country (and America too in my view) just as much are getting stronger and stronger and becoming super dominant in American universities and public life.
While members of the Likud have been towing the line set by Netanyahu, not all the members of the coalition have followed suit. Naftali Bennett, head of the religious HaBayit Hayehudi party wrote on his twitter:
Nazi flags in the US. US leadership must unequivocally condemn.
While not explicitly criticizing Trump, President Reuven "Ruvy" Rivlin wrote a letter to Malcolm Hoenlein, Executive Vice President of the Presidents' Conference of Major Jewish Organizations, stating:
The very idea that in our time we would see a Nazi flag — perhaps the most vicious symbol of anti-semitism — paraded in the streets of the world's greatest democracy and Israel's most cherished and greatest ally, is almost beyond belief.
Israeli politicians from the opposition have been much more outspoken. Yair Lapid, head of the Yesh Atid party and the son of a Holocaust survivor wrote the following condemnation on his Facebook page:
There aren't two sides. When Neo-Nazis march in Charlottesville and scream slogans against Jews and in support of white supremacy, the condemnation has to be unambiguous.

They represent hate and evil. Anyone who believes in the human spirit must stand against them without fear.
Other opposition leaders spoke out unequivocally as well. Former Foreign Minister Tzipi Livni wrote an extensive article in Newsweek criticizing the Neo-Nazis headed: "I Was Appalled To See Americans Brandishing Swastikas."
It should be noted that most of the Israeli public seems unmoved by Trump's various declarations. A recent survey of Israelis shows continued confidence in him.
Of course, that could be due partly to the fact that Israel's most widely read daily newspaper, Yisrael Hayom, buried the stories on Charlottesville. President Trump's statement, his press conference, and his reversal were all pushed to page 26.
In contrast, the other newspapers led with the story of Charlottesville and Trump's responses on page one. It might just be a coincidence that that Yisrael Hayom is owned by Sheldon Adelson, one of Trump's principal supporters.
Netanyahu appears to be one of the few world leaders who is not willing to criticize Trump's response to events in Charlottesville. It is shocking to see a leader who has used the memory of the Holocaust to try to delegitimize all forms of criticism of Israel, remain mute when the president of the United States equivocates while denouncing clear and ever-present anti-semitism.
The question is, why? Why has Netanyahu refrained from criticizing Trump's statements?
Since we may never know the true answer, we are left with speculation. One possibility is that, taking into account the mercurial personality of the current US President, Netanyahu is genuinely fearful of what an angry Trump might do.
Second, it is difficult to admit being wrong. Netanyahu and the Israeli right-wing were gleeful when Trump won the election. Now it is hard to admit they might have been wrong and that Trump may not be the best U.S. President for Israel.
Third, a form of blindness has developed within the Israeli right. They have made a pair of mistakes that feed on each other. The right seems to believe any criticism of Israel is anti-semitic. Thus, in the assessment of the right-wing, when any left-wing individual criticizes the occupation of the West Bank or other Israeli activities, they insist those critics must be anti-semitic.
M.J. Rosenberg recently wrote "Anti-Zionism is anti-Semitism." As Rosenberg explains, not all criticism of Israel is anti-semitic. The converse of that statement is also false i.e., if you support Israel you cannot be anti-semitic.
This idea stands behind the inability of right-wing Israelis to understand that right-wing politicians worldwide — whether in Hungary, or the United States — may actually be anti-semitic, even though they support Israel.
Oddly, it is the very politicians who call out anti-semitism, especially those on the left, who seem to turn a blind eye to traditional anti-semites.
The danger of the absence of a reaction by Netanyahu and those closest to him to the actions or lack thereof by Trump will not be a "victory" for the Nazis. However, Netanyahu and his governing party's failure to speak up may well have elicited a further break between Israel and American Jewry.
Here in Israel, there has been no sense of the embattlement that many in the American Jewish community have felt during these past weeks; there has been no identifying with or attempting to aid a community in trouble.
More dangerous is the jeopardy that sitting on the sidelines now could cause to the security of Israel in the future.
Trump supporters are a minority of Americans. One day, whether sooner or later, the Trump administration will come to an end.
When that time comes, will most Americans still see an Israel that shares its values? Or regard Israel as one of the few countries in the world to support Trump to the bitter end?