Tel Aviv Diary: Why Modi Was Made So Welcome in Israel
The very successful visit of Indian Prime Minister Narendra Damodardas Modi to Israel was the first visit ever by an Indian head of state to Israel.
It is fitting that this visit comes to an end on the same day that the American President is going to Poland to speak, prior to the G20 meeting.
For most of Israel's existence, its friends have been found in the West. The two largest countries in terms of population — i.e., China and India — supported the Arabs and did not have diplomatic relations with Israel.
For many years, India was particularly unfriendly, leading the organization of unaligned countries in making anti-Israeli pronouncements.
By 1992, with the end of the Soviet Union combined soon after with the Oslo peace process, all that changed, and suddenly Israel found itself having diplomatic relations with China, India and many other countries.
Relations with both China and India have grown slowly over the years. Over the last few years, trade with both countries has increased rapidly. Israel's trade with India started at $200 million in 1992 and reached $4.2 billion this past year. The growth in trade with China has been even more dramatic, burgeoning from $20 million in 1992 to $7.7 billion last year.
Much of the trade was initially in military equipment. While American objections limited that trade with China, arms trade with India has flourished. However, Chinese firms have been investing heavily in Israeli firms, both startups and established companies.
While economic trade has been booming, until recently Israeli diplomatic relations with both China and India been much more low key — though this year, that has changed. In May, Prime Minister Benjamin Netanyahu made a high profile visit to China to mark 25 years of diplomatic relations, and this week the Indian Prime Minister has been in Israel celebrating what can only be described as a mutual "lovefest".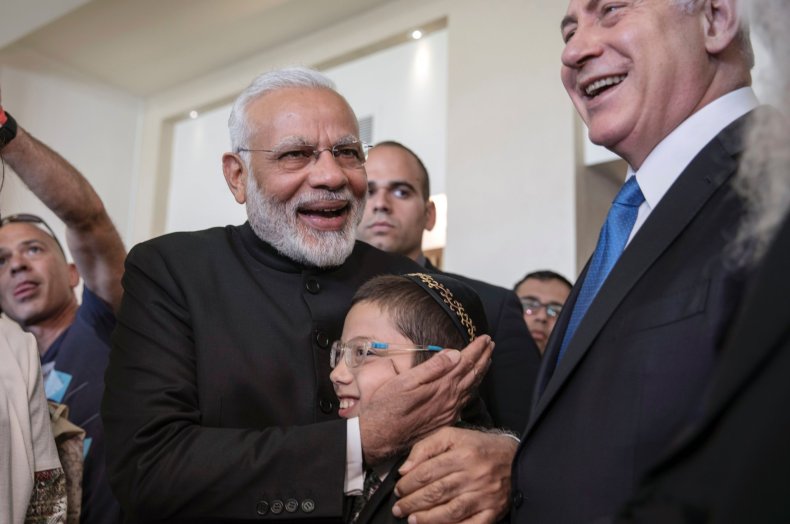 So what has changed? Three key factors.
First, Israel's reputation as the "Start-up Nation" has become impossible for either China or India to ignore. Israel has become the R&D center for too many companies and the start-up laboratory for too many products for either China nor India to pay no attention. While direct trade with Israel will always be merely a rounding error for both countries, the gains both countries can receive from close cooperation with Israel are immeasurable.
Second, both countries have large Muslim minorities and both fear terrorism. While they do not agree with Israel's policies regarding the West Bank, both are willing to look the other way to increase security cooperation with Israel.
Finally, the weakness of the Arab world, together with the fact that many Gulf States have some form of cooperation with Israel, has made improving relations with Israel risk-free for both India and China.
When Modi arrived in Israel, Prime Minister Netanyahu requested that the entire cabinet come to the airport to welcome him. Everything was done to ensure the visit was on the same level as that of President Trump's recent visit — and Prime Minister Netanyahu accompanied Modi throughout his stay.
The Modi visit has been received enthusiastically by people on the street. One local merchant could not stop telling me, repeatedly, what a good thing he believes Modi's warm visit has been — especially in the time of President Donald Trump, when events in America seem to be so uncertain.
A serious debate has been taking place here in Israel about whether the country can have its own realignment, developing deeper relations with India and China, and relying less on its traditional allies in the United States and Western Europe.
This is especially true in the Trump era; a time where, on one hand, the President of the United States has stated what a good friend he is to Israel, while at the same time American foreign policy seems to be in disarray and the UN Ambassador proudly states that American policy is totally unpredictable now.
Some people enthusiastically embrace this new approach, asserting that the future lies with China and India. Others are much less enthusiastic, reminding anyone willing to listen that Israel's ties to the US go back to the pre-state years and are built on a scaffold of shared values — not to mention the support of the American Jewish community.
The people who are more skeptical of a future that relies on Israel's new friends point out that it is the United States that consistently votes with Israel, while China votes against it (with India having begun to abstain).
Of course, Israel is not facing a binary choice (unless the US and China enter into a trade war), so for the moment, Israel can clearly enjoy its newly found popularity in the East, while maintaining its traditional friendships.
In a time when some seem obsessed about the threat posed to Israel by BDS (Boycott, Divestment, Sanctions), Israel's burgeoning relations with the two most popular nations on earth make a mockery of their attempts to isolate Israel.