From 8chan to Telegram: Experts Point to Far-Right Extremists' New Favorite Messaging Platform
Telegram, an encrypted messaging app, has outpaced WhatsApp, Twitter and other messaging services to replace 8chan as the go-to online gathering place for religious and right-wing extremists, according to one expert from the Counter Extremism Project.
Researcher Joshua Fischer-Birch told The Hill on Wednesday that Telegram's 65 publicly visible white extremist channels have experienced a surge in users over the past month, with each channel welcoming hundreds of new members. On average, each channel grew by 256 members, or 43 percent.
The spike in users follows the disappearance of the website 8chan in August. The site was structured as a collection of message boards, a format that proved appealing to homicidal extremists. In 2019 a series of white supremacist manuscripts appeared on the site immediately before mass shootings. Following the appearance of a manifesto attributed to the accused gunman in the El Paso, Texas, shooting, 8chan lost its domain name registrar and web host, effectively removing it from the internet.
In September, 8chan's owner, James Watkins, said that the company was working to get back online in an interview with The Washington Post, and told the Congressional Committee on Homeland Security that he would not take down hate-filled posts from his platform.
In 8chan's absence, Telegram has gained popularity with fringe groups due to its lax regulations and protected chat features.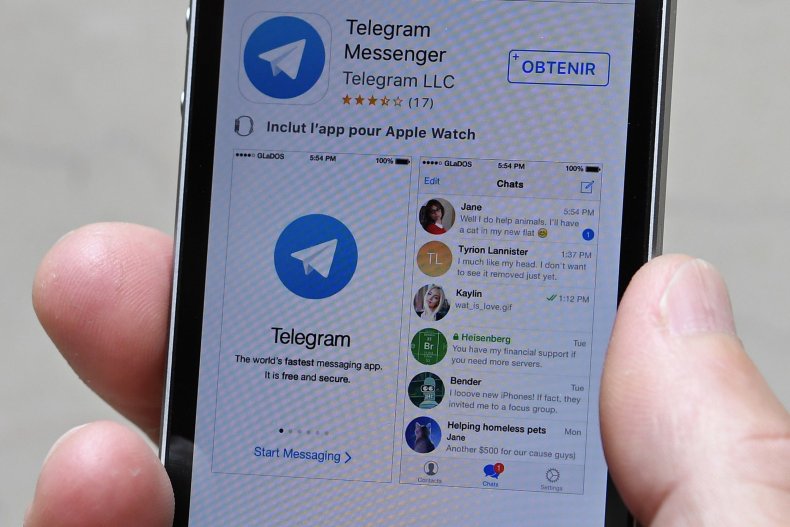 Like 8chan, Telegram has refused to police its content—flouting a mainstream shift towards enforcing standards on social media in the wake of Russia's 2016 election interference campaign. According to a recent poll by Morning Consult, 59 percent of U.S. social media users support the idea of the government participating in moderating platforms.
Telegram's founder, Pavel Durov, told Mashable that he came up with idea for the app in 2013, after returning home to Russia following a government "smear campaign" against him. His return coincided with Edward Snowden's arrival in Russia as an asylum seeker fleeing prosecution by the U.S. government for distributing classified documents. Six years later, Telegram has a history of protecting its users private messages, and allowing for controversial content to be shared widely and surreptitiously.
A Vice News investigation into Telegram's evolution into the favored messaging platform of white nationalists uncovered that more than 100 of Telegram's 150 public far-right channels were created in the first eight months of 2019. Vice found that 22 of those channels were created within a one-month period immediately following the Christchurch shootings in New Zealand, when a shooter targeting Muslims fatally wounded 51 mosque attendees during Friday evening prayers.
Vice's reporting did not calculate the number of private chat channels on the platform, which are invisible to the public.
The recent uptick in extremist channels is not only alarming for its speed, but also for the level of extremism and violence the channels promote. Vice found that some of the channels subscribe to a fringe philosophy called accelerationism⁠, a terrorist ideology which the Anti-Defamation League calls "a term white supremacists have assigned to their desire to hasten the collapse of society as we know it."
Under the messaging app's terms of service, Telegram asks users to agree not to "promote violence on publically viewable Telegram channels, bots, etc," without any mention of a code of conduct for private channels.
The recent surge in white nationalists on Telegram follows other extremist factions who came to the app in search of a more secure, lenient platform. The Islamic State (or ISIS) fighters and their supporters were one such group.
One example of how terrorists use the platform highlighted by the Counter Extremism Project recounts a December 2016 post by an ISIS Telegram user: "Christmas, Hanukah, And New Years [sic] Day is very soon Insha Allah[.] So let's prepare a gift for the filthy pigs/apes." Following the post, a terrorist attack in Berlin killed 12 people and left 48 injured; ISIS claimed responsibility.
According to a 2017 report by the Counter Extremism Project, Telegram knowingly allowed ISIS and other terrorist and religious extremist groups to use its messaging platform despite growing evidence of its role in numerous terrorist attacks.
While Telegram has committed to cracking down on public ISIS accounts, including creating an @ISISwatch channel where users can report suspected Islamic State activity, it has not done anything about its private messaging feature, the main source of ISIS communication.
The company's website states, "While we do block terrorist (e.g. ISIS-related) bots and channels, we will not block anybody who peacefully expresses alternative opinions."
The lack of regulation for private channels attracts terrorist groups, who use Telegram to message recruits, spread propaganda, fundraise and orchestrate violent attacks. The app's secure chat platform can host up to 5,000 members, and its public groups can host up to 200,000 participants.
Regarding non-ISIS illegal content, an FAQ on the company website states, "All Telegram chats and group chats are private amongst their participants. We do not process any requests related to them."