Telegraph Fire Slowly Grows to 180K Acres, Damages 52 Structures
While the growth rate of the Telegraph Fire in Arizona has decreased, it has burned over 180,000 acres as of Monday.
According to an update posted on the InciWeb national wildfire information system, the Telegraph Fire has burned 180,685 acres and is currently 67 percent contained. The fire has damaged/destroyed at least 52 structures and its cause is listed as human but remains under investigation.
On June 16, fire officials reported on InciWeb that the Telegraph Fire burned at least 148,299 acres, making it the sixth largest wildfire in Arizona history. While the fire's size increased by nearly 40,000 acres since June 16, it's growth has slightly slowed as its size increased by less than 1,000 acres since Sunday.
Containment of the fire has continued to teeter near 70 percent as fire officials said it was 68 percent contained last week, then 58 percent contained on June 16.
"Overnight, favorable weather conditions decreased fire activity and pushed the fire away from Government Springs Ranch, as well as communities and infrastructure along Dripping Springs Road and State Route 77. The southeast corner of the fire on Mescal Mountain remained active," fire officials wrote in an InciWeb update on Monday morning. "Firefighters continued to monitor the fire and potential threats to the electrical transmission lines supplying the San Carlos Apache communities. The fire continued to back down with low intensity through pine stands on Pinal Mountain."
The update on Monday also stated "firefighters will take advantage of forecasted lower temperature and higher relative humidity to control remaining active hot spots. Aircraft will be used to drop water on the fire as it spread south and east on Mescal Mountain."
According to the most recent update on Monday, fire officials issued a "Go" evacuation order for residents in Dripping Springs, Wind Spirit, Hagen Ranch, Slash S Ranch, Government Springs, urging them to evacuate immediately.
In addition to the Telegraph Fire, fire officials in Arizona are also currently battling the Pinnacle Fire, located near the Santa Teresa Wilderness on the Coronado National Forest, approximately 18 miles south of Bylas, Arizona.
According to information posted on InciWeb, the Pinnacle Fire has burned at least 34,192 acres and is currently 26 percent contained. The Pinnacle Fire was first reported by officials on June 10 and its cause is currently under investigation.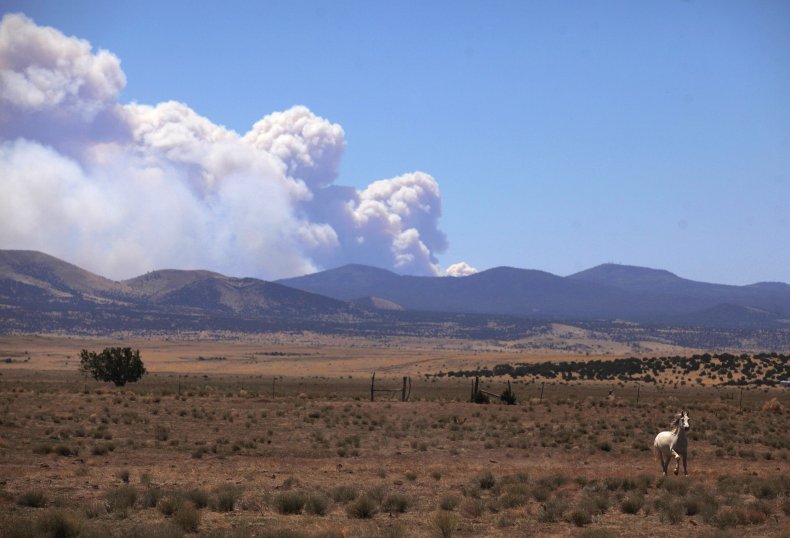 "Firefighters continued to be challenged for the second consecutive day yesterday by strong winds. Coming from the west and northwest, winds gusting to over 40 mph in red flag conditions pushed the fire eastward in the Black Rock Ranch area," officials wrote in an InciWeb update on Monday. "Assigned firefighters worked to defend constructed fire lines with burnouts, bull dozers, aircraft delivered retardant, and water drops. Despite high wind, these tactics were successful. Crews were able to keep the fire south of the Black Rock and 284 roads, as well as working to protect the values at risk within that area. The night shift continued that work into this morning."