Telegraph Fire Update: Arizona Wildfire Burns Thousands of Acres, Forces Evacuations
The Telegraph wildfire in Arizona has burned thousands of acres of land and has forced numerous residents to evacuate as fire officials continue to respond.
On Monday, data from the national InciWeb wildfire information system, showed the fire had burned approximately 56,626 acres of land in Arizona's Top-of-the-World neighborhood. The fire was first reported by officials in Arizona on Friday. It is currently unclear what caused the fire to start and officials are currently investigating the source.
"Extreme fire behavior, burning in mostly shrub and grass, has warranted evacuations from Top-of-the-World and Oaks Flats Campground. The town of Superior is still in 'Set-Be Alert' status," fire officials wrote on the InciWeb system.
On Sunday morning, the Pinal County Sheriff's Office ordered residents in the Top-of-the-World neighborhood to evacuate.
In a subsequent tweet, the Pinal County Sheriff's Office wrote, "If you choose to ignore this advisement, you must understand emergency services may not be able to assist you further. Follow instructions from emergency personnel, stay on designated evacuation routes and avoid closed areas."
The Pinal County Office of Emergency Management also tweeted a statement from the Arizona Public Service electricity company, telling "communities impacted by the Telegraph Fire to know that the need to de-energize power lines in the area will be based on rapidly evolving fire activity and in coordination with fire personnel."
Similarly, the Gila County Sheriff's Office also ordered a "Go" evacuation for residents in the areas of Miami south of Highway 60 from Dairy Canyon to Mackey's Camp, Lower Central Heights–Russel Road from Coyote Trail through Russel Gulch, Ice House Canyon, Kellner Canyon, and Six Shooter Canyon and the East side of El Capitan.
The Gila County Sheriff's Office alerted several other surrounding areas they were placed in "Set!" evacuation mode, which told residents to "Know there is significant danger in your area."
Arizona is also facing another wildfire, slightly east of the Telegraph fire. This fire is named the Mescal fire and according to InciWeb, it has burned approximately 49,631 acres and is currently 8 percent contained.
The Mescal fire prompted fire officials to order evacuations for residents in Coyote Flats, Soda Canyon and some areas in El Capitan. The Mescal fire is currently under investigation.
No deaths or injuries have been reported from both fires in Arizona.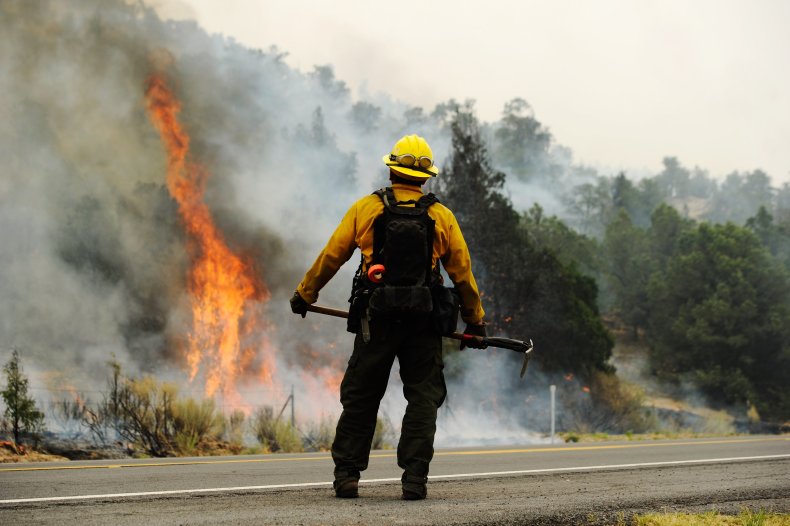 The American Red Cross in Arizona announced on Sunday that while they are not accepting donations of goods for those affected by the fire, they are accepting volunteers or money donations.
A video posted by BloombergQuickTake shows the Telegraph fire burning in several areas across Arizona.
"Residents in south-central Arizona were forced to evacuate as the #TelegraphFire grew to more than 64 square miles Monday and was at zero containment," the tweet said.
The National Weather Service in Tucson, Arizona also posted a photo of both the Telegraph fire and the Mescal fire seen from space.
"Both the #TelegraphFire #MescalFire were burning brightly last night, and their luminosity were easily detected by the NOAA-20 satellite," the tweet said.