Telegraph, Mescal Fires Burn Over 140,000 Acres, Prompt New Evacuations
In Arizona, two fires have burned more than 140,000 acres of land and forced numerous evacuations, as firefighters continue to try and contain both.
On Wednesday, fire officials reported on the national InciWeb wildfire information system, that the Telegraph Fire had burned approximately 76,260 acres and was 18 percent contained. Additionally, data from the InciWeb system showed that the Mescal Fire, which is located just east of the Telegraph Fire, had burned approximately 70,066 acres and was 23 percent contained.
The Telegraph Fire grew by nearly 20,000 acres in just two days, as on Monday it was estimated to be around 56,626 acres of land in Arizona's Top-of-the-World neighborhood. On Monday, data from the InciWeb system showed that the Mescal Fire had burned around 49,631 acres and was 8 percent contained. The Telegraph Fire was first reported by officials on June 4, while the Mescal Fire began on June 1. Fire officials are continuing to investigate the source of each fire.
Officials described the Telegraph Fire as a "fast moving and dynamic fire," on the InciWeb website.
"Fire managers had a busy day on the fire involving fire suppression and removal of members of the public that went into the fire closure area. Aircraft and ground personnel had good success containing increased fire activity in the Apache Leap and Top-of-the-World locations," fire officials wrote in a Telegraph Fire update on Tuesday night.
While speaking with AZ Central, Dean McAlister, a spokesperson for the incident command center for the fire in Apache Junction, said that the Telegraph Fire is the ninth largest fire in Arizona history.
The Telegraph Fire previously forced residents in the Top-of-the-World neighborhood to evacuate and warned them that if they ignored the evacuation order, "emergency services may not be able to assist you further."
On Tuesday, the Mescal Fire Information Facebook page announced new evacuations for residents in near the "T11 Ranch and Beverly Hills areas South of Highway 70."
The also announced a "Set" evacuation order for residents near Cutter, North of Highway 70, and the Apache Gold Casino. The "Set" order tells residents to be aware of updating news for evacuation orders.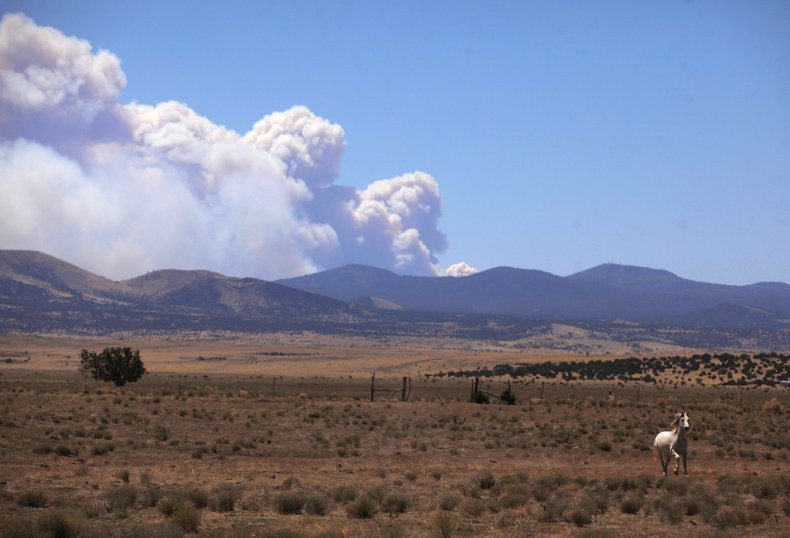 On Wednesday, Arizona Governor Doug Ducey issued emergency declarations in response to both the Telegraph and Mescal wildfires.
"AZ will spare no expense and do what needs to be done to protect the people and property in these communities. These Declarations will make up to $400K available for response efforts, in addition to a Fire Management Assistance Grant approved by @FEMA following our request," Ducey wrote in a tweet. "The Declarations of Emergency and Federal Grants will help make sure responders have the necessary resources for response and recovery—protecting people, pets & property. We will continue to work closely with local officials to ensure the needs of those communities are met."
Twitter user Nicole Grigg of KNXV-TV in Arizona shared a video of the Telegraph Fire on Tuesday. "As night falls, the #TelegraphFire in Globe, Arizona is raging. This video doesn't do justice what it looks like in person," Grigg wrote with the tweet.