The Telegraph Fire in Arizona has continued to grow in size, burning almost 150,000 acres of land, and has now become the sixth-largest wildfire in state history.
The fire has burned 148,299 acres and is currently 58 percent contained, according to a June 16 update from the Telegraph Fire Information Facebook page. Over 1,000 fire personnel have been working to contain the fires. The update posted to Facebook also featured a picture of the fire burning.
Over the past two weeks, the Telegraph Fire has continued to grow in size, while the containment percentage has decreased. On Tuesday, fire officials reported on the InciWeb national wildfire information system that the fire had burned 123,078 acres and was 68 percent contained.
In an update on Tuesday evening, fire officials said the Telegraph Fire was 59 percent contained, but this number has decreased as of this morning. Just last week, fire officials said that the Telegraph Fire, which is near Arizona's Top-of-the-World neighborhood, had burned 56,626 acres.
The fire, which was first reported by officials on June 4, has damaged/destroyed 22 structures, according to InciWeb, and officials believe that it was caused by a human. However, they noted that it remains under investigation. No injuries or deaths have been caused by the fire.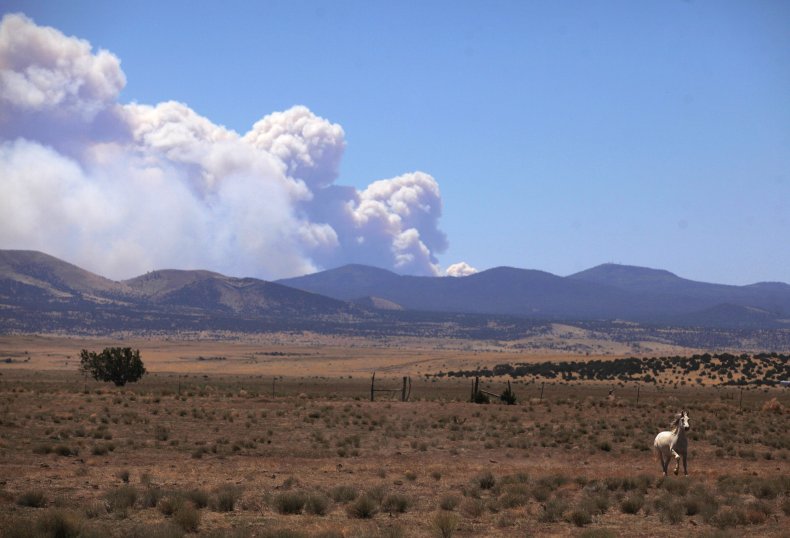 As the Telegraph Fire has continued to grow in size, burning over 148,000 acres, it became the sixth-largest wildfire in Arizona history, surpassing the Woodbury Fire from 2019 that burned approximately 123,875 acres. The 2011 Wallow Fire remains the largest wildfire in state history, after it burned over 500,000 acres, according to KNXV-TV in Arizona.
KNXV-TV also reported on Tuesday that the Telegraph Fire merged with the Mescal Fire, which is no longer considered an active wildfire.
In an InciWeb update on Wednesday morning, fire officials set the evacuation status at "Go" for residents near El Capitan (east and west), Dripping Springs, Wind Spirit, Hagen Ranch, Slash S Ranch, and Government Springs. The "Go" status tells residents to evacuate immediately as there is imminent and potentially life-threatening danger.
Planning operations Section Chief Chad Rice said in a video posted to the Telegraph Fire Information Facebook page, "On the south end of the fire near El Capitan, crews were challenged again yesterday. A lot of aviation resources were used in coordination with the ground resources to continue to protect the structures and the private holdings within El Capitan."
"We were seeing fire growth rate at over six miles per hour," Rice added.
Arizona's Department of Transportation posted two photos of the Telegraph Fire to Twitter on Monday.