I Went to a Teletubbies 20th Anniversary Party, and It Was Pretty Nuts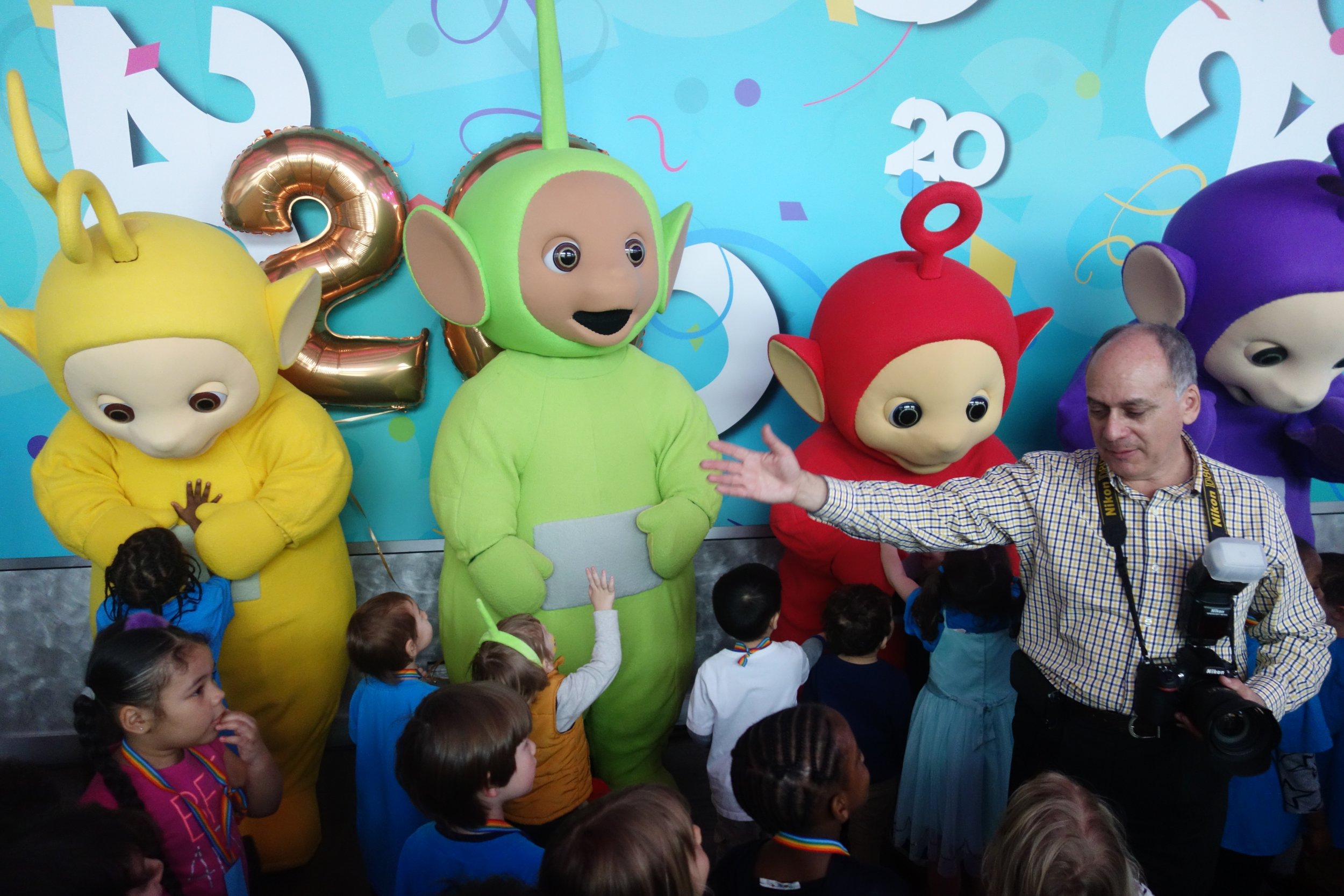 The question was not one that had ever occurred to me before: What does one wear to a Teletubbies-themed party?
But then, why would I have ever thought about it before? Who even goes to a Teletubbies party? I considered the options, then settled on grey slacks and a dull, greyish sweater—extra drab colors to ensure that I would not be mistaken for one of the multicolored little gremlins.
Let me explain. Teletubbies, the British children's series that successfully convinced millions of toddlers to spend hours staring at smiling blobs with antennae on their heads, is turning 20 years old. The debut episode aired on BBC2 on March 31, 1997. And to celebrate, DHX Media, the Canadian children's television company that has owned Teletubbies since 2013, hosted a surreal Tele-themed bash in a waterfront venue at Manhattan's Chelsea Piers. On a Tuesday. At noon.
Related: Want to see what the Teletubbies baby looks like today?
Though the weather outside was cold and rainy, the scene inside the party space seemed to be aglow in the warmth of a smiling sun-baby. I knew I was in the right place when I spotted a white van sporting the Teletubbies logo on its door. Inside, I was greeted with life-sized cut-outs and banners proclaiming "20 YEARS OF BIG HUGS." There were balloons and table cloths decked out in Tubby colors: green, yellow, red, blue. The little asexual aliens smiled up at me from a digital screen.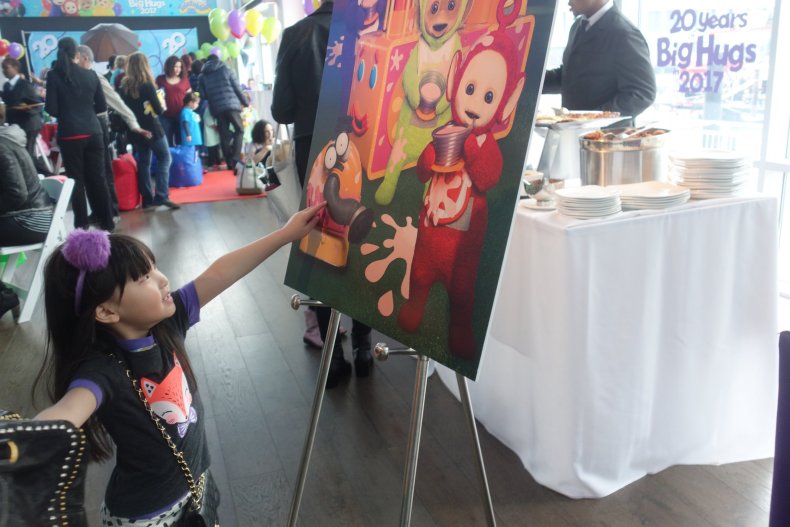 The place was full of screaming and giggling kids. Adults too (some parents, some media, some photographers), but the younger attendees were far more excited: kids chasing artificial bubbles around the space, kids coloring in Teletubby pictures, kids shoving chicken fingers into their mouths. The napkins were emblazoned with images from a Teletubby world. The food, from a distance, looked like pretty normal lunch fare (hamburger sliders, hot dogs), but even the menu was Teletubby-themed; it listed items like "Laa-Laa's Beef Sliders," "Dipsy's Hot Diggity Dogs" and "Chips & Dips à la Dipsy." Not even the drinks were immune: Included on the menu was a "Tinky Winky Tini." I had some salad and made a solemn vow never to utter the phrase "Dipsy's Hot Diggity Dogs" aloud.
I wondered whether I was the wrong demographic for a Teletubbies celebration. (OK, let's be honest: I am definitely the wrong demographic for a Teletubbies celebration.) I am not young enough to have grown up watching these babbling creatures frolic around the "Tubbytronic Superdome," nor am I old enough to have children who might catch the Tubbymania disease. I'm somewhere in between, and during the late 1990s, when Teletubbies became a global phenomenon, my youngest brother—he was a toddler at the time—would spend hours parked in front of the television, hypnotized by this peaceful, floral fantasy. The show seemed to have an almost narcotic effect on youngsters, who would stop crying and start smiling, transfixed, when Tinky Winky appeared on the screen.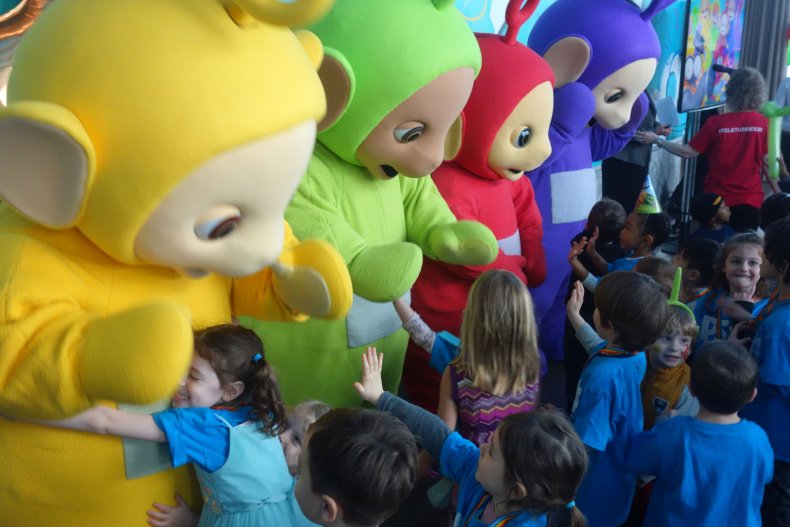 At the time, I was eight or nine years old. I could watch and secretly enjoy other television shows that my toddler brother watched, liked Blue's Clues. Teletubbies was different. It seemed somehow impossible to watch this show if you were past the age of five. Everything about it was incomprehensible to the adult or adolescent brain. Not only was it targeted at the very youngest demographics, I was also a dumb brat, and at that age there seemed to be nothing funnier than singing the Teletubbies theme song aloud while replacing "Dipsy" with the word "dipshit."
That said, the interesting thing about Teletubbies is, despite being the most docile, creepily utopian show imaginable, it genuinely frightened some adults. Much of this anti-Tubby fervor could be traced to simple homophobia. In 1998, the blustering far-right televangelist Jerry Falwell informed his followers that Tinky Winky, with his purple color and bag that vaguely resembled a purse, was guilty of "role modeling the gay lifestyle" for children. Never mind the fact that assigning sexual orientation to a fictitious, childlike alien is as ridiculous as sorting politicians into Hogwarts houses. Falwell was invited onto the Today show to expound on this groundbreaking theory, and the question of Tinky Winky's sexuality became a matter of great national concern. ("To think we would be putting sexual innuendo in a children's show is kind of outlandish," the show's spokesman eventually responded.)
Other concerns about Teletubbies were less hysterical. In the late spring of 1997, The Mirror reported that parents were bombarding the BBC with letters fretting that the "goo-goo style" of the show was actively making their toddlers stupider. "They said the show was a bad influence on their children," The Mirror wrote, "[and] that the Teletubbies' nonsensical speech and daft antics stopped their youngsters' development." One psychologist later claimed that Teletubbies "could be as physiologically damaging as a violent video game." Even today, if you Google the words "teletubbies good for children," you will be greeted with an array of articles with worrying headlines like "The Trouble with Teletubbies" and "Why My Child Is Not Allowed to Watch Teletubbies."
At the party I attended, Deborah Hooper, the VP of global brand management for DHX, assured me that none of these concerns have come to fruition. "We don't have a generation of children who can't speak," Hooper observed. "It's baby talk—it's mirroring the way that children themselves play. I don't think anybody's fears have been seen through."
She had a point. Plus, she added, the show's creator, Andrew Davenport, specialized in child and speech development. "[The creators] had faith in what they had created. I think the kids got it first, but the parents saw the way that the kids engaged and started to see how special it was." I asked how I should make use of this party as an adult. "I think the big thing is just to watch the kids engaging and reacting to the costumes when they're out," Hooper said. "We'll make sure that there's a nice selfie of you with the Teletubbies."
When Hooper took the microphone for a brief speech at the anniversary party, she expounded on the gap between how kids and adults greeted the strange television program. "When the Teletubbies first appeared 20 years ago, they burst onto children's television screens like nothing ever seen before, as mystified adults, journalists and parents tried to make sense of strange new world, with its four funny, bright-colored characters," she said. "The kids themselves got it very quickly, and the adults, once they saw how the children responded and delighted in the characters, came to recognize the show was really very special indeed."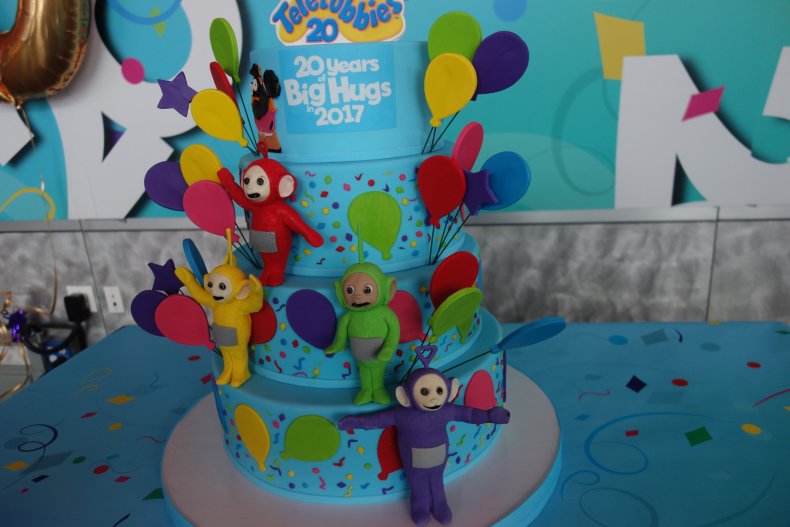 Hooper talked up the new episodes of Teletubbies, which are running on Cbeebies (and Nick Jr. in the U.S.) this spring. Some of the technological updates to the show include touchscreen tummies and "the smartphone Tubby phone." At the end of her speech, the host asked us all to raise our drinks in a "Tubby toast" and drink to "another Tubby-tastic 20 years." The whole thing was starting to resemble a cult ritual.
And it didn't end there. For dessert, there was a four-layer Tubby-themed cake that looked like a wedding cake for a truly bizarre wedding reception, accompanied by four individuals hobbling about in giant, fuzzy Teletubby costumes. The kids lunged at the faux-Teletubbies, hugging and high-fiving the massive creatures with glee. Apparently those costumes did not have eye holes, because the Tubbies later had to be led slowly to their dressing rooms by party staffers who had to guide them step-by-step. I wondered briefly whether a seeing eye dog would guide a Teletubby around or just, like, outright refuse.
The kids were led into an adjoining room with a television. We were treated to previews of the new Teletubbies episodes. The giggling sun baby appeared, and then Tinky Winky, Dipsy, Laa-Laa and Po—still brightly colored and babbling. They haven't aged in 20 years. I observed the same narcotic effect on the faces of the children. But just as when I was a kid, I couldn't watch the show for more than a few minutes at a time.
On my way out, I was handed a Teletubbies goodie bag, complete with Teletubbies-themed coloring book pages and paper chains. Walking back into the rainy adult world of New York City, I realized that Teletubbies is much more educational than those concerned parents ever gave it credit for. I had learned plenty. I had learned the most important lesson of all: Never have kids.