The Teletubbies have been vaccinated against COVID-19, just in time for what they're dubbing a "hot tubby summer."
The four lovable creatures from the beloved children's television show took to their official Twitter account this week to tell their followers that they have all received the vaccine and are now free to go outside and play.
"We're all vaxxed! Just in time for a Tubby hot summer," the tweet reads. "Who's ready to come out & play."
The tweet quickly went viral and has amassed almost 300,000 likes, sparking hilarious reactions from all over the Twittersphere.
Tinky-Winky, Dipsy, Laa Laa and Po even shared photos of their "Vaccination Tubby Cards" complete with both doses of their " administered at the "Home Dome Clinic."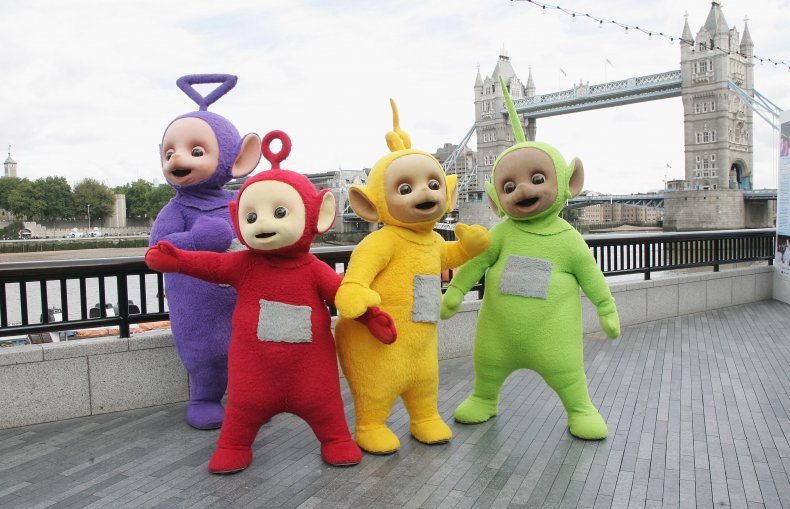 The bizarre tweet prompted all kinds of reactions from people—some reveling in the absurdity while others are questioning Teletubby canon.
"These images add a shocking amount to the Teletubbies' lore," joked one person, while another asked: "Does anyone else find this absolutely insane?"
One viral response reads: "This complicates the Teletubby lore immensely. Assuming this is canon, it confrims that: Teletubbies takes place on Earth during the current time period (huge, very disturbing and worrying revelation). The Teletubbies are susceptible to disease.
"There is some kind of organization presumably called 'Tubby/Teletubby Disease Control', modeled after the U.S. Center for Disease Control and Prevention. All the four main Teletubbies were all born on February 20, 2003, despite the show first airing in 1997."
Many questioned the dates on the Teletubbies' vaccination cards and tried to guess their ages.
Their birthdays are all states as being "02/20/03" meaning they were presumably all born on February 2, 2003.
"The Teletubbies are 18 years old despite the show first airing in 1997," one person continues. "There are at least 93755 Teletubbies. There are Teletubby versions of pharmaceutical companies. The four Teletubbies we know live in a clinic."
Meanwhile, another joked: "Neither of those are FDA approved vaccines and the second dose is still in the future, I guess the Teletubbies bought fake vaccine cards off the black market."
"The Teletubbies feared Covid-19. This proves that they are mortal. The beasts can be killed," pondered another.
While another questioned: "How the hell did the Teletubbies get vaccinated before me."
Another asked: "Even the teletubbies are vaccinated why aren't you?"
Meanwhile, back in the real world, 157 million Americans, or 47.3 percent of the population, are fully vaccinated against COVID-19, according to the CDC.