Televangelist Pat Robertson said on his syndicated Christian talk show Monday that "we as a nation will suffer the curse that God placed on those who would curse Abraham," if the United States stops supporting Israel, going so far as to call some Democrats "satanic" for wanting to withdraw support.
On Monday's episode of The 700 Club, his mainstay Christian Broadcasting Network program, Robertson showed polling figures demonstrating that support for Israel is low among millennials and Gen Z Americans.
"As you can see only 26 percent of 18-to-44-year-olds in the United States view Israel as an ally. And in that age group, an average of only 19 percent consider themselves pro-Israel," he said.
Robertson quoted the Bible and continued to call young Americans' and the Democratic Party's moves to question supporting Israel throughout recent violent exchanges as "satanic."
"Here's what the Bible says in Genesis, talking about Abraham," he said, "'I will bless those who bless you, and I will curse him who curses you; and in you all the families in the earth you shall be blessed.' Genesis 12:3 NKJV. Now, I think the Jews have been God's messengers. They have been entrusted with the oracles of God, and to see this rise of antisemitism which mirrors what was done in the Nazis... This is satanic."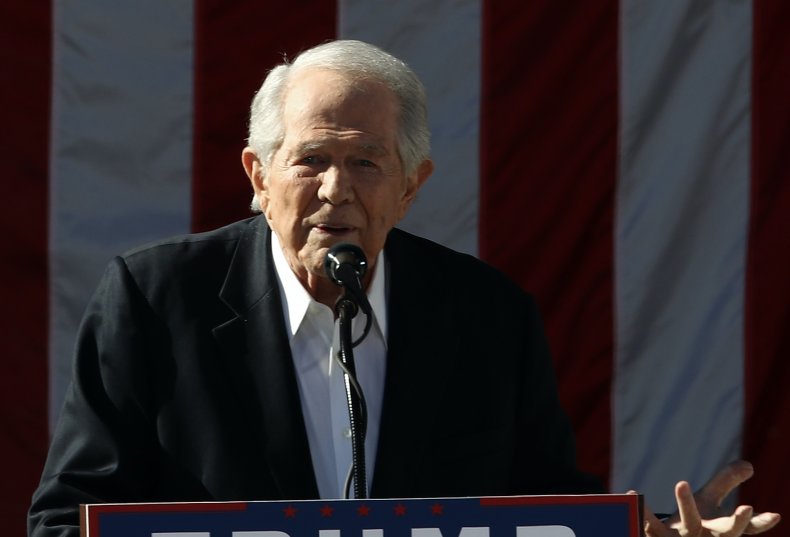 Robertson then named names, saying calling out "Tlaib and the other members of the Squad," meaning six young, left-leaning, POC members of Congress including Rashida Tlaib of Michigan, Alexandria Ocasio-Cortez, of New York, Ilhan Omar of Minnesota, Ayanna Pressley of Massachusetts, Jamaal Bowman of New York and Cori Bush of Missouri.
"If the United States of America stopped supporting Israel...if you listen to what [the squad] is saying, and if the Democratic Party swings in that direction, and if the millennials lead America away from Israel, we as a nation will suffer the curse that God placed on those who would curse Abraham," Robertson said.
A joint-resolution was filed in both the Senate and the House last week to block the sale of satellite-guided Joint Direct Attack Munitions (JDAMS) and Small Diameter Bombs (SDBS) from the U.S. to Israel. Tlaib and Ocasio-Cortez were both part of the committee to introduce the resolution in the House.
"Jesus Christ, our Savior, was Jewish," Robertson said. "And I want you to know that we at CBN are pro-Israel. We've been so unashamedly for years, and we stand with Israel. But to see this trend of antisemitism... I just want to say as clearly as possible: America will suffer the curse of Almighty God. If we as a nation turn against Israel," the televangelist said.