Televangelist Sells $125 'Silver Solution' as Cure for Coronavirus
A guest on televangelist Jim Bakker's show suggested on Wednesday that a product sold on Bakker's website might be effective at protecting against and killing the novel coronavirus.
The guest, naturopathic Dr. Sherrill Sellman, said that Silver Solution—a product that can be purchased on Bakker's web store—has been found to be effective on viruses related to the one from Wuhan. Further, she said Silver Solution could bolster a person's immune system and potentially make their bodies less susceptible to the virus.
"Well, let's say [Silver Solution] hasn't been tested on this strain of the coronavirus, but it's been tested on other strains of the coronavirus and has been able to eliminate it within 12 hours," she said. "Totally eliminate it. Kills it, deactivates it. And then it boosts your immune system so then you can support the recovery, because when you kill the virus, then the immune system comes into action to clear it out. So you want a vibrant immune system as well as an ability to deactivate these viruses."
Newsweek contacted Sellman via her website for further comment and clarification but did not receive a reply before publication.
The novel coronavirus emerged from the Chinese city in late 2019. The virus has since spread to 24 other countries, including the United States, though the majority of those infected remain in China. As of Wednesday, the virus has infected over 45,000 people and killed at least 1,100, according to the World Health Organization.
According to its page on Bakker's website, Silver Solution is a product that "works faster, longer and more efficiently than other silvers to support your immune system." Information on the website does not state how the product is to be used. It currently sells on Bakker's website in a variety of packages with a 16-ounce bottle costing 40, but shoppers can purchase bundles of the product that cost up to $300. The label states that the solution contains deionized water, but no other ingredients.
However, similarly marketed products also include colloidal silver which according to the National Center for Complementary and Integrative Health (NCCIH) provides no known health benefits. Ingesting it can cause side effects including argyria, or discoloration of the skin or other tissue, and poor absorption of other medications by the body.
Newsweek could not verify the claim that Silver Solution supports the immune system or kills the coronavirus, nor confirm that colloidal silver is used in Bakker's solution.
Further, Silver Solution's page on Bakker's site contains a link to a warning specifically for residents of California. Under a California law, the Safe Drinking Water and Toxic Enforcement Act of 1986 (also known as Proposition 65), the store is required to warn that Silver Solution "contains chemicals known to the State of California to cause cancer and birth defects or other reproductive harm."
Sellman is a naturopathic doctor—a designation distinct from a mainstream medical doctor. Naturopathy, according to information from the alternative medicine university Bastyr University, is a "system of primary health care that emphasizes prevention and the self-healing process through the use of natural therapies."
Naturopathy's legitimacy is contested. Some professionals consider it to be based in pseudoscience, but 22 U.S. states and Washington, D.C. offer licenses to naturopathic doctors, according to the Association of Accredited Naturopathic Medical Colleges (AANMC).
However, Dr. JoAnn Yanez, the executive director of the Association of Accredited Naturopathic Medical Colleges, clarified to Newsweek that Sellman has not met the educational standards that the organization requires.
Sellman "is neither a graduate of an accredited naturopathic medical program, nor has [she] obtained a doctoral level degree from a program recognized by the US Department of Education," Yanez wrote in a statement to Newsweek. "[Her] online profile mentions graduating from the Trinity School of Natural Healing (AKA Health), which is not accredited and confers 'degrees' not recognized by any governmental institution. 'Graduates' of these programs are not considered licenseable [sic] medical practitioners."
Yanez further requested that Newsweek reiterate that Sellman is not a graduate of any institution accredited by AANMC.
The Twitter account of Right Wing Watch shared a clip of the show on its Twitter account Wednesday afternoon. The full episode of The Jim Bakker Show, "A Close Look At What's Not Being Said About The Coronavirus (Day 1)" can be viewed on the program's website.
Bakker is an evangelist who has made headlines in the past for his involvement in a scandal in which he paid a church secretary "hush money" to keep quiet about a sexual encounter. He is also noted for his ardent support for President Donald Trump. He has repeatedly defended the president against criticism, and, as The Hill reported, stated in 2017 that there would be a second American Civil War if Trump were to be impeached.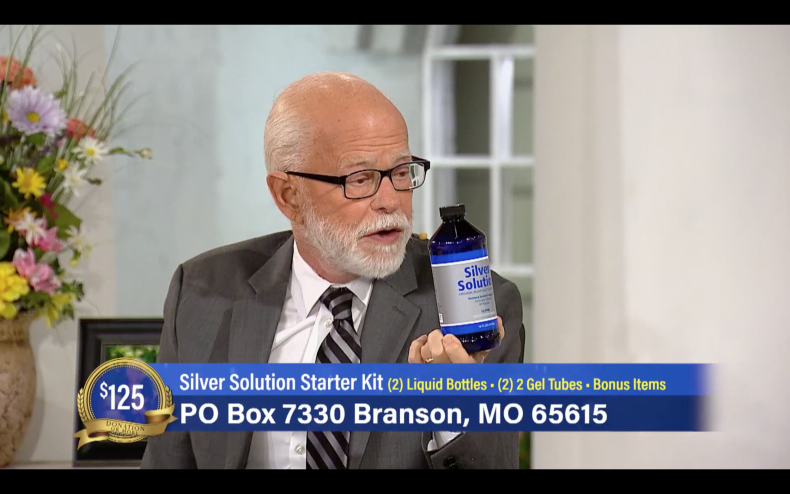 Update (2/13/2020 9:12 p.m.): This article has been updated to include a statement from Dr. JoAnn Yanez, executive director of the Association of Accredited Naturopathic Medical Colleges.